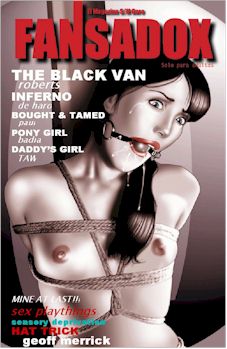 New in English!!!
52 pages of sex and violence
THE BLACK VAN - comic, ROBERTS
PONY GIRL #3 - comic, Badia
BOUGHT & TAMED #2 - text, Lucas - comic, Paul. FUMETTI at its best.
Hat Trick - text, Geoffrey Merrick - illustrations Badia
Sensory deprivation - text, Lucas - Illustrations Badia
INFERNO #5 - comic, De Haro
DADDY'S GIRL Just another professional gig - TAW
MINE AT LAST - text, Isidoro - Illustrations ROBERTS
Sex Playthings - text, D. Guard - Illustrations ROBERTS
IMPORTANT NOTICE:
All characters are 18 years old or older.
All action is simulated and involves
no real people.
The authors/publishers do not condone
violence of any kind.
These are completely fictional comics
for adult entertainment.
THE BLACK VAN
A new comic series by
great artist ROBERTS


'click'

PONY GIRL
a comic series
by BADIA
Now number 3!


'click'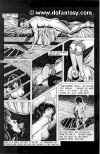 BOUGHT & TAMED
FUMETTI at its best!!!
The sexual degradation of young SARA is getting worse now in #2!
Sara lives in Miami with her divorced mother.
Sara is a young, independent, University student.
She has never visited her parents' native land.
Her father dies and she inherits a large estate in the heart of the Colombian jungle. She decides to go and visit it...
She arranges for her old uncle Alfonso to pick her up in the nearest village and take her there. It will only be for a few days, just a short holiday, because Uncle Raśl has taken over the running of the estate...
This comic is published as an illustrated novel in this same web-site as 'Comprada y Amaestrada'.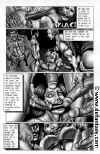 INFERNO #5
Isabel was a guerrilla, an uncontroled subversive element in the mountains, a terrorist. In Gerai Prison, Isabel discovered a different terror, the sadistic and depraved Governor who had sworn to break her will and turn her into his sexual slave. If she put up a good fight, breaking her in would be more fun for him.!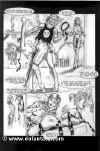 DADDY'S GIRL
Just another professional gig...
'The blonde with the spiked hair is Sharla and the dark one with the two-tone hair is her lezzie fuck buddy Kym... just a couple of little runaways on the loose in the big city, except that one of them is about to go home – the hard way. I've been hired by her family to 'get her back'. The way i've set it up, Kym will have to be taken care of too, but i'm sure i can find some use for her… it won't be the first time.
And much more...

MINE AT LAST


SENSORY
DEPRIVATION
ORDER FANSADOX 9
In ENGLISH. Available electronically in PDF format. See bottom of page