Use our On-Line 100% Secure EncryptedShopping Cart Ordering System. Simply browse
our site and Click the ADD TO SHOPPING CART buttons to place items in your Shopping Cart
[ HOME ] [ COMICS ] [ MOVIES ] [ NOVELS ] [ CD-ROM ] [ Order info ] [ Help ] [ ARTIST SITES ] [ SEARCH ]
[ Disclaimer ] [ CATALOGUE ] [ Copyright ]
WITCH HUNTERS #4 by DAMIAN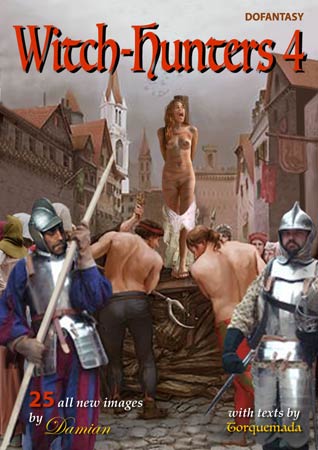 NEW IN PDF ELECTRONIC VERSION!
Adult Album by DAMIAN.
Shocking texts by TORQUEMADA
HIGH RESOLUTION PDF deluxe edition.
25 full color pages!!!
-COMPLETE, UNABRIDGED VERSION-
THE HORRORS OF THE EUROPEAN INQUISITION CONTINUE UNABATED! CAN ANYTHING STOP THESE LUSTFUL AND SADISTIC MEN OR ARE THE HELPLESS GIRLS UNDER THEIR CONTROL DOOMED TO AN UNSPEAKABLE FATE??
WHEN POWER HUNGRY PRIESTS AND PROPHETS HAVE FULL, UNRESTRICTED ACCESS TO PRETTY, HELPLESS MAIDENS, THE TRUE HORRORS OF THEIR CRUEL PERVERSITY WILL BE REVEALED!
IMPORTANT NOTICE - DISCLAIMER
All characters are 18 years old or older. This is an entirely fictional work based on cartoon characters for adult entertainment. It shows no real people or events. The characters are shown participating in CONSENSUAL role-play for their own personal satisfaction, simulating activities which involve sexual dominance and submission. No actual toons were harmed in the making of this comic.
Days passed and no hope of rescue or salvation lay in wait. When helpless and innocent girls are thrown into the deepest and darkest of dungeons, when their families and friends are either executed or thrown into the jails with them, there is no one left to speak for the weak or the innocent. These girls have nothing to look forward to except one torment after another plaguing them. It begun with the whip, then the chain. Tight ropes and thick, knobby dildos were the next to arrive. Only then did the real nightmare begin. The priests and inquisitors have such a mean look in their eye, and they smile all too broadly when the girls are forced to disrobe and reveal their soft, supple, and most secret of flesh. The priests and inquisitors grin too much when the girls jiggle and scream at the ends of hot pokers, when the girls are impaled by hard cocks and harder men. The girls remember the bulges growing in the inquisitors' pants. The girls remember how much the men enjoyed the sight of helpless females writhing and struggling against the wicked machines and devices which bound them. They remember, and they are afraid...
But even after the forced confession and the show trial, these girls would not find sweet release. No, because even a witch must be punished to the utmost extent of the law! It was only after the girls were pronounced guilty that the true fun could begin. After all, nobody cared what happened to a corpse…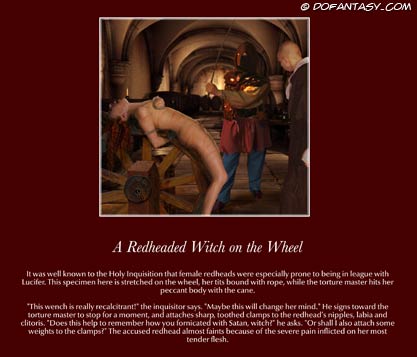 DAMIAN DOES IT AGAIN WITH ANOTHER AMAZING ADVENTURE OF BRUTALITY AND PERVERSION! FILLED WITH RICHLY ILLUSTRATED PAGES OF BONDAGE AND SUBMISSION, THIS EXCELLENT CONTINUATION OF THE WITCH HUNTER SERIES IS GUARANTEED TO HAVE EVERYTHING YOU NEED AND MORE… MUCH MORE!!! THESE GIRLS ARE PUT THROUGH THEIR PACES AND FORCED TO SUFFER FOR THE SADISTIC PLEASURE OF THEIR VIOLENT CAPTORS, AND THERE IS NOTHING THEY CAN DO TO STOP THE PAIN! YOU DON'T WANT TO MISS THIS EXCITING EPISODE, BROUGHT TO YOU HERE EXCLUSIVELY AT DOFANTASY.COM!
THE BEST DAMIAN!