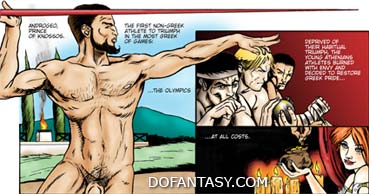 Androgeo Prince of Knossos, was assassinated in Athens after wining the Olympic games.

This bloody crime was the beginning of troubled times. Minos, already a strong and bloodthirsty tyrant, having heard of his sonís murder swore to bring bloodshed and famine to all Athens.

A fierce war broke out among the Greek cities. The mighty Cretan fleet

destroyed the Athenian colonies one by one. Defeated and without allies, the Athenians bowed before the will of Crete.

The peace conditions imposed by Minos saved the city from being plundered, but at a price.... Every young woman between 18 and 25 will be handed over to the invaders. As slaves!

The girls are collected in front of their parents, brothers or husband. The Cretans waste no time in sampling their booty... In front of their relatives! There is no doubt about what kind of slavery the young captives are going to be subjected to...

The precious cargo crosses the Mediterranean in the galleys of the victorious army. Chained naked to the oars!

Ulma and Leida the young Athenian Princess suffer an even worse fate than the rest of the girls of their age. They are Royalty!

The never-ending shifts at the oars are a pure nightmare of overtiredness, pain and deep humiliation.

After their shift, the young Princess are chosen to serve her captors. It's dinner time....

The journey turns out to be hell on Earth, but after they reach Crete, things get even worse...