Use our On-Line 100% Secure EncryptedShopping Cart Ordering System. Simply browse
our site and Click the ADD TO SHOPPING CART buttons to place items in your Shopping Cart
[ HOME ] [ COMICS ] [ MOVIES ] [ NOVELS ] [ CD-ROM ] [ Order info ] [ Help ] [ ARTIST SITES ] [ SEARCH ]
[ Disclaimer ] [ CATALOGUE ] [ Copyright ]
FANSADOX COLLECTION 237
KGB INTERROGATION ROOM - MONTAL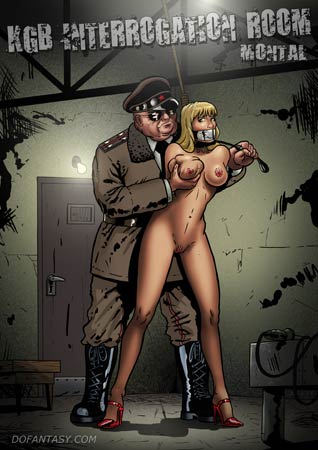 NEW IN PDF ELECTRONIC VERSION!
Adult Comic Album by MONTAL
HIGH RESOLUTION PDF deluxe edition
47 full color comic pages.
-COMPLETE, UNABRIDGED VERSION-
AN AMERICAN STUDENT
MISSING IN MOSCOW!
IMPORTANT NOTICE - DISCLAIMER
All characters are 18 years old or older.
This is an entirely fictional work based on
cartoon characters for adult entertainment.
It shows no real people or events.
The characters are shown participating in
CONSENSUAL role-play for their own
personal satisfaction, simulating activities
which involve sexual dominance and
submission. No actual toons were harmed in the making of this comic.
ACCUSED TO BE A TERRORIST, SHE'LL KNOW HELL
ON EARTH! AN EXTREMELY HOT STORY TOLD BY
AN INSANE KGB INTERROGATOR...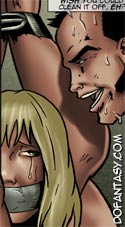 More than just state secrets are locked deep within the cold halls of the KGB. In these dark rooms, people disappear without a trace. Their lives are given into the iron grip of cold eyed interrogators, specialists in extracting information and pain from their helpless captives. With dark pleasure they work their harsh skills far from the public eye.
Daphnie is just one of many innocent young women who become ensnared in this world of intrigue and deception. Far from home, the blonde college girl has traveled to Russia to study abroad. One simple mistake, meeting the wrong man at a nightclub, has landed her into the hands of KGB Special Interrogator Boris. Boris will take great enjoyment in probing her body and mind as he makes her another girl missing in Moscow .
_________________
THE COMIC
I'm Boris, Special Interrogator for the KGB. I've been a loyal Party supporter for my whole career, and my talents for breaking down the hardest criminals are legendary.
You don't work for the KGB unless you're not afraid to bash a few heads. And as an expert interrogator for the Agency, I've bashed enough to fill the Red Square a hundred times over.
For the past three years I've been on the trail of the most lethal terrorist to crawl out of the frozen filth of the icy Russian hills. I've kicked down doors and chased the murderous vermin from one side of Siberia to the other. But every time my team of Agents gets close, he's managed to slip away like a shadow. Every underworld thug he's worked with has ended up in my interrogation room, and one by one I've broken them down. Derelicts, drunks and incompetent losers. I'd gotten sick of hearing their screams as I forced them to tell me about their leader, the one they call The Black Eagle.
In Russia you learn patience, and you learn how to hate. And my years of pursuit were finally paying off. After almost beating a suspect senseless, I learned that the Black Eagle had returned to Moscow . The murder had finally come back home! He was seen at a local dance club, with a sexy blonde American on his arm. I didn't know how she fit into his plans, but I was going to find out! The surveillance photos showed her to be a leggy bombshell, high cheekbones and a massive rack which made my head spin. I'd been prowling the filthy underground for so long; I'd forgotten the effect a hot knockout has on a man!
My team moved in for the capture, but the Black Eagle still had luck on his side. Again he managed to escape my trained squad, but not without leaving behind his curvaceous girlfriend...


My men delivered her to my office in the basement of the KGB. They hoped I'd ignore their screw up, and be satisfied by interrogating the blonde looker instead. How right they were!
Every inch of her skin sent an electric wave of lust shooting up my spine. My eyes traveled slowly from her tanned calves, up to her smooth, trembling hips.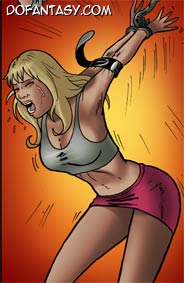 The tight skirt concealed nothing, I could see it all! The thin material couldn't hide her firm cheeks, and the hot pleasure hidden between her legs...
I wanted her more than I'd ever wanted anything else before. It was more than just the burst of lust I satisfied with the occasional prisoner or one-night-stand. I burned for her, and knew I had to possess her completely. Looking into her fear widened eyes, I knew my arousal would take me places I'd never gone before. I'd break her down, expose ever secret and destroy any inhibitions the innocent girl had.
Her slim waist made the perfect hand hold. I'd grab her smooth skin pulling her closely to my raging body. I'd crush her tightly against me as I terrorized her. The Black Eagle might have charmed her and gotten a taste of the pleasures her body offered, but I'd own her completely. When I was done with her, she'd live for my touch. Her skin would shiver in anticipation when she heard my voice… my commands.
I decided to start humiliating my young captive beyond any reason. We had time, all the time to know each other better...


...time to teach her she was mine. Utterly mine...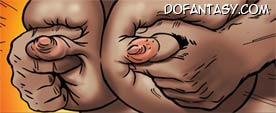 As far as the rest of the Agents of the KGB were concerned, I was a dedicated interrogator hard at work tracking down a threat to our great country. But inside, I only had one mission- to gain complete and total control of the sexy girl cowering in my special interrogation room...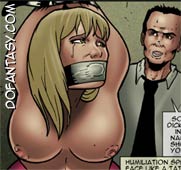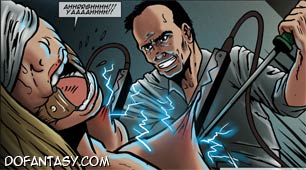 Chained to the wall of my private work room, she would experience fear and surrender that she'd never have thought possible!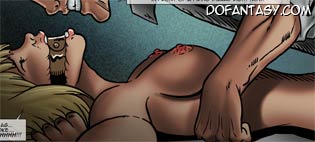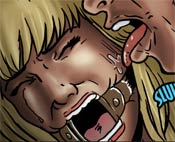 In the sound-proofed concrete cells below the KGB, Boris will come face to face with his own obsession...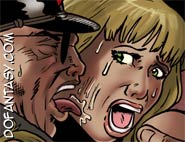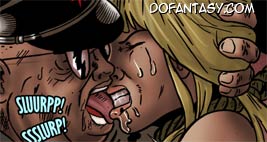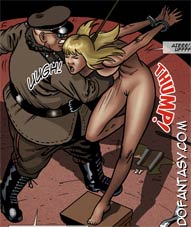 He's made a career having power over others, but his lust for the sexy blonde American will be the one thing he can't control!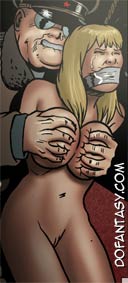 AN AMERICAN STUDENT
MISSING IN MOSCOW!
ACCUSED TO BE A TERRORIST,
SHE'LL KNOW HELL ON EARTH!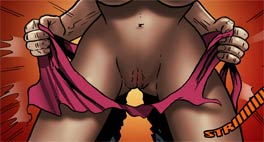 A HOT STORY TOLD BY AN INSANE
KGB INTERROGATOR...
AN EXTREMELY HOT COMIC!