Use our On-Line 100% Secure EncryptedShopping Cart Ordering System. Simply browse
our site and Click the ADD TO SHOPPING CART buttons to place items in your Shopping Cart
[ HOME ] [ COMICS ] [ MOVIES ] [ NOVELS ] [ CD-ROM ] [ Order info ] [ Help ] [ ARTIST SITES ] [ SEARCH ]
[ Disclaimer ] [ CATALOGUE ] [ Copyright ]
FANSADOX COLLECTION 247
EVIL MONASTERY aka INQUISITION HELL - MONTAL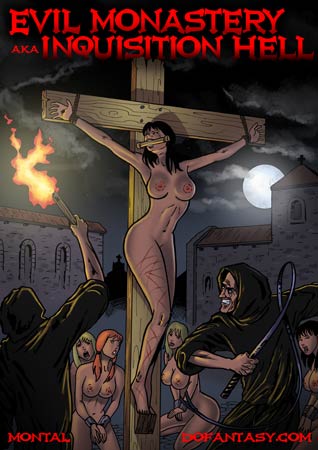 NEW IN PDF ELECTRONIC VERSION!
Adult Comic Album by MONTAL
HIGH RESOLUTION PDF deluxe edition
42 full color comic pages.
-COMPLETE, UNABRIDGED VERSION-
IN THE DARK AGES, ACCUSATIONS
OF WITCHCRAFT COULD BRING
DEATH OR WORSE!
THE FATES OF TWO YOUNG WOMEN ARE NOW IN THE HANDS OF THE TWISTED MONKS WHO LURK WITHIN THE STONE WALLS OF THE FEARED LUCEDIO ABBEY.
IMPORTANT NOTICE - DISCLAIMER
All characters are 18 years old or older.
This is an entirely fictional work based on
cartoon characters for adult entertainment.
It shows no real people or events.
The characters are shown participating in
CONSENSUAL role-play for their own
personal satisfaction, simulating activities
which involve sexual dominance and
submission. No actual toons were harmed in the making of this comic.

Too hot for history! The diabolic practices and dark rituals of Lucedio Abbey are revealed for the first time! In the Dark Ages, accusations of witchcraft could bring death or worse.

Now, two young women are dragged into its forbidding towers...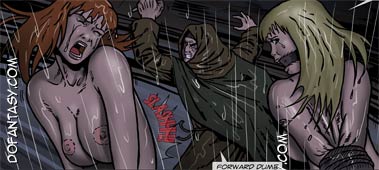 "Stubborn dumb beasts! Friar Diabolicus will break you to his will,
or break your bones! Forward! Your master and savior awaits!"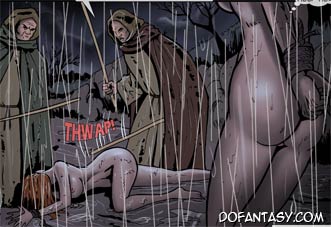 "Weak flesh is a sign of weak morals, whore of Satan!
Only suffering can purify a slut like you!"
Their fates are now in the hands of the twisted monks who lurk within.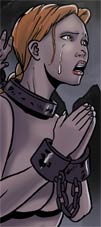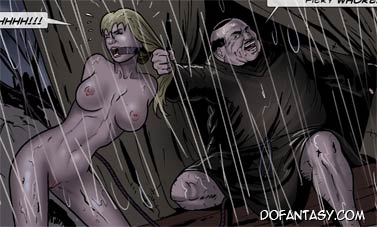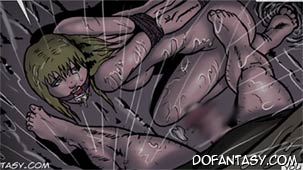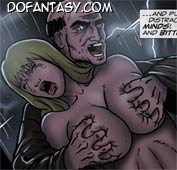 "Such smooth skin and plump, juicy udders meant to tempt good men to lust!
They must be whipped and bitten in holy punishment!"
Lucedio Abbey, a place shrouded in mystery for over 800 years. Its shameful rituals and warped morality have been hidden from the public's eyes… until now.
Early in the abbey's history, two young women were brought before the monks to face false charges of violating the law. But the moment the iron shackles locked tightly around their wrists, all hope of justice vanished. Now, all they can hope for is escape!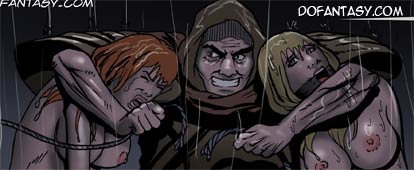 "Last stop, witches! If you know any prayers, better say them now!
Beyond these gates, god has no dominion. In here, the Evil One reigns supreme!"
Daphnie and Felicia have made the mistake of dancing. Unable to contain the youthful energy surging through their bodies, the two were spotted dancing in a lush field.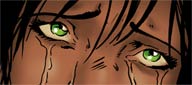 Unaware that their every move was being scrutinized,
the two enjoyed the sun warming their skin, and breeze playing through their long hair as they whirled about.
But when a band of monks appear through the trees, their faces grim and eyes cold, the young women realize the danger that threatens their very lives!
Friar Diabolicus holds the combined power of the Abbey in his aged hands. Twisted and bent by a lifetime devoted to using every extreme measure to stamp out unrighteous activity, the evil monk turns his full attention to his new captives....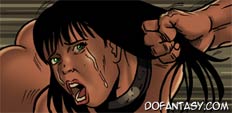 "Get over here, slut! Lets' see what your mouth
can do besides beg for mercy..."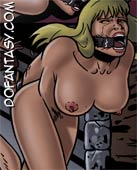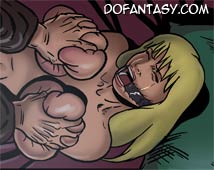 "What's up, whore of Satan? Are those tears of joy?
It's a holy man who's with you, not the devil anymore!"
His methods are ruthless...


"That's it... your sinful body stretched to an inch of breaking.
You're stirring my sacred loins, you whore of Satan!"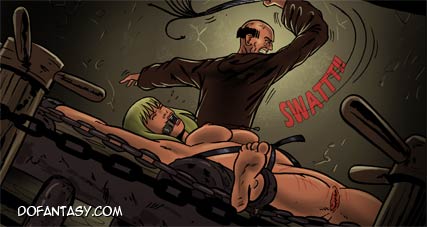 "Take that, bitch! And THAT! thank me for driving
the demons of lust from your sinful body!"
And with every monk in the abbey at his control, the chance for Daphnie and Felicia to escape his clutches slips away with every passing moment! No one has escaped the abbey before.
Will Daphnie and Felicia be the first?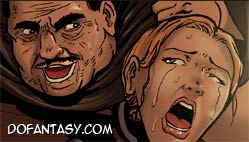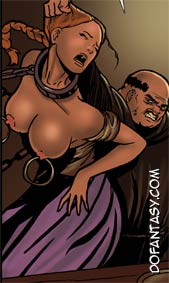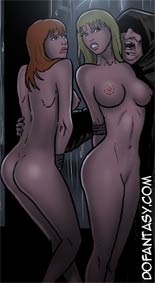 TWO YOUNG WOMEN THE VICTIMS OF WICKED MONKS!
THIS STORY IS UNLIKE ANYTHING EVER PUBLISHED BEFORE!
EACH PAGE SHOCKINGLY ILLUSTRATED WITH HOT ACTION AND POWERFUL DRAMA!
YOU'LL BE LOOKING OVER YOUR SHOULDER AS YOU READ!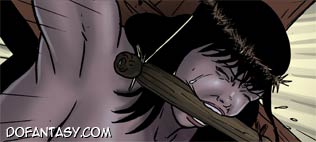 DON'T MISS THIS COMIC, HIGHLY RECOMMENDED!