Use our On-Line 100% Secure EncryptedShopping Cart Ordering System. Simply browse
our site and Click the ADD TO SHOPPING CART buttons to place items in your Shopping Cart
[ HOME ] [ COMICS ] [ MOVIES ] [ NOVELS ] [ CD-ROM ] [ Order info ] [ Help ] [ ARTIST SITES ] [ SEARCH ]
[ Disclaimer ] [ CATALOGUE ] [ Copyright ]
FANSADOX COLLECTION 289
CHINESE SECRET AGENT - DEFEATED by FEATHER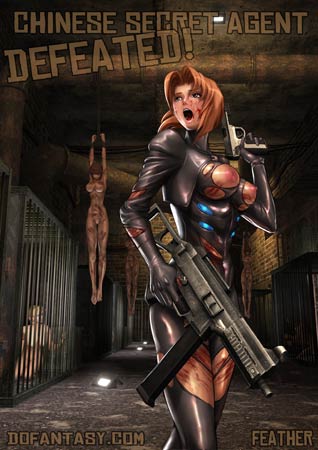 NEW IN PDF ELECTRONIC VERSION!
Adult Comic Album by FEATHER.
DIALOGS by SANDOW
HIGH RESOLUTION PDF deluxe edition
46 full color comic pages!!!
-COMPLETE, UNABRIDGED VERSION-
A MAD SCIENTIST WITH A TWISTED PLAN
TO TURN WOMEN INTO SUBMISSIVE, SEXUAL
PLAYTHINGS. ONLY ONE WOMAN STANDS
IN HIS WAY: SPECIAL AGENT KITTY!
A GORGEOUS AND LETHAL SECRET AGENT
VOWS TO STOP HIM, BUT DR. HORACE BONE
HAS OTHER PLANS. THE SHAPELY YOUNG
WOMAN WILL BE THE TEST SUBJECT FOR
HIS MOST SADISTIC EXPERIMENT YET!
IMPORTANT NOTICE - DISCLAIMER
All characters are 18 years old or older.
This is an entirely fictional work based on
cartoon characters for adult entertainment.
It shows no real people or events.
The characters are shown participating in
CONSENSUAL role-play for their own
personal satisfaction, simulating activities
which involve sexual dominance and
submission. No actual toons were harmed
in the making of this comic.
Powerful men in the government are funding the most gruesome experiments ever known to science, all directed by the shadowy Dr. Horace Bone.
Countries across the globe have been trying to get their hands on him for decades, be the twisted genius has always managed to escape right before they can close the net. The doctor leaves behind chilling evidence of his work, frightening machines and a trail of broken bodies and minds.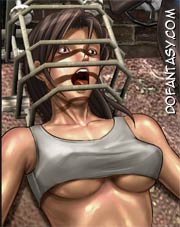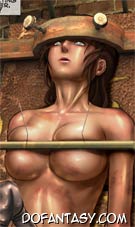 The women who are unlucky enough to find themselves strapped to his examination table are never the same.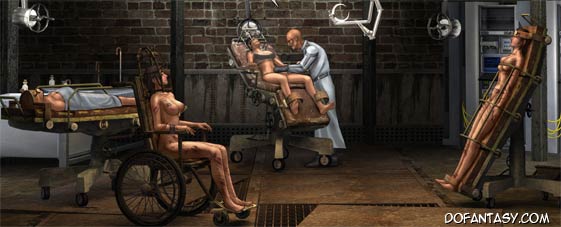 Agent Kitty lunged at the wiry form draped in a blood-spattered lab coat.
Her mind raced as he cowered in fear. He was trapped! All of her training for this mission was finally coming together.
She knew that the doctor seemed unstoppable, always managing to vanish as though protected by some dark force. Adrenaline coursed through her veins and her legs pumped as she closed in on him. This time would be different. This time the madman would face justice! He would either rot in prison, or end his life twitching on the slippery floor of his barbaric operating room!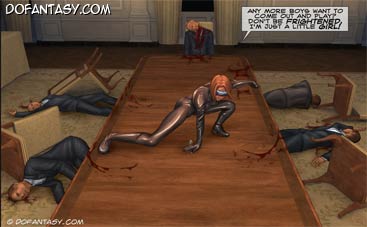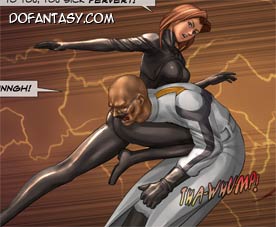 ______________________________
The rusty chains snapped shut on her wrists, the pitted metal scraping her smooth skin. She cried out as her arms were yanked wide. She couldn't move!
She knew her mistake, she'd let them see how dangerous she was. Although most men thought the buxom young woman was a knockout, few understood that she could become a furious killing machine as well.
Her shoulders strained as the chains were pulled even tighter, lifting her feet from the gore-smeared floor. They wouldn't give her a chance to escape. They'd make sure she was in no shape to offer any resistance when they finally unlocked the cuffs. A gasp of horror lodged in her throat as she saw the guards pick up the heavy whips and step forward…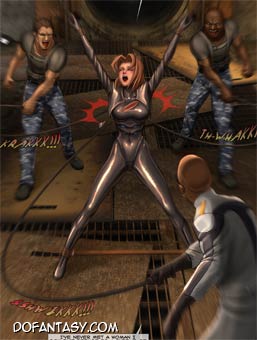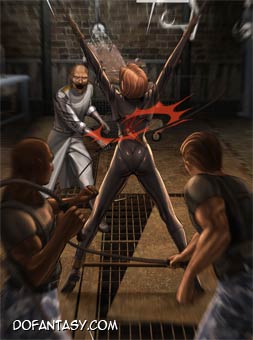 Dr. Bone ran his tongue over the broken tooth, wincing in sudden pain. She'd pay for that!
He didn't mind the bruises that covered his face or the blood which flowed down his chin. Bodies are weak things, he thought. I'm a doctor, I should know! But I'll never stand for a woman daring to touch me… acting as though she has the right to shout orders or think without permission.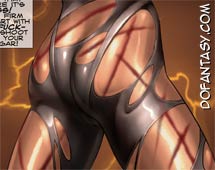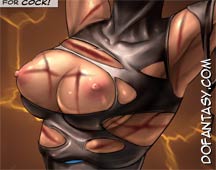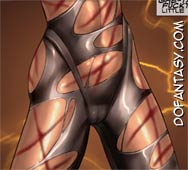 Oh this one was a hellcat, all right. Tough and beautiful with muscles as hard as steel. Just the subject I've been looking for!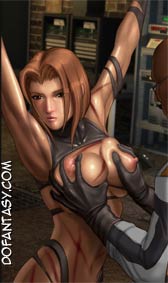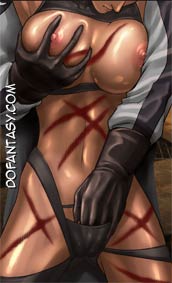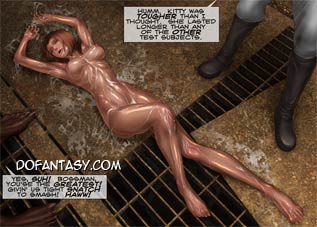 He flipped the switch on the machine before him and grinned at the cackling hum of electricity which flowed from it.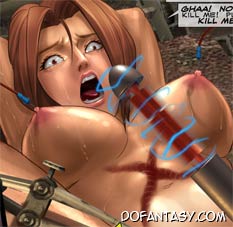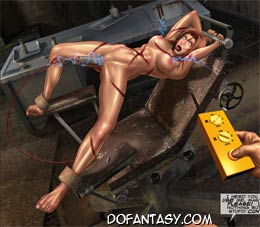 A terrifying buzzing filled the air and the floor shook from the machines power. She may be strong, he thought, but even steel can be twisted into any form I choose!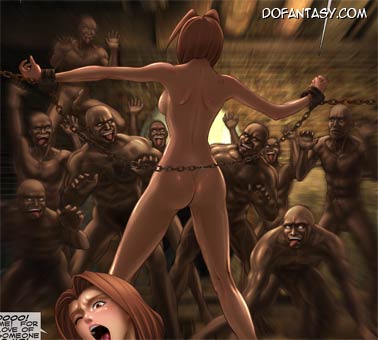 NOT FOR THE FEINT OF HEART!
FEATHER HAS MADE A NAME FOR CREATING GRAPHICS WHICH ARE RAW AND WILD!
THIS COMIC SHOWS EVERYTHING IN VIBRANT LIVING COLOR!
NOT THE SORT OF STORY YOU WANT TO READ WITH THE LIGHTS OUT, FEATHER'S NEW
CHARACTERS ARE MORE EXCITING AND SINISTER THAN ANYTHING PUBLISHED BEFORE!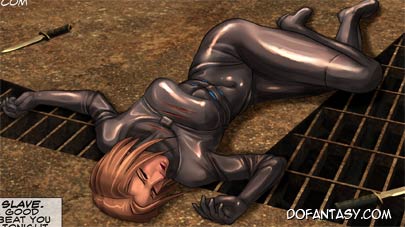 MAKE AND APPOINTMENT WITH DR. BONE IF YOU DARE!
GET THIS COMIC TODAY!
________________________________________
NOW DON'T MISS THE 2nd PART OF THIS THRILLING COMIC!