Use our On-Line 100% Secure EncryptedShopping Cart Ordering System. Simply browse
our site and Click the ADD TO SHOPPING CART buttons to place items in your Shopping Cart
[ HOME ] [ COMICS ] [ MOVIES ] [ NOVELS ] [ CD-ROM ] [ Order info ] [ Help ] [ ARTIST SITES ] [ SEARCH ]
[ Disclaimer ] [ CATALOGUE ] [ Copyright ]
FANSADOX COLLECTION 377
PIRATES - LESBI K LEIH
NEW IN PDF ELECTRONIC VERSION!
HIGH RESOLUTION PDF deluxe edition
44 full color comic.
-COMPLETE, UNABRIDGED VERSION-
THREE UPPITY BARMAIDS GO ON A HIGH SEAS ADVENTURE FULL OF LUSTY AND BRUTAL PIRATES!
THESE CONNIVING BEAUTIES BIT OFF MORE THAN THEY COULD CHEW WHEN THEY STOLE GOLD FROM A VICIOUS PIRATE CREW!
IMPORTANT NOTICE - DISCLAIMER
All characters are 18 years old or older.
This is an entirely fictional work based on
cartoon characters for adult entertainment.
It shows no real people or events.
The characters are shown participating in
CONSENSUAL role-play for their own
personal satisfaction, simulating activities
which involve sexual dominance and
submission. No actual toons were harmed in the making of this comic.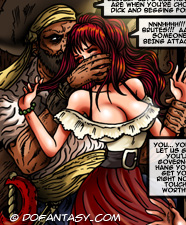 Anne, Elizabeth, and Mary were innocent, young beauties working in a dingy tavern on some colonial island in the middle of the sea. Or maybe they weren't as "innocent" as first thought... These girls loved to prey on the lonely hearts of sea shackled men. Full of empty promises and teasing necklines, the girls would happily take each sailor's gold and leave them with nothing but blue balls! With their cache of gold, the girls planned to sail off to bigger heists...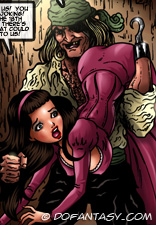 Unfortunately for them, their thieving ways finally catch up with them when they rob the crew of the notorious Black Cock the Pirate! The pirates want their gold back... or else! Unfortunately, the girls are not cooperative. Arrogant females used to being obeyed, they quickly talk back to the dirty, stinking, unshaven pirates, telling the pirates to piss off!

It does not end well for them... and it is unfortunate, for the dainty, delicate females!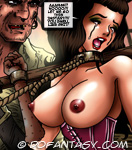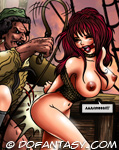 Soon, Anne, Elizabeth, and Mary are forced into a life of high seas servitude and sexual slavery! These haughty beauties are quickly taught that they are nothing more than fuckmeat to be used however the crew desires! These lovelies are forced to do some of the most depraved and wicked things that a blue balled pirate, stuck for months at sea without a single fetching female to fuck, can imagine! Things soon become worse for the snatched snatch when they find out the ship is bound for the east and the markets of Arabia and China... those foreign devils have even more perverse and maniacal desires, and there's nothing better to satisfy foreign lusts than helpless, haughty female meat!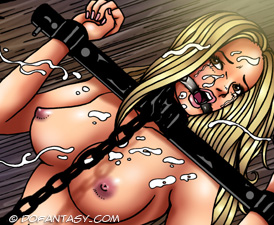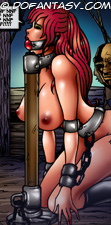 That is... if they survive the crew first!

LESBI K LEIH HAS PRODUCED ANOTHER STUNNING DISPLAY OF ARTISTIC EXCELLENCE AND EXTREME BONDAGE IMAGERY! WATCH AS THREE HAUGHTY NAUGHTYS ARE TAKEN DOWN A PEG AND TURNED INTO BRAINLESS, EAGER TO PLEASE DICK MUNCHERS! IT TAKES A STRONG HAND TO BREAK AN ARROGANT FEMALE, AND THERE'S NONE STRONGER THAN THE IRON MEN IN WOODEN SHIPS! YOU WON'T WANT TO MISS THIS EXTREME AND VIOLENT ISSUE, BROUGHT TO YOU HERE ONLY AT DOFANTASY.COM!

YOU DON'T WANT TO MISS THIS! THIS IS HOT, HOT, HOT!!!