Use our On-Line 100% Secure EncryptedShopping Cart Ordering System. Simply browse
our site and Click the ADD TO SHOPPING CART buttons to place items in your Shopping Cart
[ HOME ] [ COMICS ] [ MOVIES ] [ NOVELS ] [ CD-ROM ] [ Order info ] [ Help ] [ ARTIST SITES ] [ SEARCH ]
[ Disclaimer ] [ CATALOGUE ] [ Copyright ]
FANSADOX COLLECTION 379
KINGSLEY'S REVENGE - Part 2 - FEATHER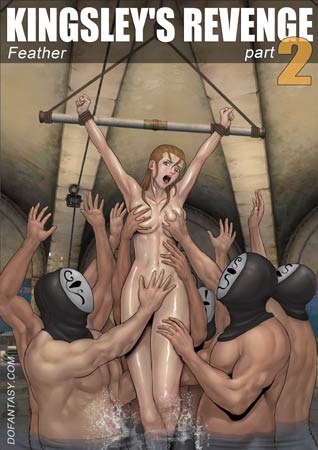 NEW IN PDF ELECTRONIC VERSION!
Adult Comic Album by FEATHER
HIGH RESOLUTION PDF deluxe edition
50 full color comic pages!!!
-COMPLETE, UNABRIDGED VERSION-
LORD GRAFF'S WRATH KNOWS NO BOUNDS WHEN HIS NEWEST PET TRIES TO ESCAPE! BOTH HER AND HER RESCUER WILL PAY DEARLY WITH THEIR BODIES!
ANNE'S BROTHER WILLIAM ATTEMPTED TO FREE HIS IMPRISONED SISTER FROM THE SINISTER CLUTCHES OF THE BLACK RAVEN CLUB. HIS FAILURE MEANS THAT THEY WILL BOTH PAY THE PRICE!
IMPORTANT NOTICE - DISCLAIMER
All characters are 18 years old or older.
This is an entirely fictional work based on
cartoon characters for adult entertainment.
It shows no real people or events.
The characters are shown participating in
CONSENSUAL role-play for their own
personal satisfaction, simulating activities
which involve sexual dominance and
submission. No actual toons were harmed
in the making of this comic.
THE STORY SO FAR...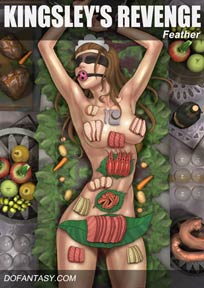 Lady Anne Kingsley is the newest prize of the wicked and sadistic Duke Graff Martel, an upstart risen from the commoners to become one of the strongest leaders throughout the entire kingdom. Unbeknownst to all but his closest associates, Duke Graff Martel has gained wealth and power by selling off pampered, sheltered, female noblewomen to his eager buyers both continental and abroad. Anne Kingsley was his latest prize, the wife of a careless nobleman who gambled away his fortune and had to sell his lady to make ends meet.
Now Anne Kingsley has become the pet of the wicked Duke. Her tender, supple body has become the latest attraction to the Duke's sinister organization, the BLACK RAVEN CLUB. The poor piece of sex meat is educated in pleasing men and doing anything they desire with every inch of her young and tight body... whether she wants to or not!
_____________________________________
IN THIS COMIC...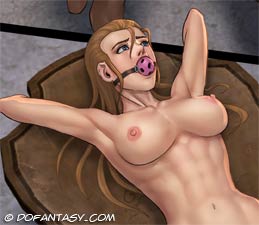 Fortunately, Anne had a brother who was intent on freeing her. William was a strong and proud member of the noble houses, and he could not abide the notion of his beloved sister being enslaved to some lowborn musclehead risen from the dirt. Although William's heart is in the right place, his aim is not. The Duke did not gain his position by being a weak man. His honor earned in the various wars of the kingdom, he was a fierce fighter, and he took out the haughty William quickly and easily...
The one thing that the Duke hates more than spirited, fiery bitches are ungrateful bitches who aren't pleased with their life as dick munchers and cum guzzlers! The Duke is intent on making sure that his pet learns her place.

She will suffer for her crimes with every part of her body. The inner circle of the Black Raven Club is even more violent and sadistic than its regular members, and the Duke has no qualms about Anne's comfort or her safety...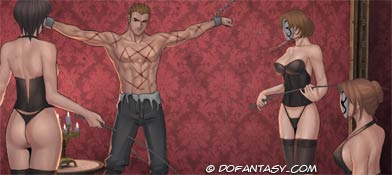 And William will learn his own place as well. Duke Graff Martel has a dominatrix at his disposal, the Lady Natalie, and the only thing the Lady Natalie likes more than taming strong willed females is turning arrogant lordlings into obedient boytoys...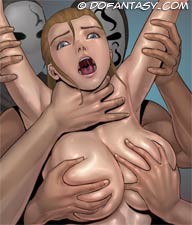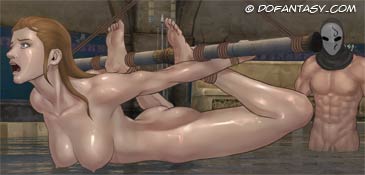 William will soon learn that he's no match for the real world. Lady Natalie will turn William from a strong and powerful man into a quivering dick of a slave!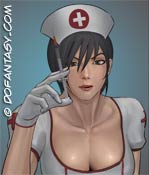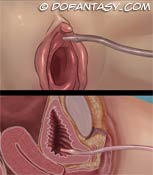 But these are just the appetizer to a larger entrée of pain and sexual sadism! Duke Graff Martel and Lady Natalie have darker, more perverted plans for their newest playmates...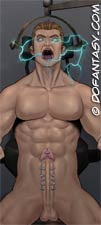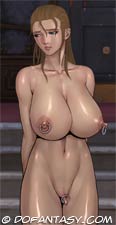 WATCH IN HORROR AS THE AGE OF ENLIGHTENMENT SHOWS ITS DARKER, MORE SINISTER SIDE! FEATHER KNOCKS IT OUT OF THE PARK AGAIN WITH THIS RICHLY ILLUSTRATED STORY OF SICK AND TWISTED PERVERSION AND DEBAUCHERY! DEEP BEHIND CASTLE WALLS, LORDS WILL PLAY WHILE SLAVES WILL PAY, NO MATTER THE PRICE, TO FULFILL THEIR MASTERS' DESIRES! THIS COMIC IS NOT FOR THE FAINT OF HEART! YOU WON'T FIND QUALITY THIS GOOD ANYWHERE ELSE, BROUGHT TO YOU EXCLUSIVELY HERE AT DOFANTASY.COM!
YOU WON'T WANT TO MISS THIS ISSUE! IT'S HOT, HOT, HOT!