Use our On-Line 100% Secure EncryptedShopping Cart Ordering System. Simply browse
our site and Click the ADD TO SHOPPING CART buttons to place items in your Shopping Cart
[ HOME ] [ COMICS ] [ MOVIES ] [ NOVELS ] [ CD-ROM ] [ Order info ] [ Help ] [ ARTIST SITES ] [ SEARCH ]
[ Disclaimer ] [ CATALOGUE ] [ Copyright ]
FANSADOX COLLECTION 380
VIDEOGEDDON by SLASHER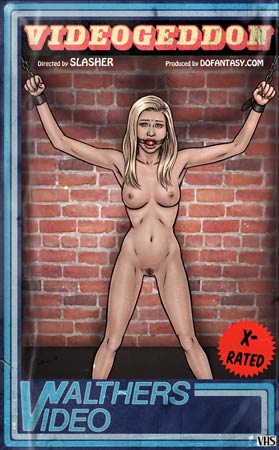 NEW IN PDF ELECTRONIC VERSION!
Adult Comic Album by SLASHER.
HIGH RESOLUTION PDF deluxe edition
39 full color comic pages!!!
-COMPLETE, UNABRIDGED VERSION-
DIALOGS BY NAJ
A BEAUTIFUL BLONDE GIRL GETS HER FIRST GIG AS A STAR... A PORN STAR... AGAINST HER WILL!
TWO SADISTS TRY TO FIND THE HARDEST AND MOST EXTREME BDSM VIDEO OUT THERE. WHEN THEY CAN'T FIND ANYTHING, THEY DECIDE TO MAKE THEIR OWN!
IMPORTANT NOTICE - DISCLAIMER
All characters are 18 years old or older.
This is an entirely fictional work based on
cartoon characters for adult entertainment.
It shows no real people or events.
The characters are shown participating in
CONSENSUAL role-play for their own
personal satisfaction, simulating activities
which involve sexual dominance and
submission. No actual toons were harmed
in the making of this comic.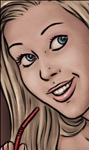 Melanie is a fresh faced and bright eyed young girl who made her way into the city during the scummy 80's. She dreams of becoming an actress and hitting it big, first in New York and then the world! Unfortunately for her, two men are the first to find her, making her first tentative steps into the darker, seedier world of the city.

These two men are Harry and Jack, and their employer is none other than the greasy pig Walther, a small time video store owner with a big appetite... for sadistic bondage cruelty! Unfortunately for Harry and Jack, Walther is dissatisfied with the crummy, weak pornos out there. "It's just not intense enough... it's just not believable... it's just not EXTREME! Find me something harder, something stronger, something more cruel! I want to hear the girl scream and plead for her life! That really gets me going!"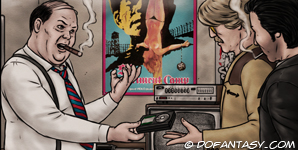 Harry and Jack have scoured high and low throughout all their contacts, but there's nothing to be had. The two start to get desperate. Surely there has to be something out there, something to satisfy their "clientele." The two are at the end of their ropes...
...that is, before Melanie walks into view. "Well, if we can't find some extreme bondage action... why don't we make our own?"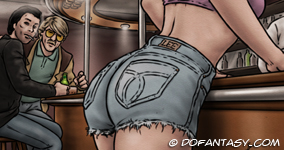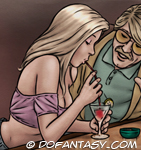 "Good idea!" Harry is the first to talk to the girl. He's a smooth talker, and he knows how to worm his way into a girl's good graces. He soon gets pretty, naïve Melanie swooning with talk of stardom and hitting it big! The girl's head is in the clouds, so far up she can't see the fall she's walking into...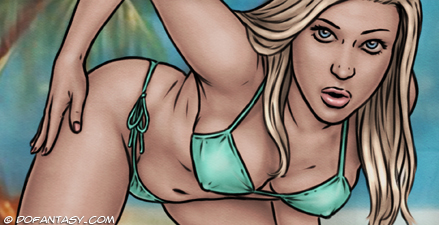 Even as she walks into the alleyway, walks into the near deserted studio, she's still too busy thinking of her future fame and fortune... the parties, the hunky boys, the big time!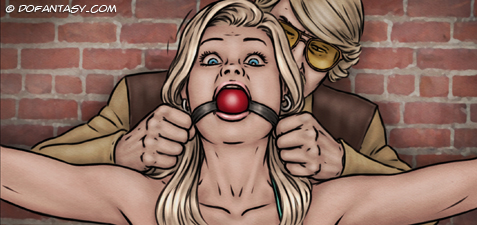 She doesn't hear Jack lurking behind the glare of the lights, locking the doors, setting up the bondage equipment, preparing the set for their female lead to make her grand appearance on camera... as a bondage slave!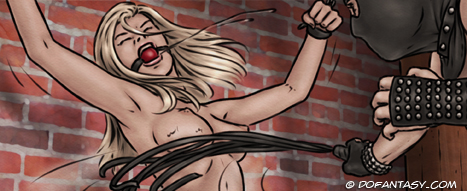 Will Melanie's first appearance be her last?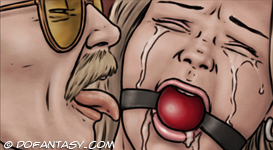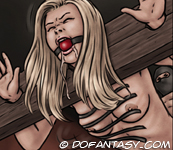 Or is her career set... a career as an unwilling sex slave?!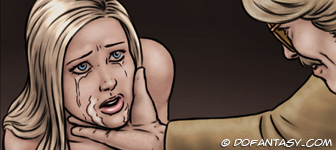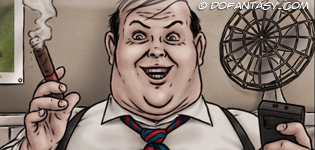 SLASHER CREATES ANOTHER GREAT AND EXHILIRATING COMIC THAT AMAZES, THRILLS, AND LEAVES YOU HANGING ON THE EDGE OF YOUR SEAT! RICHLY DETAILED AND STUNNINGLY RENDERED, THIS IS SOME TRULY INTENSE STUFF! THE SCENES ARE SO SHOCKING, THE ACTION SO EXTREME, WE CAN'T SHOW ALL OF IT HERE! WATCH AS A GORGEOUS, YOUNG BLONDE IS TAKEN TO THE PITS OF DEPRAVITY AND SADISTIC BONDAGE PLAY! WILL MELANIE SURVIVE OR IS SHE DOOMED? YOU CAN ONLY FIND OUT IN THIS COMIC, BROUGHT TO YOU HERE AT DOFANTASY.COM!

YOU WON'T WANT TO MISS THIS! THIS IS SOME OF THE BEST STUFF YET! THIS IS HOT, HOT, HOT!

YOU DON'T WANT TO MISS THIS!