Use our On-Line 100% Secure EncryptedShopping Cart Ordering System. Simply browse
our site and Click the ADD TO SHOPPING CART buttons to place items in your Shopping Cart
[ HOME ] [ COMICS ] [ MOVIES ] [ NOVELS ] [ CD-ROM ] [ Order info ] [ Help ] [ ARTIST SITES ] [ SEARCH ]
[ Disclaimer ] [ CATALOGUE ] [ Copyright ]
FANSADOX COLLECTION 386 & 387
THE SLAVE FACTORY -Part 2 & 3 - FEATHER
TWO COMICS FOR ONLY 19.99 Euros - 51 full color comic pages!!!
(Normal price 12,95 euro each comic - you save more than 20%)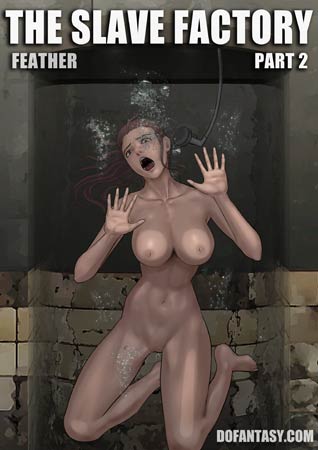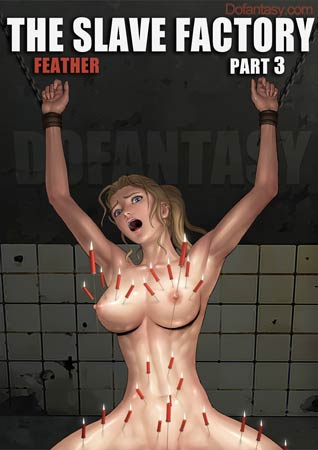 NEW Adult Comic Albums by FEATHER. In high resolution PDF deluxe edition
-COMPLETE, UNABRIDGED VERSION-
DIALOGS BY NAJ
IMPORTANT NOTICE - DISCLAIMER
All characters are 18 years old or older. This is an entirely fictional work based on
cartoon characters for adult entertainment. It shows no real people or events.
The characters are shown participating in CONSENSUAL role-play for their own
personal satisfaction, simulating activities which involve sexual dominance and
submission. No actual toons were harmed in the making of this comic.
TWO COMICS FOR ONLY 19.99 Euros - 51 full color comic pages!!!
SLAVE FACTORY, EPISODES TWO AND THREE!!!
THE STORY SO FAR...
Thomas Newman drives a large, 18 wheeler by day, crossing the country and appearing like nothing more than a lonely redneck that could never hope to get laid. The reality is far more sinister. Thomas Newman isn't carrying any cargo you see, at least not any cargo that would be deemed acceptable by the Department of Transportation! You see… Thomas Newman finds gorgeous and sassy victims to become part of his sinister slaver ring. He finds girls from all across the country, throws them in the back of his trailer, and drags them to his factory to become high priced sex slaves, sold to the highest bidder!
WHEN SOME HIGH POWERED BIGWIGS GET TO TOWN, THEY ARE GIVEN THE TOUR OF A LIFETIME AT THE SLAVE FACTORY… AND A HAREM OF HELPLESS GIRLS ARE THE MAIN ATTRACTION!
It's an auspicious day when a helicopter arrives at the "abandoned" factory. Thomas Newman is gussied up in his most expensive suit, one that no ordinary trucker should be able to afford. Aboard the helicopter is a bevy of high powered individuals, two U.S. Generals, a sultanate Prince, and a secret member of "the party" from across the Pacific. One of the Generals, General Andrews, is a friend of Thomas Newman and a frequent visitor to the Slave Factory. He has told some of his friends about the place, and they are curious to see what kind of sadistic and perverted delights are hidden within…

Thomas Newman spares no expense… and no flesh… to ensure that his visitors receive the tour of a lifetime! The facilities are extensive and designed to ensure top quality product for the buyers… even if that means a living hell for the girls going through their terrible training!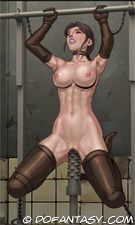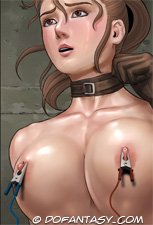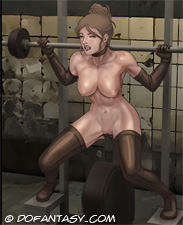 As the tour goes deeper into the Slave Factory, the training gets more intense… more extreme… anyone who would be normal might be horrified at what they see… but for these high powered individuals, all they want is more...

THOMAS NEWMAN IS A SLAVER WHO RUNS THE MOST FIENDISH AND SADISTIC CIRCUS ON EARTH! YOU WON'T BELIEVE SOME OF THE STUFF THAT GOES ON IN THIS DEN OF HORRORS AS FEATHER BRINGS HIS BEST AND MOST EXTREME WORK YET!!
PRETTY FEMALES BEWARE, AND STAY FAR AWAY FROM ANY TRUCKER YOU SEE… YOU NEVER KNOW IF YOU'LL BE HIS NEXT VICTIM!
_________________________________
SLAVE FACTORY THREE
THESE HARD AND SADISTIC MEN HAVE A BONE TO PICK WITH THE CIA. WHEN THOMAS NEWMAN INTRODUCES AGENT LINDY, SHE AND HER SISTER WILL SUFFER LIKE NO ONE HAS BEFORE!
Deep in the bowels of Thomas Newman's Slave Factory is the "Interrogation Room" where he keeps his most prized possessions, ready to "play" for him or any high powered clientele he might bring with him. Today, he has a special treat for his guests, two U.S. Generals, an Arab Prince, and a Chinese, communist minister: Agent Lindy and her poor sister Helen!

General Andrews always had a problem with how sneaky and underhanded the CIA was. General Martin just hated all the uppity white bitches that would always talk smack to a poor brother like him. Prince Amir and Mr. Chen are simply sadists who enjoy nothing more than forcing a white female to do their sick bidding.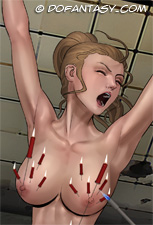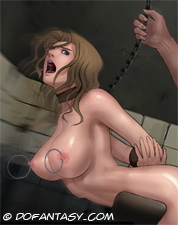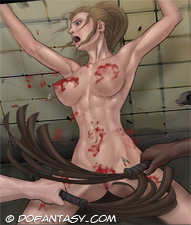 The party is just getting started, and Agent Lindy and her sister Helen are the main course on the menu! They will be mere playthings to the four wicked and twisted men…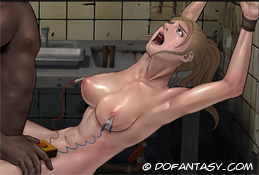 ...whether they survive is another matter!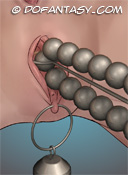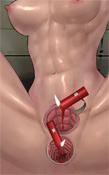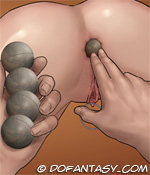 FEATHER BRINGS ANOTHER EXCITING EPISODE TO THE SLAVE FACTORY SERIES THAT IS SURE TO SHOCK AND HORRIFY YOU! HOW MUCH CAN TWO WOMEN TAKE BEFORE THEY TOTALLY BREAK? WILL THESE MEN BE BROUGHT TO JUSTICE? WILL THESE POOR, DEFENSELESS, HELPLESS WOMEN BE SAVED FROM THEIR SADISTIC PERVERSION?

DON'T HOLD YOUR BREATH!

THESE ARE TWO HOT COMICS YOU DON'T WANT TO MISS!

YOU DON'T WANT TO MISS THESE COMICS! THEY ARE HOT, HOT, HOT!!!!!

Don't miss previous chapter: