Use our On-Line 100% Secure EncryptedShopping Cart Ordering System. Simply browse
our site and Click the ADD TO SHOPPING CART buttons to place items in your Shopping Cart
[ HOME ] [ COMICS ] [ MOVIES ] [ NOVELS ] [ CD-ROM ] [ Order info ] [ Help ] [ ARTIST SITES ] [ SEARCH ]
[ Disclaimer ] [ CATALOGUE ] [ Copyright ]
FANSADOX COLLECTION 407
ISLAND ADVENTURE - FEATHER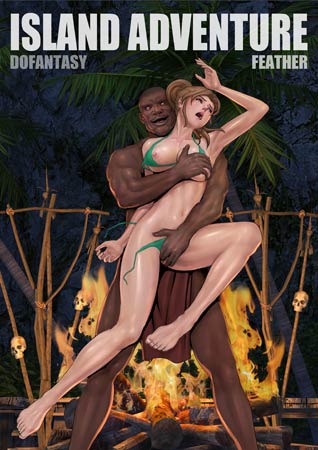 NEW IN PDF ELECTRONIC VERSION!

Adult Comic Album by FEATHER.
HIGH RESOLUTION PDF deluxe edition
46 full color comic pages!!!
-COMPLETE, UNABRIDGED VERSION-

AN ISLAND IN THE SOUTH PACIFIC TURNS INTO A DEADLY HELL WHEN A SUNBATHING SLUT STUMBLES ACROSS A HORNY, NATIVE TRIBE!

THIS TROPICAL PARADISE TURNS TERRIBLE WHEN TEENAGE TOURISTS ARE USED AND ABUSED BY BRUTAL AND RUTHLESS SAVAGES!


IMPORTANT NOTICE - DISCLAIMER
All characters are 18 years old or older.
This is an entirely fictional work based on
cartoon characters for adult entertainment.
It shows no real people or events.
The characters are shown participating in
CONSENSUAL role-play for their own
personal satisfaction, simulating activities
which involve sexual dominance and
submission. No actual toons were harmed
in the making of this comic.


Oliver and Laura, a brother and sister duo, took a trip into the south Pacific to try and have some fun in the sun. Sister Laura wanted some quality family time, but Oliver was too busy playing with the "girlfriends" he'd picked up in Singapore. Disgusted by her brother's behavior, Laura tried to find a secluded space on this deserted, Pacific island so she could relax and work on her tan...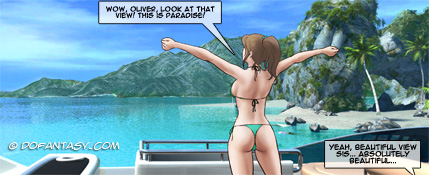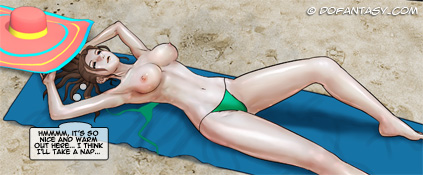 Unfortunately for lovely Laura, the island wasn't as deserted as it seemed from the shore. She's found by a native hunter who is enchanted by her beauty. The hunter brings lovely Laura back to his tribe, pleased to have provided his friends with this exotic and exquisite white playmate...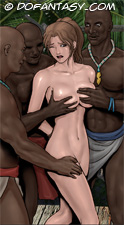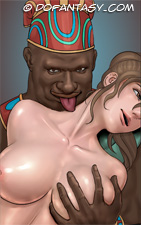 Laura is brutally used by the natives. Her beauty overwhelms them, and they lust after her pure, white flesh...
And even worse, the natives seem to have mastery over some kind of exotic incense. Whenever it's inhaled by a woman, it sends her into a hot and horny sexual frenzy! Lovely Laura loses her mind and finds herself lusting wildly after cock, especially big, thick, black native cock!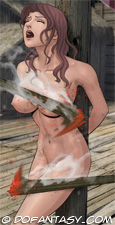 Meanwhile, Oliver is worried about his sister. Laura has been gone for nearly two hours... where could she have gone? He and the girls go searching after Laura, blissfully unaware of the horrors that await them all...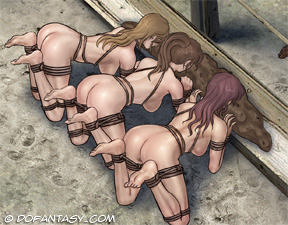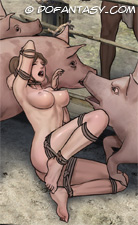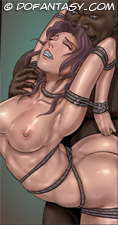 Will the teenage tourists escape this island of insanity?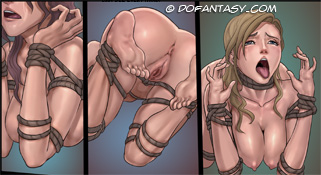 Or are they doomed to an awful fate?
FEATHER CREATES YET ANOTHER STUNNING AND THRILLING STORY SET IN A TROPICAL PARADISE! THESE SILLY, TEENAGE TOURISTS DON'T KNOW WHAT THEY'RE IN FOR WHEN THEY WANDER DEEP INTO THE JUNGLE, FAR FROM THE SAFETY OF THE SHORE! A HUMILIATING AND DEGRADING FATE AWAITS THE GIRLS AS THE TRIBE PUTS THEM THROUGH THEIR PACES! WILL THEY SURVIVE THEIR ORDEAL OR WILL THEIR PRETTY HEADS JOIN THE COUNTLESS SKULLS LINING THE TRIBE'S TERRITORY?
FIND OUT HERE EXCLUSIVELY AT DOFANTASY.COM! YOU DON'T WANT TO MISS THIS EXCITING ISSUE AND ITS SHOCKING CONCLUSION! IT'S HOT, HOT, HOT!!!