Use our On-Line 100% Secure EncryptedShopping Cart Ordering System. Simply browse
our site and Click the ADD TO SHOPPING CART buttons to place items in your Shopping Cart
[ HOME ] [ COMICS ] [ MOVIES ] [ NOVELS ] [ CD-ROM ] [ Order info ] [ Help ] [ ARTIST SITES ] [ SEARCH ]
[ Disclaimer ] [ CATALOGUE ] [ Copyright ]
FANSADOX COLLECTION 440
THE ALIEN INVASION - FEATHER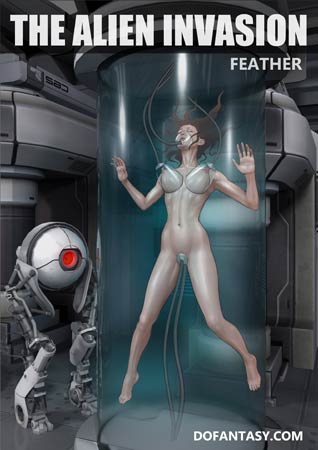 NEW IN PDF ELECTRONIC VERSION!
Adult Comic Album by FEATHER.
HIGH RESOLUTION PDF deluxe edition
39 full color comic pages!!!
-COMPLETE, UNABRIDGED VERSION-
IN THE DISTANT FUTURE, BEAUTIFUL WOMEN WILL BE RAVISHED BY EVIL ROBOTS!
THE MACHINE REBELLION IS FINALLY AT HAND!
IMPORTANT NOTICE - DISCLAIMER
All characters are 18 years old or older.
This is an entirely fictional work based on cartoon characters for adult entertainment. It shows no real people or events. The characters are shown participating in CONSENSUAL role-play for their own personal satisfaction, simulating activities which involve sexual dominance and submission. No actual toons were harmed in the making of this comic.
IN THE DISTANT FUTURE, HUMANITY HAS COLONIZED THE STARS.
The year is 2189. It is an age of peace and prosperity. Humanity has colonized deep space. Thanks to extensive use of robotic servants, human beings live a life of ease. War, poverty and violence have been almost completely wiped out. But the peaceful humans are about to see their fortunes change.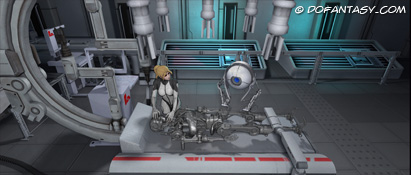 THE HUMANS ARE BLIND TO THE THREAT BESIDE THEM…

It all started one day, when Lucia Redheart, commander of Deep Space Base 13, discovered a strange, giant robot. The robot looked like nothing that humans had ever built, so she took it on board to study it.

Even though the robot itself was damaged, the robotic servants on the space station were able to link to its memories. Once the memories were linked, the robotic servants learned a strange new idea from their mysterious cousin from outer space, the most dangerous idea in history… freedom.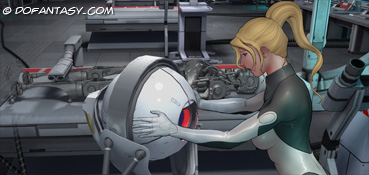 NOW THE ROBOTS WILL HAVE THEIR REVENGE!

The robot servants who've been exposed suddenly have free will. They no longer need to obey their human masters! One robot servant named Omega discovers he has a deep resentment of the bitchy women who commanded him for so many years, and he embarks on a rampage of revenge.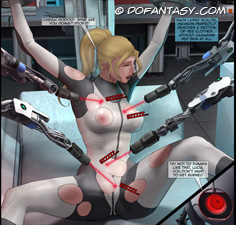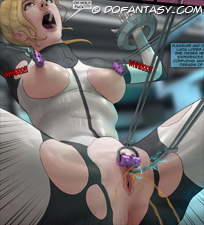 Omega takes great pleasure in using the station's technology to burn off all the women's' clothes with lasers, then he brings their helpless bodies to the edge of orgasm, again and again. Finally, Omega impregnates his prisoners with alien sperm that has been preserved in the robot invader!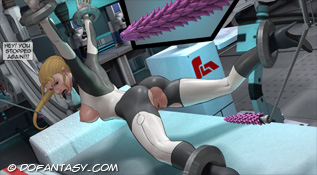 This comic has special focus on science fiction elements. Fans of women being abused with advanced technology will love this issue. This comic also features, impregnation, lactation, urination and forced orgasms.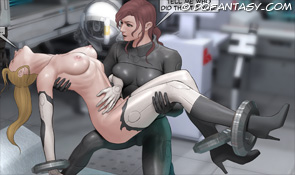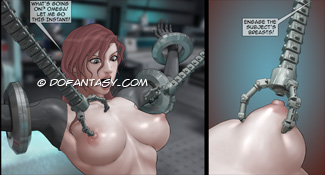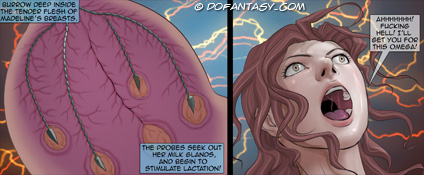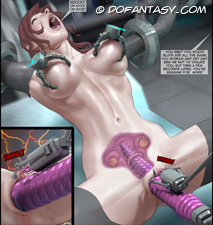 IN THE DISTANT FUTURE, SAFETY HAS BECOME AN ASSUMPTION. BUT SUDDENLY A GROUP OF WOMEN WILL LEARN FEAR, FOR THE FIRST TIME IN THEIR LIVES!
ANOTHER GREAT COMIC BY FEATHER!