Use our On-Line 100% Secure Encrypted Shopping Cart Ordering System. Simply browse
our site and Click the ADD TO SHOPPING CART buttons to place items in your Shopping Cart
FANSADOX COLLECTION 483
FASHION QUEEN 1: THE USURPERS - KITTY HAND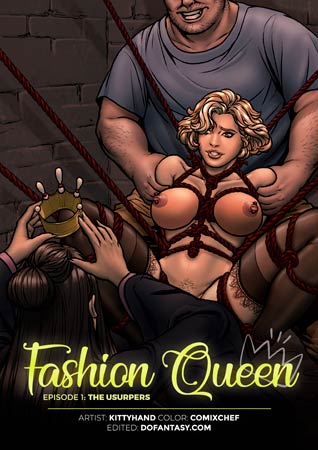 NEW IN PDF ELECTRONIC VERSION!
Adult Comic Album by KITTY HAND.
HIGH RESOLUTION PDF deluxe edition
54 full color comic pages!!!
-COMPLETE, UNABRIDGED VERSION-
A SNOTTY FASHION DIVA IS BROUGHT DOWN A PEG (OR THREE!) WHEN SHE PUSHES HER UNDERLINGS TOO FAR!
EVA ROLLAND MADE A CAREER OUT OF STEALING OTHERS' IDEAS. SHE'LL SOON FIND OUT THAT WHAT GOES AROUND COMES AROUND!


IMPORTANT NOTICE - DISCLAIMER
All characters are 18 years old or older.
This is an entirely fictional work based on
cartoon characters for adult entertainment.
It shows no real people or events.
The characters are shown participating in
CONSENSUAL role-play for their own
personal satisfaction, simulating activities
which involve sexual dominance and
submission. No actual toons were harmed
in the making of this comic.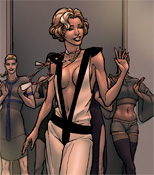 The fashion industry is a cutthroat place full of young and hungry professionals eager to make a name for themselves in the wider world. Robert, a talented fashion designer in the heart of New York doesn't make good pay, but his ideas are phenomenal. But Robert is a love struck puppy, and his heart is set on the fashion queen of his word: Eva Rolland. A dinner or two and a pretty smile, and Robert is practically gushing out prize winning ideas for his "girlfriend." Even at Eva's award ceremony, he still doesn't get it.
But reality comes down hard for Robert when he finds out that Eva isn't really interested in him at all, not in that way at least. No, she'd rather bang their mutual employer, Alexander, the head of the company! Heartbroken and full of vengeance, Robert trails the duo to Alexander's remote estate, a palatial mansion where the rich play on the bones of laborers and dreamers… just like Robert.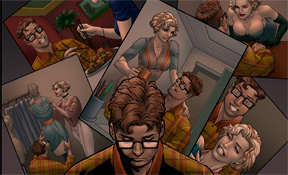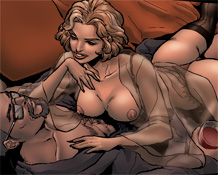 Fortunately, Robert has a friend: his roommate Jay. Jay comes from the wrong side of the tracks, and he knows how to break into this mansion and crash the party!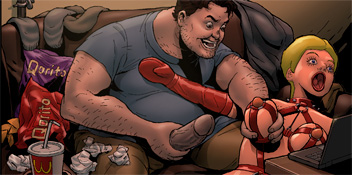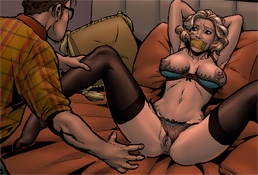 Jay comes from the wrong side of the tracks, and he knows how to break into this mansion and crash the party!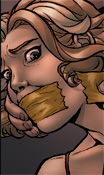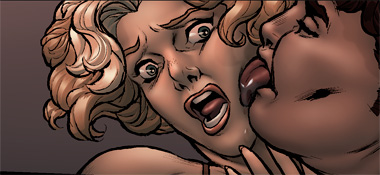 Alexander and Eva find themselves in a world of hurt as Robert takes revenge on Eva cockteaser… and things only get worse for Eva when she finds out she's hurt MANY people on her path to glory… and they ALL want a piece of her!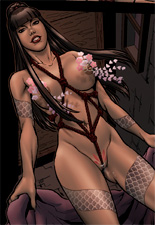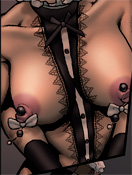 KITTYHAND BRINGS OUT ANOTHER EXCITING AND EROTIC SERIES IN THIS HIGH STAKES TALE OF POISE, PRESENTATION, PERVERSION, AND PAIN! EVA IS A CLASSIC RICH BITCH GOLD DIGGER WHO FALLS FROM ON HIGH TO A HARD AND ROCKY LANDING! THIS LAVISHLY ILLUSTRATED ISSUE IS FULL OF HOT AND HEAVY ACTION AND IS FILLED WITH SLICK SUCKING, SPITTLE, AND SQUIRTING! YOU DEFINITELY DON'T WANT TO MISS THIS GREAT, NEW SERIES, BROUGHT TO YOU HERE EXCLUSIVELY AT DOFANTASY.COM!