Use our On-Line 100% Secure Encrypted Shopping Cart Ordering System. Simply browse
our site and Click the ADD TO SHOPPING CART buttons to place items in your Shopping Cart
FANSADOX COLLECTION 487
FASHION QUEEN 2: RESTORATION - KITTY HAND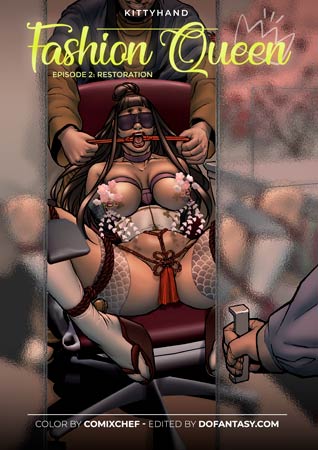 NEW IN PDF ELECTRONIC VERSION!
Adult Comic Album by KITTY HAND.
HIGH RESOLUTION PDF deluxe edition
53 full color comic pages!!!
-COMPLETE, UNABRIDGED VERSION-
THINGS ARE REALLY HEATING UP IN THIS BEHIND THE SCENES EXPOSE OF FASHION DRAMA GONE TERRIBLY WRONG!
YUKARI TRIES TO HOLD ON TO HER TENUOUS POSITION AND KEEP HER STAFF IN LINE, BUT THINGS GO FROM BAD TO WORSE WHEN AN UPRISING FROM WITHIN TOPPLES THE HOUSE OF CARDS!


IMPORTANT NOTICE - DISCLAIMER
All characters are 18 years old or older.
This is an entirely fictional work based on
cartoon characters for adult entertainment.
It shows no real people or events.
The characters are shown participating in
CONSENSUAL role-play for their own
personal satisfaction, simulating activities
which involve sexual dominance and
submission. No actual toons were harmed
in the making of this comic.
Eva Rolland has been put into her place… a terrible, disgusting, and scumsucking place deep in the bowels of the company's private, VIP lounge. ALEXANDER'S DESIRE is still the hottest game around, and its fashion designs are the toast of the town… nevermind the staffing changes taking place behind the scenes. But most people don't care about that. It does seem odd that Eva Rolland, once the lead architect of the company's designs, has suddenly been relegated to a much LOWER and less prestigious position, usurped by a young and exotic beauty from the east. Miss Mizuho Yukari.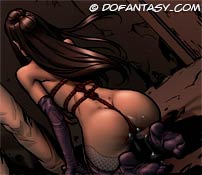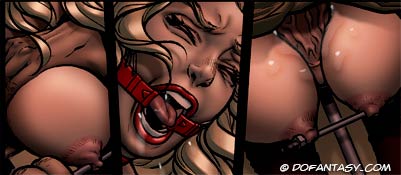 But rocketing to the top has its own pitfalls and traps. Miss Yukari has exacting standards and a very… "hands on" management style that rubs her new subjects the wrong way. A queen has many cards to play, many hands to hold, and lots of suits to juggle to maintain her place on the throne. It was something Eva Rolland did well… and something Miss Yukari is struggling to learn on the fly. How long can the house of cards stay standing as its pulled apart… piece by piece…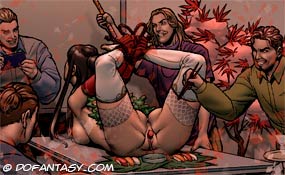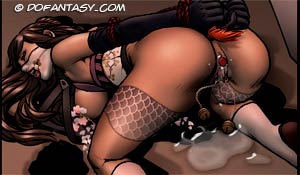 And you won't believe who's pulling the strings behind the scenes as the walls come tumbling down!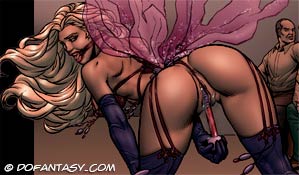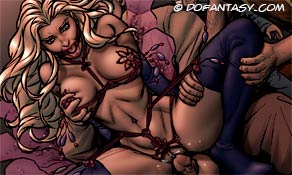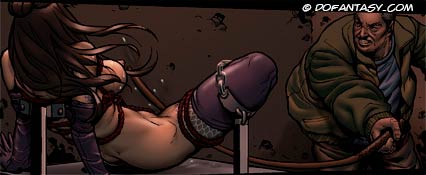 THIS AMAZING COMIC IS FULL OF DRAMA, DECEPTION, AND DARK DESIGNS AS THE FASHION QUEEN SERIES REACHES ITS EXCITING AND EROTIC CONCLUSION! KITTYHAND LOVINGLY ILLUSTRATES THIS HOT, WET, AND WILD ISSUE WITH THE RAUNCHIEST AND MOST PERVERTED STUFF OUT THERE! THESE FUCKABLE FUN TOYS WILL BE TAKEN OVER AND OVER AND OVER AGAIN WHEN THE TABLES TURN AND THE REVOLUTIONARIES BURN! YOU DON'T WANT TO MISS THIS HOT AND HEAVY ISSUE, BROUGHT TO YOU HERE EXCLUSIVELY AT DOFANTASY.COM!