Use our On-Line 100% Secure EncryptedShopping Cart Ordering System. Simply browse
our site and Click the ADD TO SHOPPING CART buttons to place items in your Shopping Cart
[ HOME ] [ COMICS ] [ MOVIES ] [ NOVELS ] [ CD-ROM ] [ Order info ] [ Help ] [ ARTIST SITES ] [ SEARCH ]
[ Disclaimer ] [ CATALOGUE ] [ Copyright ]
FANSADOX COLLECTION 488
HAREM 2018 - CAGRI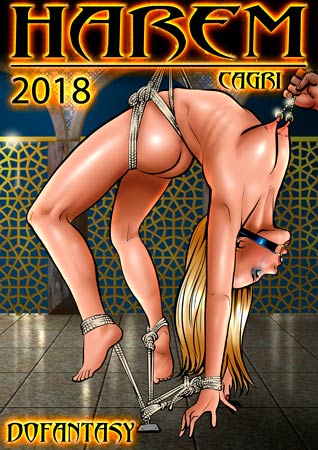 NEW IN PDF ELECTRONIC VERSION!
Adult Comic Album by CAGRI.
HIGH RESOLUTION PDF deluxe edition
40 color comic pages!!!
-COMPLETE, UNABRIDGED VERSION-
EVEN IN THE MODERN ERA, PRETTY, PAMPERED, AND SPOILED WESTERN GIRLS CAN BE SNATCHED UP AND TURNED INTO HAREM SEX SLAVES!
ONCE THESE GIRLS ARE LURED INTO THE DESERTS OF THE MIDDLE EAST, THEY NEVER RETURN…
IMPORTANT NOTICE - DISCLAIMER
All characters are 18 years old or older.
This is an entirely fictional work based on
cartoon characters for adult entertainment.
It shows no real people or events.
The characters are shown participating in
CONSENSUAL role-play for their own
personal satisfaction, simulating activities
which involve sexual dominance and
submission. No actual toons were harmed
in the making of this comic.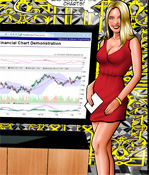 Karen Moore is one of the top executives of a big, blue chip investment firm trying to drum up business and investors. Already one of the rarer species, a bright and intelligent girl in the dog eat dog world of executive trading firms, Karen Moore is also a stunningly beautiful blonde with an attitude to match! But she's no dummy this one. When the sheik himself gropes her, Karen is polite. She doesn't want to offend the most powerful man in the emirate, and when the man invites her to dinner, she can hardly refuse, lest she insult him and lose his business.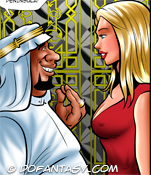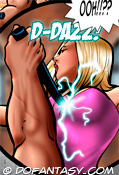 Unfortunately for Karen, that was her first and last mistake. The "restaurant" isn't anything of the sort at all. It's a run down building where a pretty, western bimbo can be disappeared… and secreted away to Sheik Malik's private harem full of exclusive, western models, celebrities, and tamed bitches!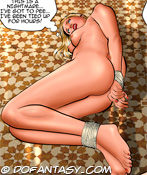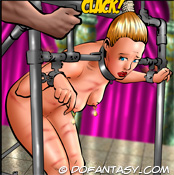 Habeeb the slavemaster is bad enough, a big brute of a man with a punch to match, but the worst comes from little Mistress Aisha, a spitfire of a mistress who has it out for Karen Moore. Karen Moore will behave herself, or she'll find her tits lopped off and fed on the next silver platter of Sheik Malik's real meal! You'd best behave yourself, little Miss Moore… your tits are on the line!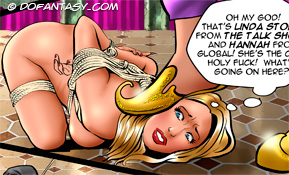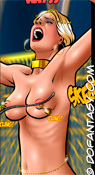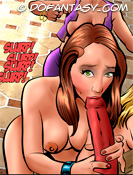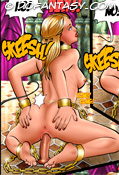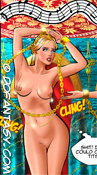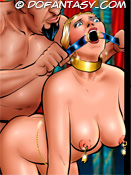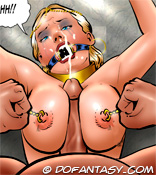 CAGRI'S INFAMOUS HAREM SERIES HAS YET ANOTHER INSTALLMENT! WEALTH AND POWER HAVE A WAY OF ATTRACTING THE PRETTY AND THE NAÏVE, BUT EVEN THE SMART AND THE SPIRITED ARE NOT SAFE IN THESE DESERT LANDS! LITTLE MISS MOORE WILL FIND HERSELF FROM TOP DOG TO BEATEN BITCH, HUMILIATED UNDER A TWISTED, LESBIAN MISTRESS! BUT THAT'S NOT THE WORST TO COME… NOT BY FAR! YOU DON'T WANT TO MISS THIS EXCITING ISSUE, CAGRI'S LONG AWAITED HAREM 2018, BROUGHT TO YOU HERE EXCLUSIVELY AT DOFANTASY.COM!