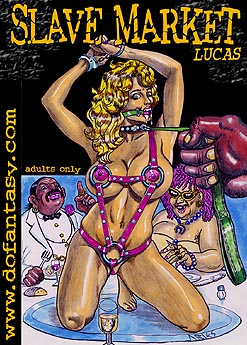 New in English!!!
by LUCAS
Illustrated by PAUL
Cover by ARIES

HIGH RESOLUTION PDF deluxe edition
130 pages beautifully illustrated by PAUL

IMPORTANT NOTICE - DISCLAIMER
All characters are 18 years old or older.
This is an entirely fictional work based on
fantasy characters for adult entertainment.
It shows no real people or events.
The characters are shown participating in
CONSENSUAL role-play for their own personal
satisfaction, simulating activities which involve
sexual dominance and submission.
No actual characters were harmed in the making
of this novel

Slave Market follows the misfortunes of three captured women. These women have been sold to cruel psychopaths, immensely rich men who have the money to acquire "playthings" to feed their perverse sexual fantasies…

Lucas weaves their stories together in masterly form, to produce a classic tale of sexual exploitation in a world in which all the rules of civilized behavior can be broken by those who have the money, and men are free to do whatever they wish with the women they have bought.

Claudia Moore, the famous top model, is sold in public auction to Valdes, a South American drug lord.

Rebecca falls foul of White Inc, an organization that specializes in providing beautiful women to powerful people. A classmate at college, Ben Mukele, was infatuated with her. She snubbed him. It was a bad mistake. Ben's father, Max, is the owner of White Inc. He abducts her for his son to use as his personal slave. Max will get his revenge, over and over again…

Jasmine is a young Brazilian who attends a fake audition set up by White Inc. A video of the candidates is distributed among the organization's clients, and a sadistic Japanese businessman called Yamamoto sees it. Jasmine is the slave he's always dreamed of…

We meet Sarah too, an American Jewess who works for an ecological magazine. Sarah and her magazine took an Arab oil company to court. The oil tycoon has her sentenced to life imprisonment in his palace, as his slave.

SLAVE MARKET is an intense, claustrophobic work, steeped in the smells of damp dungeons and intimate female secretions.

NOT TO BE MISSED!

FROM THE BOOK:

One of the cages caught his attention. It held two identical blondes, obviously twins.

Max looked terrifying large as he stood there, still naked. He frightened them. They had never seen a black like that before...

Max read the small description. They were two Russian girls, aged eighteen. Despite their age and the size of their breasts, he had the impression that they were not fully formed yet.

Like many of their compatriots, they were musicians, preparing for the university. Both were virgins when captured. The note was short:

Inexperienced sexually

Ideal for punishment. Resistant stock

Very sensitive to anal penetration

TO BE USED TOGETHER

Suggested activities:

Wrestling (mud, whips)

Lesbian show

Mutual fight (whips, clamps, prods, electro...)

NOT TO BE MISSED!