Use our On-Line 100% Secure Encrypted Shopping Cart Ordering System. Simply browse
our site and Click the ADD TO SHOPPING CART buttons to place items in your Shopping Cart
[ HOME ] [ COMICS ] [ MOVIES ] [ NOVELS ] [ CD-ROM ] [ Order info ] [ Help ] [ ARTIST SITES ] [ SEARCH ]
[ Disclaimer ] [ CATALOGUE ] [ Copyright ]
FANSADOX ALBUM 15:
BLACK MASTER by 3D PERVERSION
NEW IN PDF ELECTRONIC VERSION!
Adult ALBUM by 3D PERVERSION!
HIGH RESOLUTION PDF deluxe edition.
21 great illustrations
with nice hot texts!!!
-COMPLETE, UNABRIDGED VERSION-

CUTIE KATIE WAKES UP TO A HORRIFYING NIGHTMARE: SHE'S THE NEWEST, SWEETMEAT SEX SLAVE TO HER BIG, BLACK MASTER!

DARNELL HAS BROUGHT THIS SHOCKED AND STUNNED SEX SLAVE TO SERVE AS HIS CREAMPIE CUTIE! WHAT HE DOES TO POOR KATIE TO "BREAK HER IN" WILL SHOCK YOU!

IMPORTANT NOTICE - DISCLAIMER
All characters are 18 years old or older. This is an entirely fictional work based on cartoon characters for adult entertainment. It shows no real people or events. The characters are shown participating in CONSENSUAL role-play for their own personal satisfaction, simulating activities which involve sexual dominance and submission. No actual toons were harmed in the making of this comic.
i
n this raw and dramatic comic, only the most intense, erotic, and perverted things will happen. Poor, co-ed Katie wakes up in a dark and dimly lit basement to a horrifying fact and an even more horrifying revelation: she's the newest white bread sex slave to a tall, dark, and gravel voiced man, the devious Darnell! Confused and frightened, Katie's begging and pleading is drowned out by the enormous ballgag jammed in her mouth, and her whimpers are quickly silenced by the brutal crack of a merciless whip!

You'd best behave yourself, cutie Katie, or else things will get very, very ugly. Darnell is a man with a powerful hunger and even more powerful needs. Let's hope you learn quick and learn to please Darnell and his big, thick meat… or you might find yourself in a world of hurt… or maybe, even worse!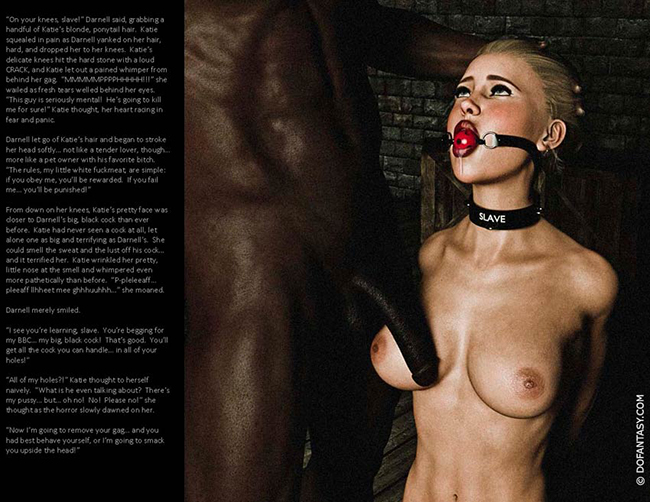 3D PERVERSION BRINGS TO YOU A TRULY, UNBELIEVABLY, BRUTAL COMIC SET IN A DARK, DIMLY LIT BASEMENT! FULL OF ONLY THE RAWEST AND MOST DISGUSTING AND FILTHY IMAGES, YOU WON'T BELIEVE SOME OF THE THINGS YOU'LL SEE IN THESE TWISTED PAGES! KATIE WILL SUFFER, SHE WILL BEG, SHE WILL WHIMPER, AND SHE WILL AND SCREAM, BUT NO MATTER HOW MUCH SHE STRUGGLES, SHE WILL SUBMIT TO DARNELL'S WILL BY THE END… OR ELSE!

YOU DON'T WANT TO MISS THIS AMAZING ADVENTURE, BROUGHT TO YOU HERE EXCLUSIVELY AT DOFANTASY.COM!!!