Use our On-Line 100% Secure EncryptedShopping Cart Ordering System. Simply browse
our site and Click the ADD TO SHOPPING CART buttons to place items in your Shopping Cart
[ HOME ] [ COMICS ] [ MOVIES ] [ NOVELS ] [ CD-ROM ] [ Order info ] [ Help ] [ ARTIST SITES ] [ SEARCH ]
[ Disclaimer ] [ CATALOGUE ] [ Copyright ]
FANSADOX COLLECTION 103
HONEYMOON FROM HELL - TEMPLETON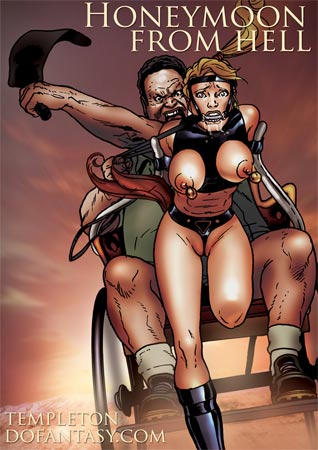 HONEYMOON FROM HELL
NEW IN PDF ELECTRONIC VERSION!
Adult Comic Album by TEMPLETON
HIGH RESOLUTION PDF deluxe edition
45 full color comic pages
-COMPLETE, UNABRIDGED VERSION-
TWO YOUNG RECENTLY-MARRIED
COUPLES RAVAGED
ON THEIR HONEYMOON
THE HUSBANDS OBLIGED TO
WITNESS IT ALL!
AN EXCITING STORY OF
REVENGE AND BLACKMAIL...
IMPORTANT NOTICE - DISCLAIMER
All characters are 18 years old or older.
This is an entirely fictional work based on
cartoon characters for adult entertainment.
It shows no real people or events.
The characters are shown participating in
CONSENSUAL role-play for their own
personal satisfaction, simulating activities
which involve sexual dominance and
submission. No actual toons were harmed in the making of this comic.
Mike and David have been friends since school. They have just married the beautiful Fillmore sisters, Susan and Heather. Their wedding was all over the local press. Mike and David were the stars of the college football team, and the girls were the most sought after cheerleaders.
The two happy couples decided to go on honeymoon together too. They rented bungalows on a quiet tropical beach...
A bit out of season, the two American couples are almost the only guests in the resort.
The girls are incredibly beautiful, explosive sex bombs. They are both head-over-heels in love with their new husbands. Completely unaware of the local staff's lustful glances, they party with total abandon and openly have sex with their young husbands.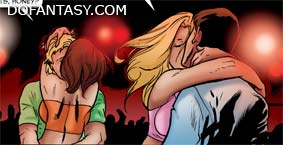 Senor Venancio Apestoso, the owner of the resort put it this way: 'Fucking gringos! We Mexicans, we just get wet backs, we don't get wet cocks! We're shit, in our own land!
When the girls realize they are the center of attention, they start teasing the male staff for fun...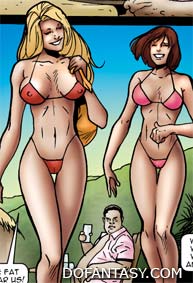 The situation starts getting out of hand…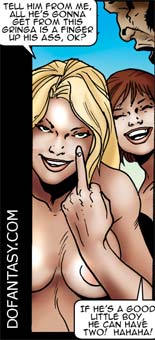 ...and the two couples end in teh hands of the ruling Family of the area. Mom Abelarda, son Venancio and Rosario, the lovely, kinky daughter.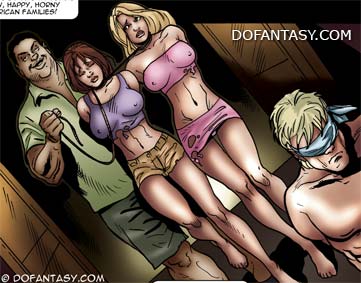 Soon the two American couples realize what sort of depraved creeps that family are...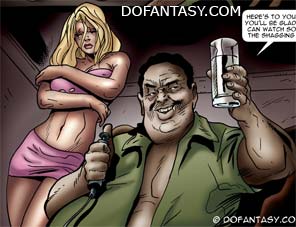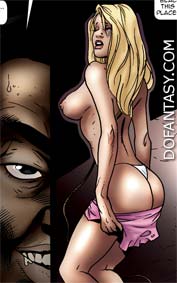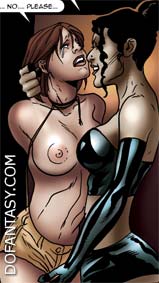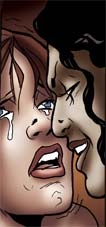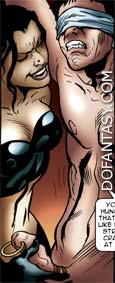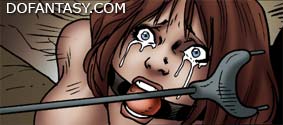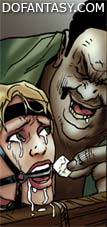 DON'T MISS THIS GREAT NEW TEMPLETON!
TWO NEWLY-MARRIED YOUNG COUPLES IN THE PAWS OF A SADISTIC FAMILY!
THE GIRLS ARE BLACKMAILED INTO PERFORMING THE MOST ABOMINABLE
ACTS TO SAVE THEIR HUSBANDS' LIVES!
THEY ARE FORCED TO SUBMIT IN FRONT OF THEIR NEWLY-WED PARTNERS!!!
VISIT TEMPLETON SITE FOR A COMPLETE
LIST OF TEMPLETON COMICS AND OFFERS