Use our On-Line 100% Secure EncryptedShopping Cart Ordering System. Simply browse
our site and Click the ADD TO SHOPPING CART buttons to place items in your Shopping Cart
[ HOME ] [ COMICS ] [ MOVIES ] [ NOVELS ] [ CD-ROM ] [ Order info ] [ Help ] [ ARTIST SITES ] [ SEARCH ]
[ Disclaimer ] [ CATALOGUE ] [ Copyright ]
FANSADOX COLLECTION 119
MARRIAGE TRAP - TEMPLETON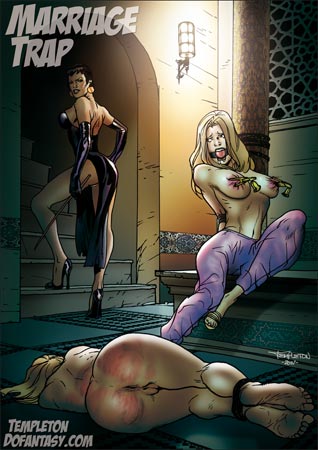 MARRIAGE TRAP
NEW IN PDF ELECTRONIC VERSION!
Adult Comic Album by
TEMPLETON
HIGH RESOLUTION PDF deluxe edition
45 full color comic pages by
TEMPLETON
-COMPLETE, UNABRIDGED VERSION-
A TOP CORPORATE EXECUTIVE
FALLS INTO A BUSINESS TRAP.
SHE AND HER 18-YEAR OLD DAUGHTER
END UP SOLD AS SEX-SLAVES TO
NORTH AFRICAN TRADERS.
IMPORTANT NOTICE:
All characters are 18 years old or older.
All action is simulated and no
actual people are involved in it.
The authors/publishers do not condone
any kind of violence.
These comics are completely fiction
and for adult entertainment.
Sarah Gates is the owner and CEO of Sarah Gates Cosmetics. She's a business-minded woman used to giving orders and being obeyed. Her employees, even her board, fear her.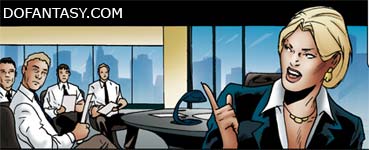 Ms Sarah Gates' mood is even worse now that she's planning to get married. Not for love but for business, of course. She plans to get Gates Cosmetics onto the African market thru the family trust of her husband to be: Mr Rashid.
In fact the woman despises Rashid. His mere presence makes her sick. But still, business is business...
What the all powerful and business wise Miss Gates doesn't know is that Rashid is an impostor. He has no family trust. He's a corporate burglar and free lance slave hunter who plans to steal the company and sell Sarah Gates and Moon, her 18 year-old daughter, to slave traders.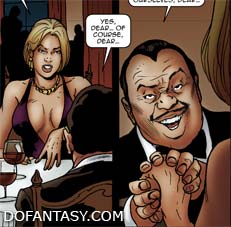 Young Moon hates Mr. Rashid even more than her mother. The old bastard openly lusts after the girl, harassing her every time Sarah turns her head.
Regardless of Moon's opinion, Mother and daughter travel to North Africa for the wedding...
Instead of Rashid's family, a very bizarre reception committee is waiting for the two American women.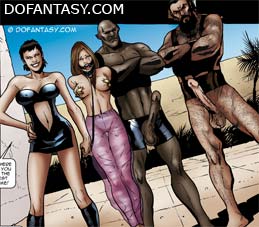 The women are seized and locked in punishment cells.
To Moon's further despair, she soon learns that she was in Rashid's deal in a very personal way....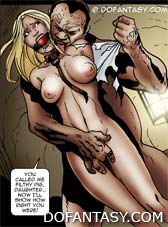 From this point, Templeton introduce us to a dreadful world of female slavery where mental and physical humiliation and painful punishments are the name of the game.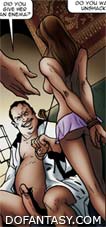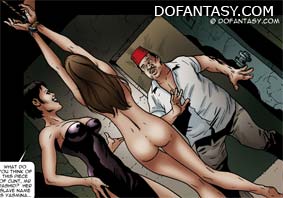 Slavegirls are subjected to their masters' and mistresses' every whim...
Templeton masterfully shows the sheer humiliation of Miss Sarah Gates' downfall from the top of the corporate ladder to slavery... The woman has no option but to submit. Her own daughter is at stake...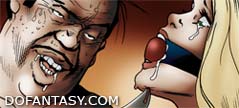 The sort of young Moon is not better...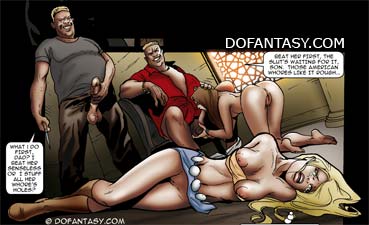 DON'T MISS THIS GREAT NEW TEMPLETON!
A TOP CORPORATE EXECUTIVE AND HER DAUGHTER SOLD AS SLAVES
SHE WANTED TO MARRY HIM ONLY FOR BUSINESS. SHE ENDS UP SOLD AS
SLAVE ALONG WITH HER YOUNG DAUGHTER!
A NEW, HOT BDSM STORY!
VISIT TEMPLETON SITE FOR A COMPLETE LIST
OF TEMPLETON COMICS AND OFFERS