General Aghande's troops show no mercy... They devastate the land in a terrifying ethnic cleansing.
In this nightmarish world, Western women are the most appreciated booty. This is the story of an arrogant Swedish UN official and a prize-winning reporter who brought General Aghande's human rights abuse to the world's attention. The two women and a group of white nurses fall into the rebels' hands and are locked up in the General's private harem...
They are subjected to all kinds of humiliation, including the devilish experiments of "The Doctor", an evil scientist...
The naked captives are kept cramped up in tiny cages waiting for their next session in the infamous laboratory...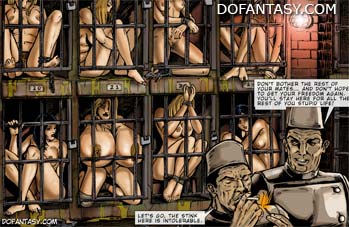 The Doctor, like the General, is a villain who play shameful games with his captives...
It is a story of war, inhuman medical experiments, and a secret harem run by the merciless General in all Africa...
WESTERN GIRLS CAPTIVES
OF A VICIOUS REBEL GROUP
IN THE MIDDLE OF A DRASTIC
ETHNIC CLEANSING WAR...
NON-STOP ACTION BY MAX PELLE!