Use our On-Line 100% Secure Encrypted Shopping Cart Ordering System. Simply browse
our site and Click the ADD TO SHOPPING CART buttons to place items in your Shopping Cart
[ HOME ] [ COMICS ] [ MOVIES ] [ NOVELS ] [ CD-ROM ] [ Order info ] [ Help ] [ ARTIST SITES ] [ SEARCH ]
[ Disclaimer ] [ CATALOGUE ] [ Copyright ]
FANSADOX COLLECTION 179
CHEERLEADERS SOLD! - FERNANDO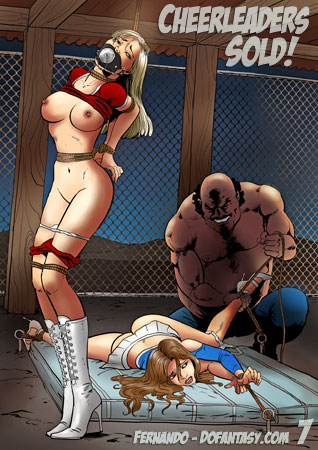 CHEERLEADERS SOLD!
NEW IN PDF ELECTRONIC VERSION!
Adult Comic Album by FERNANDO
HIGH RESOLUTION PDF deluxe edition
48 full color comic pages by
FERNANDO
-COMPLETE, UNABRIDGED VERSION-
CHEERLEADERS MISSING!!!
3 CHEERLEADERS AND ONE YOUNG
SISTER IN THE HANDS OF
3 OLD BASTARDS...
IMPORTANT NOTICE - DISCLAIMER
All characters are 18 years old or older.
This is an entirely fictional work based on
cartoon characters for adult entertainment.
It shows no real people or events.
The characters are shown participating in
CONSENSUAL role-play for their own
personal satisfaction, simulating activities
which involve sexual dominance and
submission. No actual toons were harmed in the making of this comic.
DON'T MISS ANNE AND SISTER DAWN CHEERLEADING AT PRIVATE COCKFIGHTS!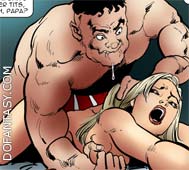 BACKGROUND
Old Bob thought he was the luckiest bastard on Earth. Good fortune and a heavy storm had brought 4 delightful cheerleaders knocking on his door.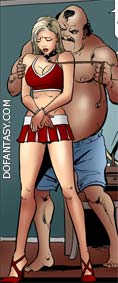 His bizarre mind soon came to a decision: he would keep them...
After a while Old Bob decides to share his booty with two friends, Dogface and Assbuster. Bob is obsessed by Jessica's stunning beauty, and decides to keep her for himself. As host of this "party" he has the right to choose another girl, and he selects young Beverly, a curly-haired redhead with a full body and a shy, angelical face, just what the old bastard has dreamt of all his life...
And if Bob is plain crazy, Dogface is a mean, twisted fetishist. He's 61 and the oldest of the group. He selects lively Chris, the youngest of the cheerleaders. She's an 18-year old brunette with the sort of breasts Dogface would die for. Needless to say, Chris feels sick at being chosen by a man old enough to be her grandfather!
Assbuster is the most dangerous member of the group. He's a born go-getter and he's trouble. He chooses Anne, an out-of-this-world blonde beauty with a lot of character. Although she is just as scared as her friends, the girl has the guts to face up to the men, and even to insult them.
After some time Assbuster is almost caught by the cops, but his luck holds. Not only does he manage to avoid getting arrested, but he finds himself another victim: Anne's sister, a beautiful tennis player who is every bit as hot as Anne herself...
______________________
But now the police are closing in on them. Dogface and Bob decide to set up a new hiding-place for their captives in Bob's remote house. Once again, the girls are reunited in desperate circumstances...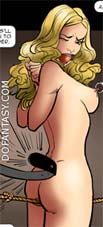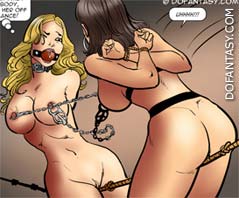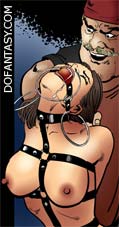 Assbuster decides it is time to leave the underground hole where Anne has been kept captive for months. It's going to be a long trip and he doesn't want to take any chances. He hides the two sisters, severely tied and gagged, under the false floor of his van where they lie sweating, waiting to be taken to an unknown destination...
Assbuster's plan is truly evil. Instead of releasing the girls, he will sell them over the border to an old acquaintance, Don Alvaro Matanzas. This is a mean guy, a tough drug lord who commands an army of pitiless thugs and runs and empire of vice and depravation...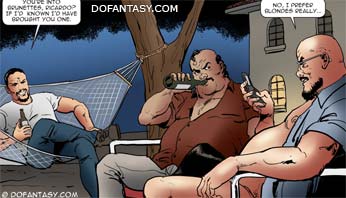 Anne and her sister Dawn now face an unspeakable future as slaves in Don Alvaro's family...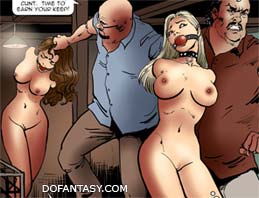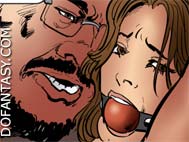 The two cheerleaders can expect little mercy from twisted brother Ricardo, cruel butch wife Rosa and half-crazed 18-year old son Pedro.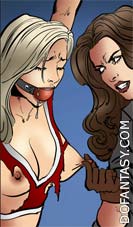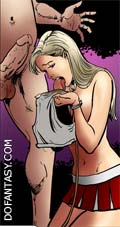 The family shows no mercy. To them, the two cheerleaders are just round, female flesh, bought for their entertainment...
The humiliation of the girls knows no limits...
They are obliged to cheerlead in the dirtiest and most disgusting ways in private cock-fighting parties.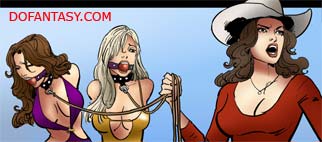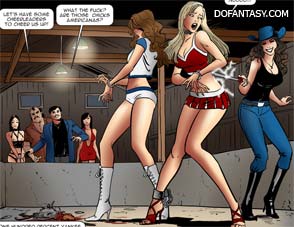 The family proudly exhibits the two cheerleaders, its property, to the leering crowd of thugs and prostitutes...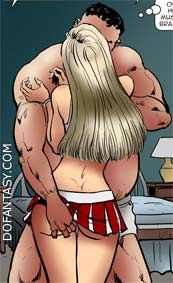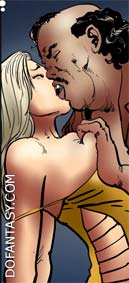 2 OF THE 4 CHEERLEADERS SOLD
TO A GANGSTER FAMILY
SOUTH OF THE BORDER
DON'T MISS ANNE AND SISTER DAWN
CHEERLEADING AT PRIVATE COCKFIGHTS!
CHEERLEADERS BY FERNANDO, THE HOTTEST
COMIC SERIES EVER PUBLISHED!

A SELF CONTAINED, INCREDIBLY AROUSING
TALE OF MADNESS IN WHICH THE OLD MEN HAVE NOTHING TO LOSE, THEY KNOW THEY
CAN KEEP THEIR GIRLS FOREVER AND
NOBODY WILL EVER KNOW...
CLICK HERE FOR CHEERLEADER'S DREADFUL REUNION THE 6th PART OF THIS STORY
CLICK HERE FOR CHEERLEADER'S ORDEAL THE 5th PART OF THIS STORY
CLICK HERE FOR CHEERLEADER'S FATE THE 4th PART OF THIS STORY
CLICK HERE FOR CHEERLEADER'S SPLIT UP THE 3rd PART OF THIS STORY
CLICK HERE FOR CHEERLEADER'S HORROR PARTY THE 2nd PART OF THIS STORY
CLICK HERE FOR CHEERLEADER'S HELL THE 1st PART OF THIS STORY

VISIT FERNANDO SITE FOR A COMPLETE LIST OF
FERNANDO COMICS AND OFFERS
[ HOME ]