Use our On-Line 100% Secure Encrypted Shopping Cart Ordering System. Simply browse
our site and Click the ADD TO SHOPPING CART buttons to place items in your Shopping Cart
[ HOME ] [ COMICS ] [ MOVIES ] [ NOVELS ] [ CD-ROM ] [ Order info ] [ Help ] [ ARTIST SITES ] [ SEARCH ]
[ Disclaimer ] [ CATALOGUE ]
FANSADOX COLLECTION 249
DEADLY PLATFORM - MOFFETT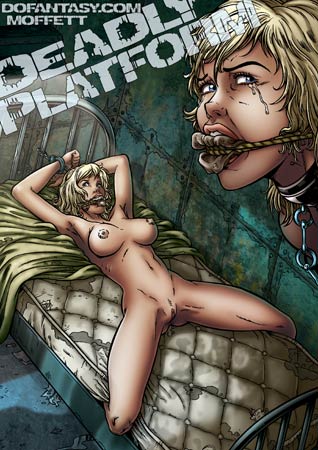 NEW IN PDF ELECTRONIC VERSION!
Adult Comic Album by MOFFETT
HIGH RESOLUTION PDF deluxe edition
44 full color comic pages.
-COMPLETE, UNABRIDGED VERSION-
AN SPINE CHILLING NIGHTMARE SET IN
A UNIQUE LOCATION WITH UNFORGETTABLE CHARACTERS, THE PLATFORM WILL KEEP
YOU SPELLBOUND FROM THE FIRST PAGE
TO THE LAST!
SEE WHAT HAPPENS WHEN CRIMINAL MEN
ARE REMOVED FROM ALL MORAL
RESTRAINTS, AND FREE TO PURSUE
THEIR MOST BESTIAL DESIRES!
IMPORTANT NOTICE - DISCLAIMER
All characters are 18 years old or older.
This is an entirely fictional work based on
cartoon characters for adult entertainment.
It shows no real people or events.
The characters are shown participating in
CONSENSUAL role-play for their own
personal satisfaction, simulating activities
which involve sexual dominance and
submission. No actual toons were harmed
in the making of this comic.
CAROLINE FINDS HER ONE YEAR CONTRACT AS GEOLOGIST TRAINEE CHANGED
INTO PLATFORM WHORE UPON ARRIVAL!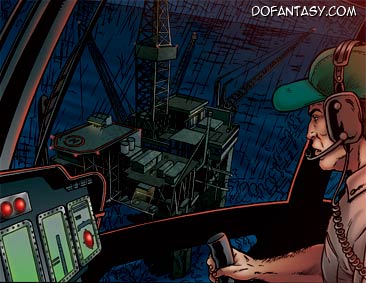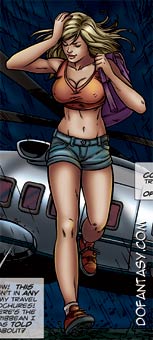 An island of steel and iron rises out of the Caribbean Sea . The Platform is an isolated world on the water. Its crew seethes with pent-up frustration, until a sexy, young woman arrives and faces the full force of their hunger for 'entertainment'!
Caroline Collins has never been on an oil platform before, or worked with such rough men! Everything she's learned before arriving at The Platform will be useless in her sudden fight to get back home!
The "Deep Crack Driller" is an engineering marvel. An impressive monument to man's mastery over nature. The oil platform is able to withstand anything that nature can throw against her steel walls. But living within this city on the see, a group of men practice their own mastery over the rig's newest resident.
Caroline Collins has taken her first step on the solid deck of the oil platform. It's not a step she's taken willingly, but out of necessity. As a recent college grad, she expected that good jobs would be hard to find. But finding a job as an inexperienced geologist proves to be next to impossible. When she sees a job opening on the offshore driller, she jumps at the opportunity.
She thinks she can handle the hardship, hard work and isolation. But when she meets the rough crew she begins to have second thoughts.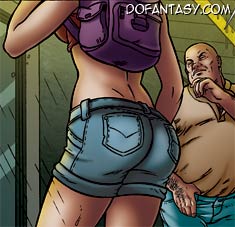 "Dunno what you were expecting girlie,
but I'm Mr. Redondo, the crew boss on this rig."
Mr. Redondo has been working in the oil industry for all of his life. His years of drilling in the relentless Texas heat have made him a man to be feared. The punishing work has turned his body into a pillar of knotted muscle and wire sinews. He has little respect for the men working on his crew. For women, he has none. Especially for the bright, perky college graduates like Caroline!
Redondo runs his oil platform like his own private kingdom. Anchored deep within the Caribbean Sea , the platform is out of reach from government oversight and the laws of civilization. Redondo has carefully selected his crew on the monolithic structure. Men who only understand brute force, and only one law: survival of the fittest!
When Caroline steps onto the Deep Crack Driller as its new geologist, she might not ever step off it again. Women on the intimidating platform have a bad habit of falling prey to industrial accidents in the dangerous environment. They simply vanish, with only the hulking crew of the rig knowing the full story behind their sudden disappearance!
Caroline feels desolated when she first enter the common area of the Platform, her home for the next year. The place reeks to putrid fish and sweat. Dirty is everywhere. And what's worse, on the big plasma screen a bondage movie is showing. A gagged, naked girl is being branded in a horrible scene. The screams of the unfortunate fill the creepy room making speech impossible.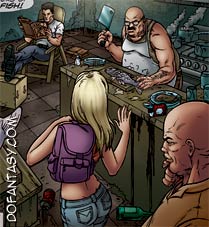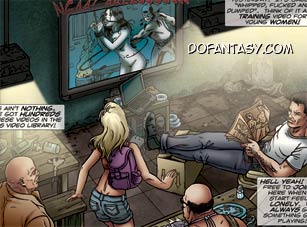 "We've got plenty of time to get to know each other.
'Course there's only one thing a man needs to know about a woman... HAW HAW!"
In the relative security of a depressingly rusty water dripping cabin with no locker, Caroline decides to leave the Platform the next day.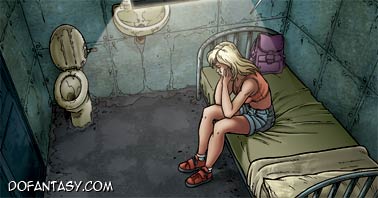 There's no way I'm putting up with this crap for a whole year.
The company can get another sucker to take this thankless job. I quit!
No way. At breakfast, the crew of perverted tugs seize the girl and tell her about their plans. She's been promoted into the new Platform's Whore and she won't have any contact with the outside world.


"Nobody's gonna know if you like being our whore or not!
We're gonna answer your mail, your fakebook. As far as anyone knows,
you're safer here than a bible in a whorehouse!"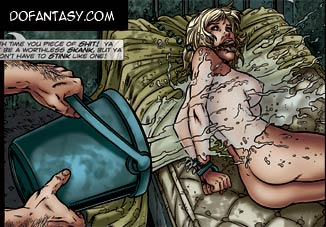 Caroline is on duty 24 over 24, seven days a week. Each coming day she's assigned to a different member of the crew, except on Sundays.
Sunday is community day and a gang party is held...
The life of Caroline turns into an awful nightmare of impotence, abuse and inhuman humiliation.
She's told of the fake, intimate conversations that the crew members are holding with her boyfriend Robert and her family. Nobody outside the deadly platform is aware of the horror hell the young woman is living in.
Day after day, Caroline discovers -and suffers- perverse tricks she would never have imagined possible. The men are authentic psychos, who know they'll never be held accountable for their acts.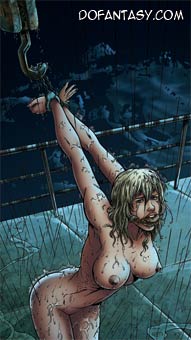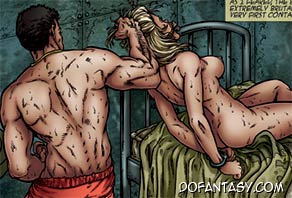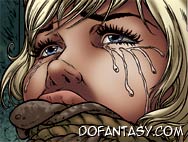 "Hold your horses, whore! I'll be there in a second
to give you all the fun you can stand!"





A RIVETING COMIC FROM ONE OF DOFANTASY'S MOST TALENTED ARTISTS!
MASTER ARTIST MOFFETT HAS CREATED A STORY WHICH COULD ONLY TAKE
PLACE FAR FROM INTERNATIONAL LAWS, AND HIDDEN FROM THE CIVILIZED WORLD.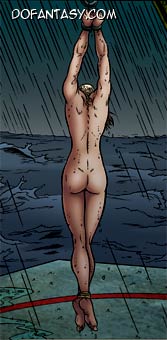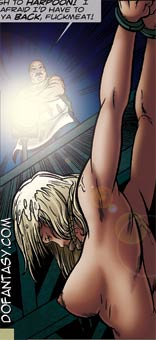 AN SPINE CHILLING NIGHTMARE SET IN
A UNIQUE LOCATION WITH UNFORGETTABLE CHARACTERS, THE PLATFORM WILL KEEP
YOU SPELLBOUND FROM THE FIRST PAGE
TO THE LAST!
SEE WHAT HAPPENS WHEN CRIMINAL MEN
ARE REMOVED FROM ALL MORAL
RESTRAINTS, AND FREE TO PURSUE
THEIR MOST BESTIAL DESIRES!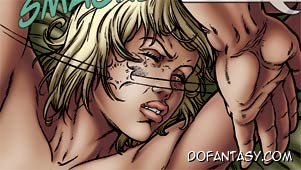 A COMIC TO BE READ OVER AND OVER AGAIN. BUY IT NOW!
VISIT MOFFETT SITE FOR A COMPLETE LIST OF MOFFETT COMICS AND OFFERS


PDF by DOWNLOAD. The PDF electronic version contains the same images and text as the paperback edition (if a paperback exists). Please be aware that most of the ENGLISH VERSIONS are in PDF version exclusively. You'll have instant access to your files just after the credit card transaction is approved. You'll receive a confirmation e-mail with directions to download if you prefer to download at a later time. To open PDF files you need Adobe Acrobat Reader. Download it for free by clicking here!
PDF in a CD. If you prefer, we'll burn a CD-ROM e specially for you with the PDF files that you choose. Postage (14.99 Euro) will be added to the total cost of the books. If you want to order on a CD-ROM please check the corresponding check-box in the shopping cart.
Copyright © 1998-2011 Dofantasy - ETHAN ltd