Use our On-Line 100% Secure Encrypted Shopping Cart Ordering System. Simply browse
our site and Click the ADD TO SHOPPING CART buttons to place items in your Shopping Cart
[ HOME ] [ COMICS ] [ MOVIES ] [ NOVELS ] [ CD-ROM ] [ Order info ] [ Help ] [ ARTIST SITES ] [ SEARCH ]
[ Disclaimer ] [ CATALOGUE ] [ Copyright ]
FANSADOX COLLECTION 264
THE LONGEST JOURNEY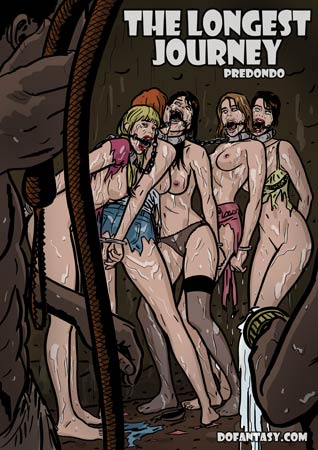 NEW IN PDF ELECTRONIC VERSION!
Adult Comic Album by PREDONDO.
HIGH RESOLUTION PDF deluxe edition
47 full color comic pages!!!
-COMPLETE, UNABRIDGED VERSION-

A DREADFUL JOURNEY FROM THE
WEST COAST TO MOGADISHU!
FROM THE EASY, PAMPERED
LIFE OF AN ELITIST CAMPUS TO
THE DARKEST DEN OF AFRICA...

WHEN SUMMER ENDS,
THE NIGHTMARE BEGINS!

IF YOU THINK THAT SUMMER BREAK IS
AN EMPTY PARADE OF BEACHES AND BEER,
LET PREDONDO TAKE YOU ON A JOURNEY
YOU'LL NEVER FORGET!

IMPORTANT NOTICE - DISCLAIMER
All characters are 18 years old or older.
This is an entirely fictional work based on
cartoon characters for adult entertainment.
It shows no real people or events.
The characters are shown participating in
CONSENSUAL role-play for their own
personal satisfaction, simulating activities
which involve sexual dominance and
submission. No actual toons were harmed
in the making of this comic.

A DREADFUL JOURNEY FROM THE WEST COAST TO MOGADISHU.
FROM THE EASY, PAMPERED LIFE OF AN ELITIST CAMPUS TO
THE DARKEST DEN OF AFRICA...

Sherry and Mia are two beauties who know how to have a good time, and summer break offers them the perfect opportunity to let their hair down and go wild! Leaving their dorm room behind, the two girlfriends chart a course that will take them to every nightclub and hot spot along the West Coast. The summer days are long, and each morning brings the possibility of adventure and romance for the two fun-loving students.

When the season starts to draw to a close, Mia and Sherry reluctantly turn their thoughts back to schoolwork and the coming semester. With their bank accounts nearly exhausted, the friends make their way to a bus terminal to catch a ride back home.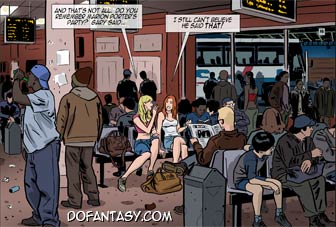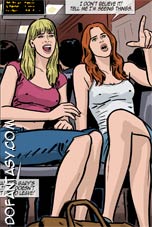 Saying goodbye to the friends they've made on their trip, the sexy young women don't realize that they're saying goodbye to more than just their vacation. They're also saying goodbye to everything they have ever known!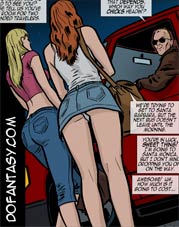 Sherry is a blonde knockout, who always knows how to have a good time and isn't afraid of meeting new people or having new experiences. The spirited young woman knows that her smile and curves can get her anything she wants, but has always kept her feminine power in check. What's the use of flaunting her good looks, when she's just looking for some innocent fun? Besides, she has to keep an eye on her naive friend, Mia.
Mia has always been the more reserved of the two, but that doesn't mean she's a wallflower. Her lustrous red hair turns plenty of heads, and the wiggle in her walk can make even faithful husbands stop in their tracks. But such games are just innocent fun to the friendly redhead, and hanging out with her best friend is more fun than getting serious with any boy.
A sheltered life has protected the beautiful girls from harm, but once they decide to experience adventure on the road, nobody is around to protect them.
For each safe dance club in the city, there are dozens of alleyways and abandoned buildings crawling with low-life scum who would kill for the chance to get their hands on the shapely girlfriends.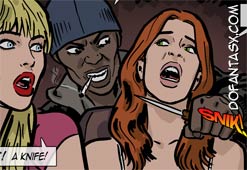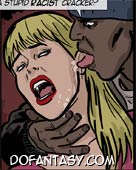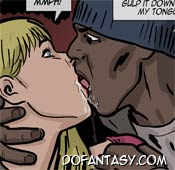 The Longest Journey starts in California...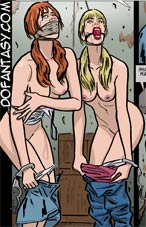 ...and twists its way through the darkest dens of corruption...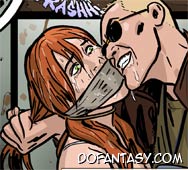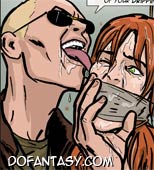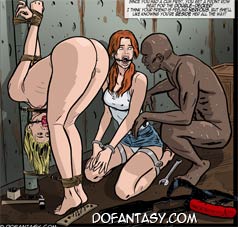 ...before winding up on the Dark Continent itself: Africa!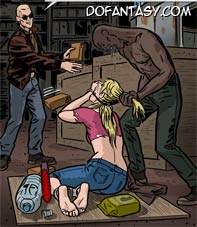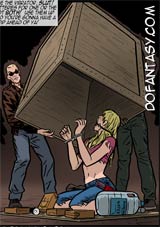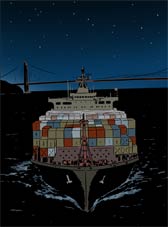 This is not a first class journey....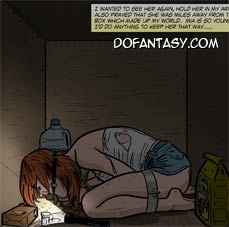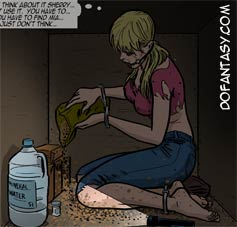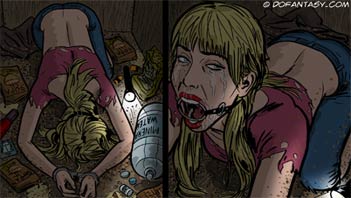 ...to a luxury lodge in a National Park...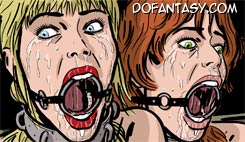 ...but a dreadful voyage to hell!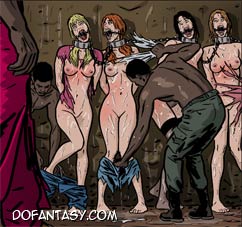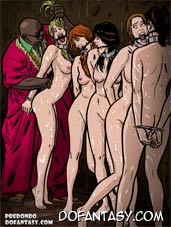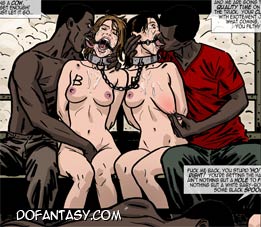 THIS IS NOT A COMIC FOR THE FEINT OF HEART!
OVERFLOWING WITH SHOCKING IMAGES NEVER
SEEN BEFORE, PREDONDO WILL TAKE YOU
ON A TRIP THAT WILL SCAR YOUR MIND!
YOUR EYES WILL BE GLUED TO THE PAGES AS EACH
EXPLOSIVE IMAGE COMES TO LIFE IN VIBRANT
COLOR AND PRIMAL ENERGY.
PREDONDO HAS DONE MORE THAN JUST RISEN THROUGH THE RANKS OF EXCELLENT
EROTIC ARTISTS HE'S SEIZED THE TITLE WITH BOTH HANDS, WRESTLED IT TO THE
GROUND AND TIED IT IN KNOTS! HIS SECOND DOFANTASY TITLE SECURES HIS PLACE
AS ONE OF THE MOST DOMINANT ARTISTS WORKING IN THE FIELD TODAY!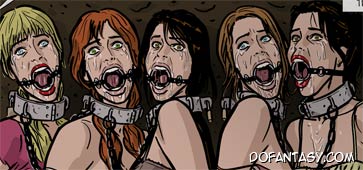 CLEVER, FANTASTIC DIALOGS BY SANDOW!
[ PREDONDO SITE ] [ HOME ]