Use our On-Line 100% Secure Encrypted Shopping Cart Ordering System. Simply browse
our site and Click the ADD TO SHOPPING CART buttons to place items in your Shopping Cart
[ HOME ] [ COMICS ] [ MOVIES ] [ NOVELS ] [ CD-ROM ] [ Order info ] [ Help ] [ ARTIST SITES ] [ SEARCH ]
[ Disclaimer ] [ CATALOGUE ] [ Copyright ]
FANSADOX COLLECTION 26
SLAVE CLONES - FERNANDO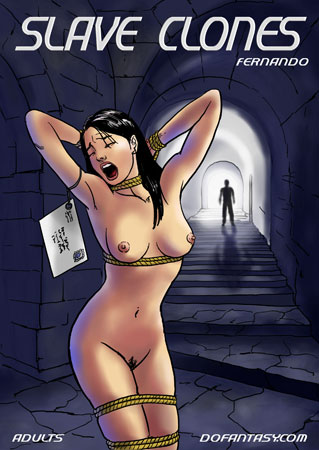 NEW IN PDF ELECTRONIC VERSION!
Adult Comic Album by FERNANDO

HIGH RESOLUTION PDF deluxe edition
45 full comic pages by FERNANDO
-COMPLETE, UNABRIDGED VERSION-

EXCLUSIVE ART BY FERNANDO
AN ORIGINAL AND EXCITING STORY

IMPORTANT NOTICE:
All characters are 18 years old or older.
All action is simulated and involves
no real people.
The authors/publishers do not condone
violence of any kind.
These are completely fictional comics
for adult entertainment.

The year is 2045.

Mail Order Sex Toy, or M.O.S.T., is a fast-growing company which has developed "pseudo-humans" by advanced biotechnology.

Pseudo-humans are "born" as adults aged eighteen. In all other respects they are as intelligent and emotional as normal human beings.

But these clones are special. They have been given their own personalities, tastes and individual memories, all programmed in their brains.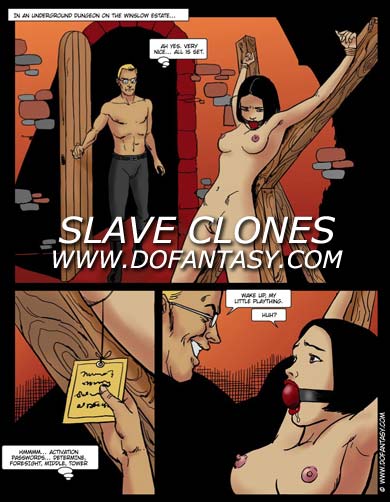 M.O.S.T. has used its bio-engineering expertise to create a breed of pseudos that have only one purpose - to serve as helpless sex slaves for rent. Their tolerance to pain has been lowered, which means that they suffer more. But their stamina has been increased, so that they rarely break down even when subjected to the most terrible, perverted, sexual abuse...
SLAVE CLONES
by FERNANDO

A Sci-Fi story that could be true
VISIT FERNANDO SITE FOR A COMPLETE LIST OF
FERNANDO COMICS AND OFFERS
[ HOME ]