Use our On-Line 100% Secure Encrypted Shopping Cart Ordering System. Simply browse
our site and Click the ADD TO SHOPPING CART buttons to place items in your Shopping Cart
[ HOME ] [ COMICS ] [ MOVIES ] [ NOVELS ] [ CD-ROM ] [ Order info ] [ Help ] [ ARTIST SITES ] [ SEARCH ]
[ Disclaimer ] [ CATALOGUE ] [ Copyright ]
FANSADOX COLLECTION 275
STARLET TRYOUT - FEATHER
NEW IN PDF ELECTRONIC VERSION!
Adult Comic Album by FEATHER.
HIGH RESOLUTION PDF deluxe edition
52 full color comic pages!!!
-COMPLETE, UNABRIDGED VERSION-
A POP STAR SENSATION AVOIDS THE
CASTING COUCH, BUT GETS PULLED INTO
SOMETHING FAR WORSE!
TAKEN FROM THE STAGE, SHE NOW HAS
TO ENTERTAIN AN AUDIENCE OF RUTHLESS
MEN OR IT'S CURTAINS FOR THE
SEXY ASIAN BEAUTY!
IMPORTANT NOTICE - DISCLAIMER
All characters are 18 years old or older.
This is an entirely fictional work based on
cartoon characters for adult entertainment.
It shows no real people or events.
The characters are shown participating in
CONSENSUAL role-play for their own
personal satisfaction, simulating activities
which involve sexual dominance and
submission. No actual toons were harmed
in the making of this comic.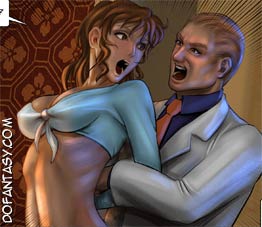 Pearl danced under the spotlights, the colored beams playing over her firm body as she swayed to the pulsing beat. She gripped the microphone tightly, bringing it slowly towards her full lips. She always made sure that the casino audience was under her spell, but tonight she felt something different in the electrically charged atmosphere. Tonight, they'd get the performance of a lifetime! The tempo increased, sending a thrill up her firm legs and causing her hips to sway provocatively. Cheers erupted around her.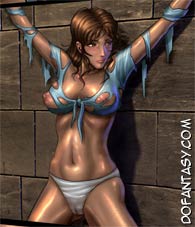 Most young women dream of getting to the top, but singing sensation Pearl has the looks and talent to actually make that dream come true. She's been the main attraction at the luxury Yucatan Casino for over a year. All she needs is for someone in the entertainment industry to notice her and give her a break. Unfortunately for the busty singer, she's been noticed by the wrong sort of talent scout!
Pearl's breath caught in her throat as the ropes dug into her ribs. She tried to steady herself, but the bonds covered almost every inch of her tanned body. Mentally cursing herself, she struggled to break free.
How could she have not seen this coming?
She'd heard stories of unscrupulous directors taking advantage of innocent starlets, promising them fame and fortune only to have them star in two-bit adult movies. But Victor sounded so honest and said all the right things.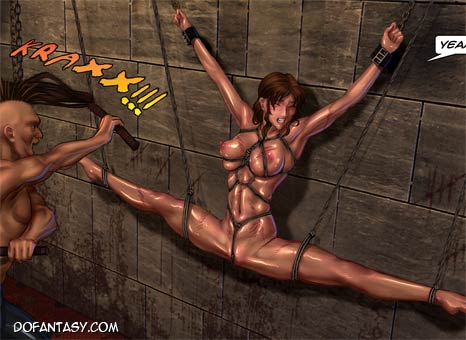 How could she have known?
Burning with shame at being tricked so easily, she yanked at the ropes again, the heavy cords rubbing her wrists raw.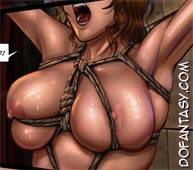 She didn't know who the other woman was, but could tell by the fear in her eyes that the thugs had been using her as a warm-up act, with Pearl destined to be the main attraction.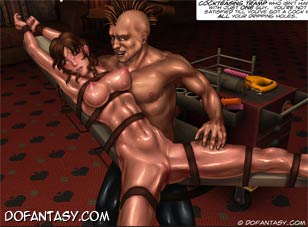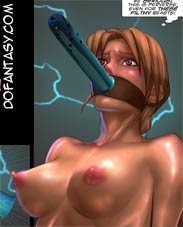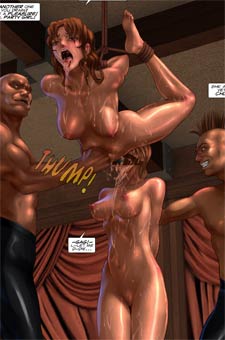 The woman's eyes were red from crying and she stumbled across the room with faltering steps like a puppet with a few broken strings.
Pearl saw the woman was holding something like a large syringe. With a sudden shock, Pearl recognized what it was and what it was going to be used for!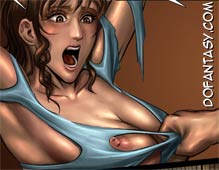 Most people thought Twiggy was the brains of the gang, and Bruno was the muscle. After all, why else would a powerful man like Vincent Stave allow the Mohawk-haired punk to hang around his mansion?
Twiggy sneered, rubbing a greasy hand over the lump in his tattered leather pants. He knew Vincent didn't hire him for his smarts. He was the secret weapon the boss kept around whenever he needed a strong-willed woman tamed!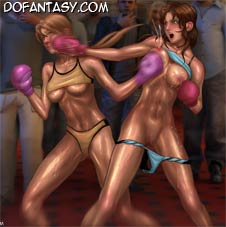 _____________________________________________________________________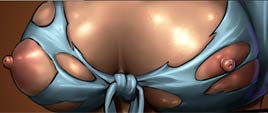 AN EXTENDED LENGTH COMIC SO PACKED WITH SCENES OF GRAPHIC PUNISHMENT
THAT FEATHER HAD TO ADD EXTRA PAGES TO CAPTURE ALL THE ACTION!
____________________________________________________________________
THIS COMIC IS ABOVE AND BEYOND MOST MATURE THEMES OF THIS TYPE,
SO YOU'VE BEEN WARNED.
THE ACTION STARTS FROM PAGE ONE, AND DOESN'T LET UP UNTIL ITS
UNEXPECTED TWIST ENDING!
52 PAGES OF EXTREME HOT ACTION!