Use our On-Line 100% Secure EncryptedShopping Cart Ordering System. Simply browse
our site and Click the ADD TO SHOPPING CART buttons to place items in your Shopping Cart
[ HOME ] [ COMICS ] [ MOVIES ] [ NOVELS ] [ CD-ROM ] [ Order info ] [ Help ] [ ARTIST SITES ] [ SEARCH ]
[ Disclaimer ] [ CATALOGUE ] [ Copyright ]
FANSADOX COLLECTION 280
MARS PENAL COLONY 2 - THE MUTINY - MOFFETT
NEW IN PDF ELECTRONIC VERSION!
Adult Comic Album by MOFFETT.
HIGH RESOLUTION PDF deluxe edition
44 full color comic pages!!!
-COMPLETE, UNABRIDGED VERSION-
WAR ERUPTS BETWEEN THE WARDEN AT
THE MARTIAN MAXIMUM SECURITY PRISON
-COLONEL WASP, A STUNNING LESBIAN-
AND ITS MOST INFAMOUS INMATE:
MUTANT MAD SATAN!
IMPORTANT NOTICE - DISCLAIMER
All characters are 18 years old or older.
This is an entirely fictional work based on
cartoon characters for adult entertainment.
It shows no real people or events.
The characters are shown participating in
CONSENSUAL role-play for their own
personal satisfaction, simulating activities
which involve sexual dominance and
submission. No actual toons were harmed
in the making of this comic.
FURIOUS THAT HIS SUPPLY OF FEMALE SLAVES HAS BEEN CUT OFF, MAD SATAN LAUNCHES
AN ATTACK TO CAPTURE AS MANY BEAUTIFUL WOMEN AS HE CAN, STARTING WITH THE
ALL-WOMEN SECURITY GUARDS WHO FORM THE ONLY BARRIER BETWEEN THE
PSYCHIC MADMAN AND EARTH ITSELF!
_________________
THE STORY SO FAR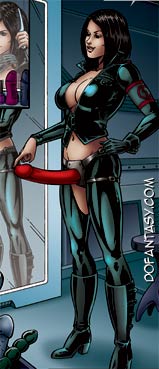 In 2040, the governments of the Earth established the Mars Penal Colony "Copernicus" to mine the rare element Martinite, the essential key to powering a world overpopulated and with diminishing resources. Sent to this desolate outpost were the scum of humanity who society had deemed too dangerous to stay on the already overburdened planet. Being transferred to the Martian mining colony was considered to be a death sentence.
When the notorious convict Mad Satan seized control of the prison's automated security system "WHIPONE" he single-handedly became the ruler of the sprawling steel complex.
He would keep the prisoners mining the precious ore, but with a few conditions.
The first of these being a supply of shapely women convicts to be assigned to the colony to help inspire his men to work hard!
Once a woman entered the factory, they weren't expected to last long. The supply of females would constantly need to be renewed.
Colonel Wasp has just been assigned as chief warden of the prison. The buxom woman has been ordered to do two things. Keep the supply of Martinite flowing, and make sure that Mad Satan doesn't get out of control.
The sexy officer knows how to do her job, and is confident she can keep any man in line, even a psychopath like Mad Satan!
_________________
THE COMIC
Colonel Wasp looked down at the bound woman before her.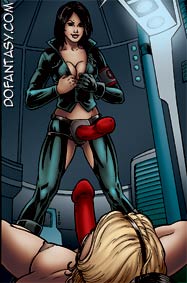 Ropes twisted around the woman's arms and legs, keeping her in the most humiliating position possible.
She licked her lips and gave a cougar-like smile. She was struggling, the poor thing! Didn't she realize that she couldn't protect herself?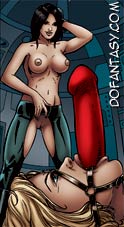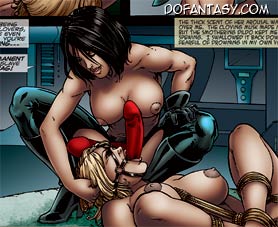 Every delicate part of her body was exposed and helpless, just the way Colonel Wasp liked it.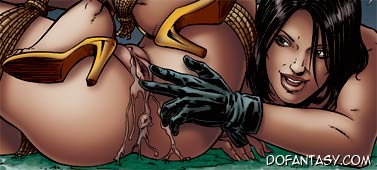 The woman was a prisoner after all, which meant that every inch of her belonged to the Colonel.
She trailed her fingers down the woman's creamy thighs, causing the woman to give a muffled moan of shame from behind her gag. Oh yes, this one is my property, she thought.
She may not like it but she'll learn to enjoy it. And if she doesn't, then that's where the punishment starts!
She stole a glance over to the shelf overflowing with latex and metal studded toys…
The blond guard shook her head and adjusted her tight fitting vinyl uniform over her ample bust.
The warden was at it again… the woman was insatiable!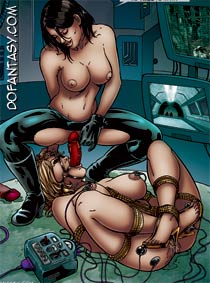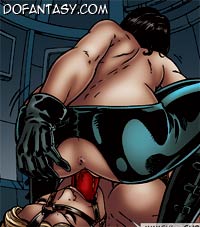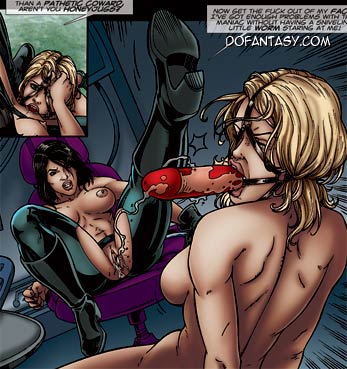 If she wasn't taking the second in command into her office for a long 'conference', then she was prowling the cells of the newest female arrivals looking for fresh meat.
The corner of her full mouth twisted into a little smile and she ran her hand over her flat tummy down to her tingling mound. If only she'd invite me to one of those conferences, she thought, than it wouldn't be so bad!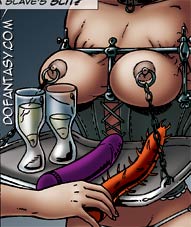 _________________
Mad Satan sprawled on the greasy mattress that had been stained by so many bodily fluids its original color was a mystery.
The cheering from his gang of murders and the criminally insane rang through the factory. They'd discovered his former slave, naked and suspended from the ceiling like a baited hook over a tank full of piranha.
Even through the roaring mob he could hear her cries as they swarmed beneath her. Their hands grasping at her flesh…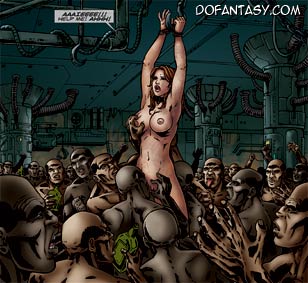 Mad Satan is busy too...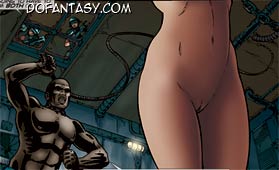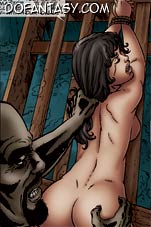 Suddenly, Colonel Wasp's commandos attack. It's a declaration of war! Mad Satan smiled. The stuck up lesbian was making her move hoping to catch him in her snare. But he'd planned every detail, and this was just the sort of move he was waiting for her to make...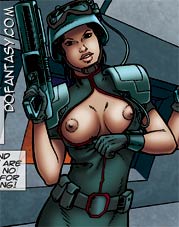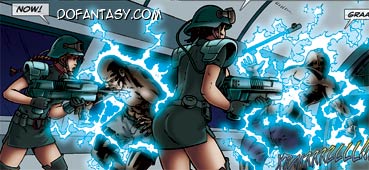 But it is the commando who are defeated. Now Mad Satan is holding all the cards...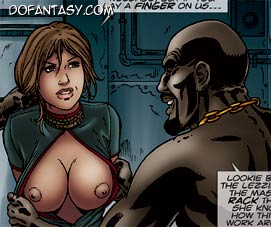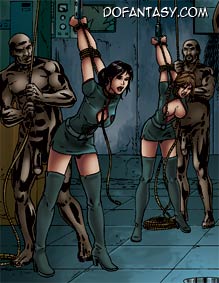 And he's going to play them to his advantage. The mutant blackmails the authorities and gets what he wants...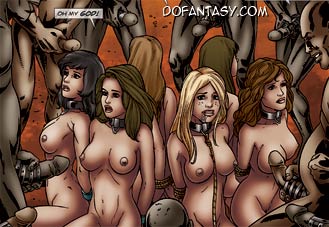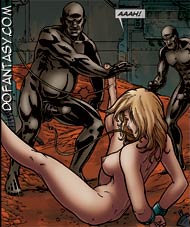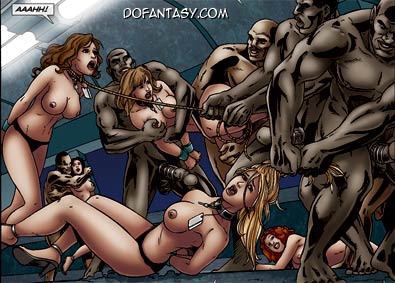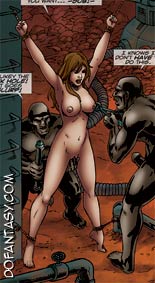 What is Colonel Wasp going to do?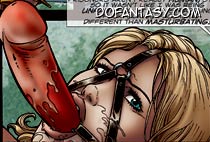 THE SEQUEL TO MOFFETT'S MARS PENAL COLONY EXPLODES WITH THRILLING ADVENTURE
AND HOT, NONSTOP ACTION AS THE PRISON BECOMES A CAGE OF RAMPAGING CONVICTS AND
GORGEOUS GUARDS! THE STAGE IS SET FOR THE ULTIMATE SHOWDOWN BETWEEN THE
RAVING MAD SATAN AND BALL-BUSTING COLONEL WASP!
__________________________________
DON'T MISS THE EXCITING FIRST PART OF THIS COMIC
MARS PENAL COLONY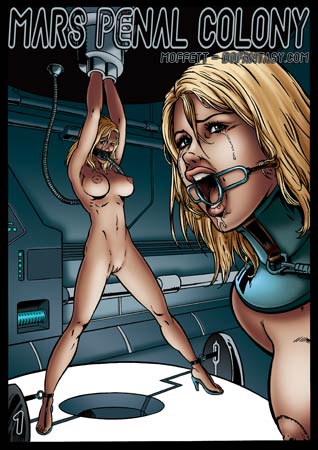 VISIT MOFFETT SITE FOR A COMPLETE LIST OF MOFFETT COMICS AND OFFERS
PDF by DOWNLOAD. The PDF electronic version contains the same images and text as the paperback edition (if a paperback exists). Please be aware that most of the ENGLISH VERSIONS are in PDF version exclusively. You'll have instant access to your files just after the credit card transaction is approved. You'll receive a confirmation e-mail with directions to download if you prefer to download at a later time. To open PDF files you need Adobe Acrobat Reader. Download it for free by clicking here!
PDF in a CD. If you prefer, we'll burn a CD-ROM e specially for you with the PDF files that you choose. Postage (14.99 Euro) will be added to the total cost of the books. If you want to order on a CD-ROM please check the corresponding check-box in the shopping cart.
Copyright © 1998-2011 Dofantasy - ETHAN ltd