Use our On-Line 100% Secure EncryptedShopping Cart Ordering System. Simply browse
our site and Click the ADD TO SHOPPING CART buttons to place items in your Shopping Cart
[ HOME ] [ COMICS ] [ MOVIES ] [ NOVELS ] [ CD-ROM ] [ Order info ] [ Help ] [ ARTIST SITES ] [ SEARCH ]
[ Disclaimer ] [ CATALOGUE ] [ Copyright ]
FANSADOX COLLECTION 283
FEMALE CORRECTIONAL INSTITUTE - MAX PELLE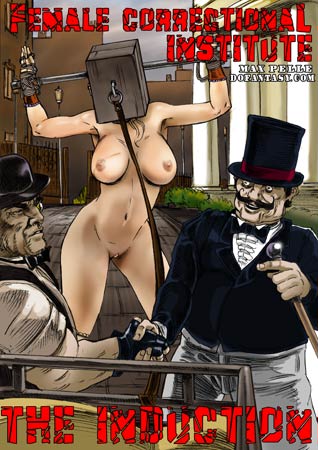 NEW IN PDF ELECTRONIC VERSION!
Adult Comic Album by MAX PELLE.
HIGH RESOLUTION PDF deluxe edition
48 full color comic pages!!!
-COMPLETE, UNABRIDGED VERSION-
TAKEN FROM HER FAMILY, HER BODY
TRAINED FOR SERVICE IN THE MOST
DEPRAVED ACTS IMAGINABLE!
THE INSTITUTION IS MORE THAN
A SCHOOL FOR YOUNG WOMAN,
IT'S A BREEDING GROUND FOR INHUMAN DEPRAVITY LIKE YOU'VE
NEVER SEEN BEFORE!
IMPORTANT NOTICE - DISCLAIMER
All characters are 18 years old or older.
This is an entirely fictional work based on
cartoon characters for adult entertainment.
It shows no real people or events.
The characters are shown participating in
CONSENSUAL role-play for their own
personal satisfaction, simulating activities
which involve sexual dominance and
submission. No actual toons were harmed
in the making of this comic.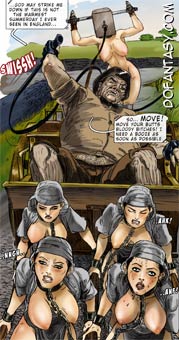 Mya Thompson has spent not only the last years of her life caring for her dying mother, she's also spent the family fortune as well trying to find a cure for the wasting disease which ravaged her mother's health.
With no where else to turn, she accepts the help from her distant Uncle Philip and his wife to pay for the mounting medical bills. When her mother finally succumbed to her fatal sickness, the beautiful young woman is left without a penny to her name or family to support her.
As a last gesture of good will, her aunt and uncle adopt the young woman as their own.
..
It is the last act of kindness she will ever receive.
Torn from her beloved mother's deathbed, the pretty blond is sent to The Institution. This semi-mythical school for young women is dedicated to breaking cultured females and turning them into submissive, obedient sex slaves for their masters. As the newest student in the depraved school, Mya quickly learns that a special indoctrination ceremony has been created just for her!
"Chest out and legs spread, tramp!" roared Director Rudolph.
His shabby clothes were dusty from the road and sweat ran down his arms and legs. He glared through his smudged monocle at the stunned woman before him. She was a young beauty, a tender bit of flesh ripe and...
...ready to be plucked!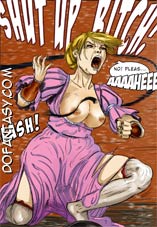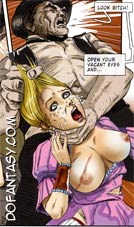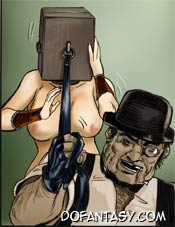 Mya's eyes were wide with fear, and her mind whirled as she tried to obey his orders. Just this morning she was the virginal heir to her mother's estate. Now she was a helpless orphan, and her new father had very clear plans for her. He stroked his rising excitement through his grubby pants. Yes, he'd enjoy taming this little filly…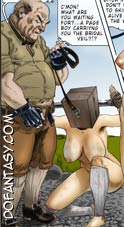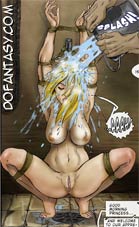 ______________________
The Bishop sniffed the incense burning at the altar. In his mind he remembered the first time he had seen the buxom blonde. She was dressed in her Sunday best and taking communion for the first time.
Her parents had looked on fondly as she stood in the center of the church surrounded by smiling villagers. Now the church was locked tight, and that same young woman was bound before him....
The years had turned her into a tempting morsel, and he was ready to take a bite! He licked his thin lips, and loosened the clerical collar which circled his neck.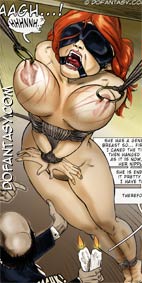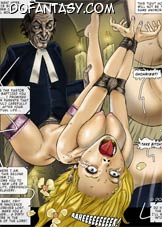 ______________________
Madame Lou laughed, her burbling wet chuckles erupting from the shadows. She ran the house of pleasure and no act of depravity was too obscene for her.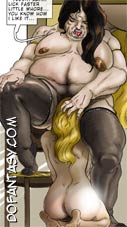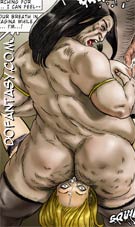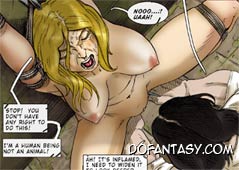 Her clients had revolting tastes and had been banished from most whore houses in the district...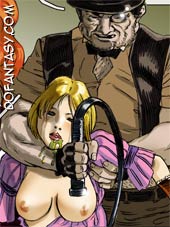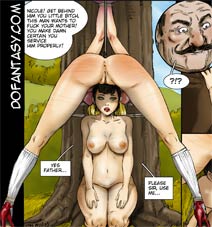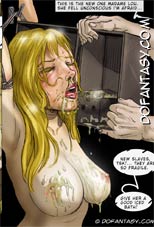 But no matter how extreme the perversion, they new that Madame Lou could provide the most beautiful girls to satisfy any appetite.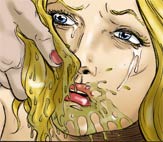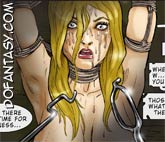 STUNNING GRAPHICS AND A SHOCKING STORYLINE ARE THE HALLMARK OF MAX PELLE.
ONE LOOK AND YOU'LL SEE WHY FANS HAVE BEEN WAITING EAGERLY FOR THE RETURN OF
PELLE TO DOFANTASY. THIS COMIC DELIVERS ALL THE GOODS IN GLORIOUS DETAIL!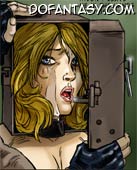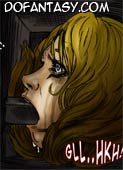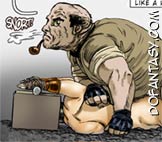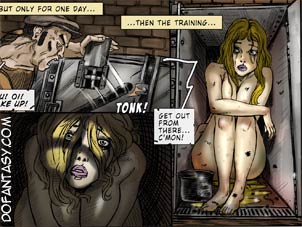 NOT TO MISS!
_______________________________________________
PDF by DOWNLOAD. The PDF electronic version contains the same images and text as the paperback edition (if a paperback exists). Please be aware that most of the ENGLISH VERSIONS are in PDF version exclusively. You'll have instant access to your files just after the credit card transaction is approved. You'll receive a confirmation e-mail with directions to download if you prefer to download at a later time. To open PDF files you need Adobe Acrobat Reader. Download it for free by clicking here!
PDF in a CD. If you prefer, we'll burn a CD-ROM e specially for you with the PDF files that you choose. Postage (14.99 Euro) will be added to the total cost of the books. If you want to order on a CD-ROM please check the corresponding check-box in the shopping cart.
Copyright © 1998-2011 Dofantasy - ETHAN ltd