Use our On-Line 100% Secure EncryptedShopping Cart Ordering System. Simply browse
our site and Click the ADD TO SHOPPING CART buttons to place items in your Shopping Cart
[ HOME ] [ COMICS ] [ MOVIES ] [ NOVELS ] [ CD-ROM ] [ Order info ] [ Help ] [ ARTIST SITES ] [ SEARCH ]
[ Disclaimer ] [ CATALOGUE ] [ Copyright ]
FANSADOX COLLECTION 300
CONFISCATED TWINS 4 - LOVE THY NEIGHBOR - FERNANDO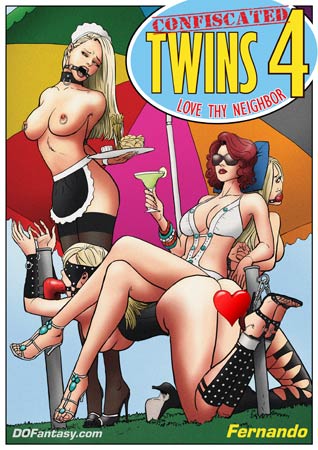 NEW IN PDF ELECTRONIC VERSION!
Adult Comic Album by FERNANDO.
HIGH RESOLUTION PDF deluxe edition
54 full color comic pages!!!
-COMPLETE, UNABRIDGED VERSION-
THE LATEST SEARING CHAPTER IN A STORY
WHICH LEAVES NO TABOO UNBROKEN…
AND NO FANTASY UNFULFILLED!
FERNANDO'S IMAGES LEAP FROM
THE PAGE AND INTO YOUR
MIND LIKE NO OTHER!
IMPORTANT NOTICE - DISCLAIMER
All characters are 18 years old or older.
This is an entirely fictional work based on
cartoon characters for adult entertainment.
It shows no real people or events.
The characters are shown participating in
CONSENSUAL role-play for their own
personal satisfaction, simulating activities
which involve sexual dominance and
submission. No actual toons were harmed
in the making of this comic.
ENSLAVED IN HER OWN HOUSE BY A SADISTIC COUPLE, HER TWIN DAUGHTERS
ARE THE INDENTURED SLAVES OF THE SEX- CRAZED FAMILY
NEXT DOOR, HER FORMER NEIGHBORS...
With all three Bauer women at her beck and call, Amanda O'Reilly spends her days like the stereotypical bored housewife from an American soap. Whether she is working out or just lazing by the pool, the sexy twins and their gorgeous mother are her browbeaten servants. Her whims and commands must be obeyed with complete submission, lest they suffer worse punishments.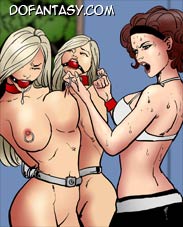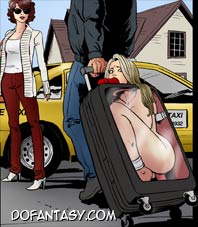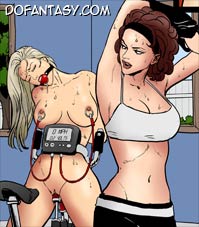 Having lost ownership of the Bauer twins to his beautiful but scheming neighbor, Roy desperately seeks to return to his old, happy life. He pleads for his parents to buy him a slave replacement but is flatly turned down. "From now on you're going to have to learn to work to get what you want," his father tells him.

Not content with having tricked his hapless victim, Amanda torments Roy by constantly parading his lost property outside his bedroom window. Roy can only watch with anger and resignation as he sees the twins used by every member, guest, and hired help of the O'Reilly household.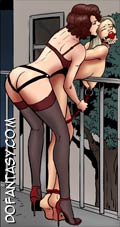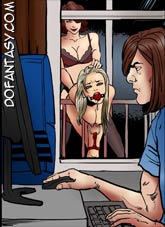 "Hey, Roy! Aren't you even going to look? There are two MILFs on the balcony and pair of teens
in the bedroom. Which of us do you think can get your rocks off faster?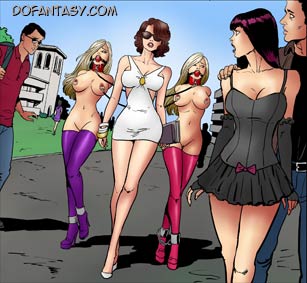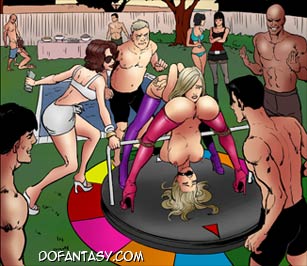 Roy is furious, but he can only exact his revenge in his comic book-fueled wet dreams and fantasies.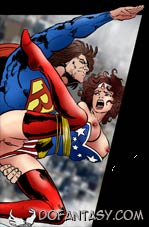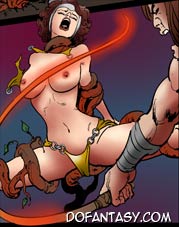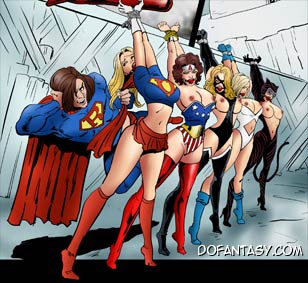 Having tasted the forbidden fruit, Roy cannot settle for anything less and he strikes a devil's bargain with the enslaved Mrs. Bauer. Unknown to Amanda, he regularly sneaks into her house for free fucks from the twins in exchange for a promise of freedom: "It's going to cost you twenty fucks each before I help you two escape." If he's not going to be Sara and Raquel's master, then nobody else will.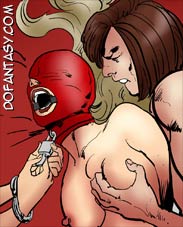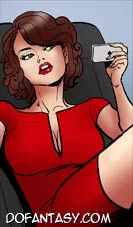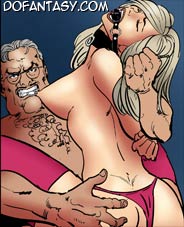 "Could you turn around, please? I want to catch that cum dripping out your mouth."
Roy employs his sister Clara to help him carry out his plans. Will he succeed, or will the crafty Amanda rain on his parade?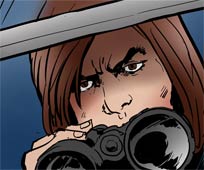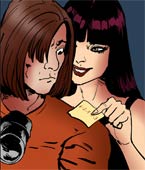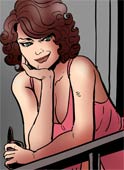 _________________________________
WITH MORE SEX, PUNISHMENT, INTRIGUE, CONSPIRACY, DECEPTION, SEDUCTION IN A
STORY OF UNRELENTING TWISTS AND TURNS, CONFISCATED TWINS 4 TAKES YOU TO A WORLD
WHERE BEAUTIFUL WOMEN ARE PAWNS IN A PERILOUS GAME OF WITS WHERE ONLY THE MOST
CUNNING WILL COME OUT UNSCATHED.
PREVIOUS CHAPTERS:
**** BUY THE THREE COMICS AND GET 10% DISCOUNT! ****
**** BUY THE THREE COMICS AND GET 10% DISCOUNT! ****
VISIT FERNANDO SITE FOR A COMPLETE LIST OF FERNANDO COMICS AND OFFERS
[ HOME ]