Use our On-Line 100% Secure EncryptedShopping Cart Ordering System. Simply browse
our site and Click the ADD TO SHOPPING CART buttons to place items in your Shopping Cart
[ HOME ] [ COMICS ] [ MOVIES ] [ NOVELS ] [ CD-ROM ] [ Order info ] [ Help ] [ ARTIST SITES ] [ SEARCH ]
[ Disclaimer ] [ CATALOGUE ] [ Copyright ]
FANSADOX COLLECTION 306
PLANET VALTROM - MONTAL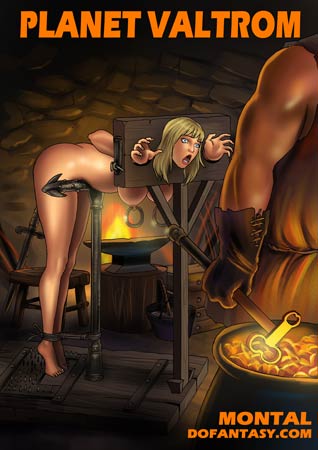 NEW IN PDF ELECTRONIC VERSION!
Adult Comic Album by PREDONDO.
HIGH RESOLUTION PDF deluxe edition
44 full color comic pages!
-COMPLETE, UNABRIDGED VERSION-
IN A WORLD WHERE ANY WOMAN CAN
BECOME A SLAVE, A BEAUTIFUL BLONDE FROM
EARTH LEARNS THE MEANING OF SUFFERING!
IN THIS BACKWARDS WORLD, WOMEN
ARE BOUGHT TO BE USED AND ABUSED!
A GORGEOUS GIRL WILL SOON REALIZE THAT
SHE'D BETTER PLEASE HER NEW MASTER,
OR HE WILL MAKE HER PAY DEARLY!
IMPORTANT NOTICE - DISCLAIMER
All characters are 18 years old or older.
This is an entirely fictional work based on
cartoon characters for adult entertainment.
It shows no real people or events.
The characters are shown participating in
CONSENSUAL role-play for their own
personal satisfaction, simulating activities
which involve sexual dominance and
submission. No actual toons were harmed
in the making of this comic.
IN THE WORLD OF VALTROM, WOMEN ARE TAKEN AND SOLD LIKE CATTLE!
A FEISTY YOUNG FEMALE WILL LEARN THE TRUE MEANING OF SUBMISSION AND SUFFERING!

The world of Valtrom is an untouched yet backward world. A place that hearkens back to Earth's Medieval past, it is yet another place entirely. In this world, society remained trapped in the ancient past. Although some technologies were allowed to move forward, like medicine and advanced architecture, other aspects of society were brutally suppressed by a secretive group that ruled the entire planet: the Monk-Lords. The Monk-Lords wanted to create a world that was better suited towards their own, personal tastes, and those tastes did NOT include women's rights!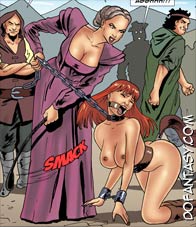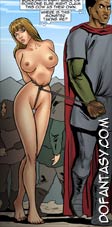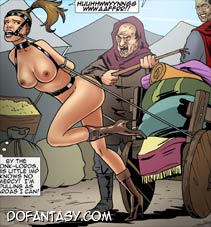 Panopticon is one of the largest cities in the entire world of Valtrom, a major destination for merchants and traders the world over and the shining, crown jewel of one of the most powerful empires on the globe. Set on the coasts of the Western Sea, Panopticon is a bustling metropolis that sells anything and everything that a man could desire, including beautiful women captured from far-off lands to be sold as pleasure slaves or worse... as pain sluts!
A wealthy lord travels to Panopticon from his country seat in search of some pretty young thing. He is a powerful man who has powerful tastes. He's also a picky man; he knows what he wants, and he isn't about to take any weak, worthless woman beaten and abused and already broken. This lord wants someone young, someone fresh and unspoiled, someone with a feisty temperament and a fierce, unmatched tongue.
He finds what he's looking for.
She's pretty and young, and her skin is flawless. There's something unique and special about this girl, he can tell. She doesn't have the rough look of some country peasant. She looks like some spoiled brat from some rich land that doesn't know work or war. Even better, she seems confused, willful, stubborn even, as if she thinks she's equal to him! The thought alone makes him angry, yet at the same time, the lord feels a familiar stirring in his pants. He likes the idea of taking this unusually willful woman and bending her, breaking her to his will, and when he hears her scream and curse at him, he knows he's found his prize.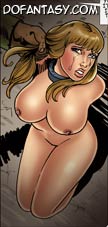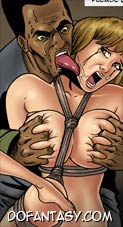 She WAS confused. The last thing she remembered, she had gone to see some fortune teller in a secluded alleyway on the streets of Cambridge, Massachusetts. It was some stupid dare from her college room mates, and she'd decided to take it just to prove that she wasn't afraid, especially not of any ridiculous magic spells.
The moment she entered the old man's shop, she started to feel light headed, and the next thing she knew, she was somewhere else entirely!
It was like some kind of nerdy Renaissance fair but far, far worse – far more horrifying, far more terrifying. The people here weren't playing around; they weren't kidding or having fun with their lame games. No, these people were seriously brutal, and they had no interest in her own well-being or her own safety. The only thing they were interested in were the holes between her legs!
A scary man, huge and vicious, bought her. After, in spite of her pleas, in spite of her curses, the man collared her like a dog and branded her like cattle!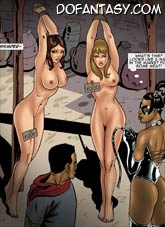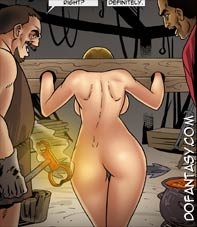 The pain was almost as bad as the sheer and utter humiliation. She was branded for life on her tight, perfect ass! What kind of place was she in? She didn't think such a place existed, not even in the darkest and foulest backwater villages of Africa or the Middle East. But the pain in her rear was real, and in spite of all the suffering and humiliation she'd endured, it would only get worse for her...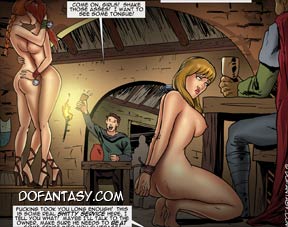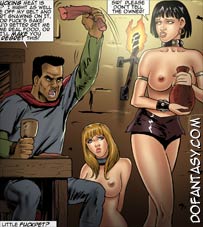 ...much, MUCH worse...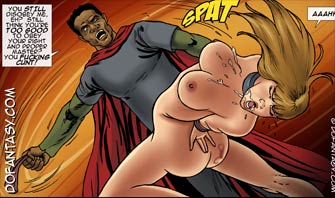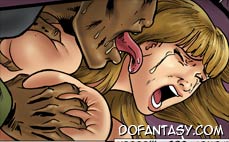 Her attempts to reason with this man only make him angrier and hornier!
She's not sure how much more she can take! This guy is a brute, a complete monster! She can't believe this is happening! How could she, a bright college student with a promising future be forced into sexual slavery, especially to a fiend like this man!
Here, she's not considered smart. Here, she's not respected, not admired, not appreciated. Here, she's not even considered a person or a human being. Here, she's simply a piece of fuck meat to be used and abused by anyone with enough coin to buy her.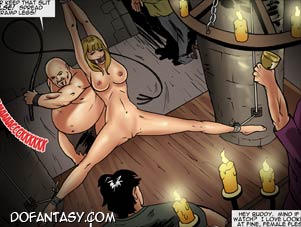 Just when she thinks she couldn't get any lower, couldn't be any more miserable, couldn't be any more fucked... SHE IS!
The world of Valtrom hasn't even begun to show her its dark side!

THIS MEDIEVAL NIGHTMARE IS THE WORST PLACE THAT ANY WOMAN COULD END UP IN.
ONE BEAUTIFUL, BLONDE BOMBSHELL IS GOING TO LEARN THIS FACT THE HARD WAY!



DON'T MISS THIS STUNNING NEW STORY FROM THE TALENTED HAND OF MONTAL!
A TRULY VICIOUS AND TERRIFYING NEW COMIC, THIS STORY WILL SHOCK AND AMAZE YOU!
YOU WON'T FIND ANYTHING AS CAPTIVATING OR THRILLING AS THIS ANYWHERE
BUT HERE FROM THE TALENTED PEOPLE AT DOFANTASY.COM!