Use our On-Line 100% Secure EncryptedShopping Cart Ordering System. Simply browse
our site and Click the ADD TO SHOPPING CART buttons to place items in your Shopping Cart
[ HOME ] [ COMICS ] [ MOVIES ] [ NOVELS ] [ CD-ROM ] [ Order info ] [ Help ] [ ARTIST SITES ] [ SEARCH ]
[ Disclaimer ] [ CATALOGUE ] [ Copyright ]
FANSADOX COLLECTION 323
THE SOCIETY - ERENISCH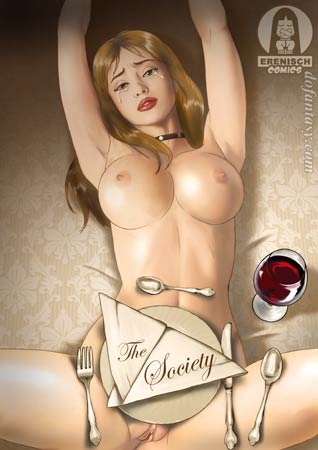 NEW IN PDF ELECTRONIC VERSION!
Adult Comic Album by ERENISCH.
HIGH RESOLUTION PDF deluxe edition
47 full color comic pages!!!
-COMPLETE, UNABRIDGED VERSION-
THE YEAR IS 2022 WHERE WOMEN
HAVE BEEN STRIPPED OF ALL RIGHTS TO
BECOME OBEDIENT SEXTOYS AT THE HANDS
OF WHATEVER MALE CLAIMS THEM!
A WORLD WHERE THE ONLY FUTURE A WOMAN
CAN EXPECT IS ONE FILLED WITH HUMILIATING
ACTS OF PERVERSION AND DEGRADATION.
IMPORTANT NOTICE - DISCLAIMER
All characters are 18 years old or older.
This is an entirely fictional work based on
cartoon characters for adult entertainment.
It shows no real people or events.
The characters are shown participating in
CONSENSUAL role-play for their own
personal satisfaction, simulating activities
which involve sexual dominance and
submission. No actual toons were harmed
in the making of this comic.
TAKE ANOTHER JOURNEY INTO FANTASY UNIVERSE SPAWNED FROM THE SHARP MIND OF THE
LEGENDARY ERENISCH, A UNIVERSE OF SEXUAL SUBSERVIENCE AND CRUELTY THAT ONLY
EXISTS HERE, ON DOFANTASY.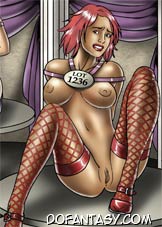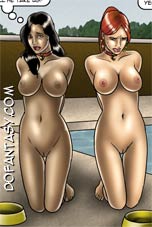 The year 2022... Many countries have passed the 'Compulsory Female Slavery Law' and legalized the sexual-use and trade of nubile women over 18 years of age. When a girl reaches slavery age, she can be bought and sold, hired and whored, and used in every imaginable way...
She becomes her owner's personal property.
There is no escape for the young women of the future, nowhere they can hide from their fate as toys in the hands of men.
The best a girl can hope for, is to find a master who is less cruel than the alternatives.
__________________
THE STORY SO FAR…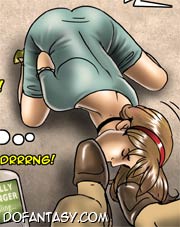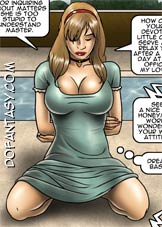 Slavegirl Sherry Slutkitten often finds herself in terrible situations because of her defiant nature and uncontrollable tongue. Her life takes another radical turn when Paul Stevenson, decides to marry the young slave in order to punish her father.
Sherry's new status as a slave-wife brings some perks but also new responsibilities and hardships for the poor girl. Her charismatic husband stirs an emotional conflict for Sherry. She feels more and more under the spell of the enigmatic man, thanks to his unique blend of psychological conditioning techniques and heavy-handed punishment methods...
__________________
IN THIS COMIC…
Back from her long, humiliating honeymoon, Slavegirl Sherry "Slutkitten" is enjoying a life of domestic bliss with her husband. Perhaps bliss is the wrong word. And maybe enjoy is the wrong word too.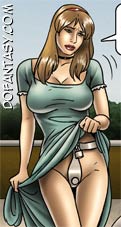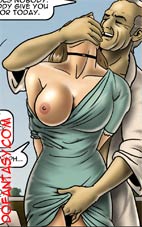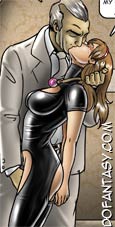 Her new husband, Paul Stevenson, is a ruthless SOB whose heavy handed punishments and humiliating debauchery are slowly whittling away the last vestiges of her self-respect.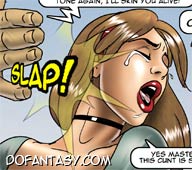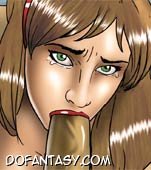 Meanwhile, Michelle Ramera's freedom extension is coming to an end. If she does not find another job to pay for another extension she'll be claimed by the first man on the street to see her, where she could end up in some hole in the wall brothel.
Her only other option is to find a wealthy man to claim her instead. Enter, Cuntmatch: the one and only stop for obedient, beautiful slave cunts.
Michelle makes a desperate, humiliating plea to her potential owners on Cuntmatch.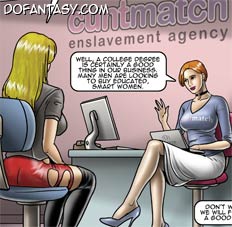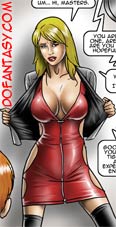 Fortunately for Michelle, Paul Stevenson has a job for her, an escort to a very important business meeting: a Slave Auction.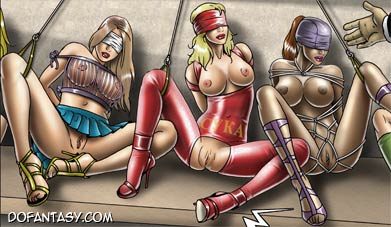 But as always, nothing is as it appears to be. Mr. Stevenson is about to become a part of a very selective and secretive club. A fraternity of cruel men that demands a very special membership fee…
Betrayal is in the air… and the smell of hot, unyielding lust....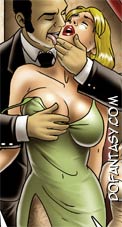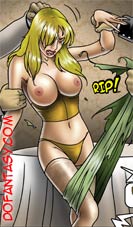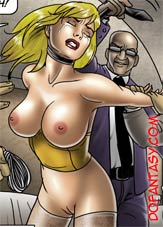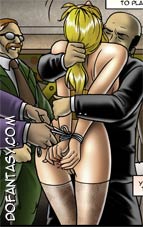 THIS AMAZING VISION OF A FUTURE FILLED WITH UNRELENTING DOMINATION IS BROUGHT
VIVIDLY TO LIFE THANKS TO THE INCREDIBLY DETAILED DRAWINGS OF ERENISCH,
AND THE ACLAIMED CREATIVIVITY OF HIS IMAGINATION.

IN A WORLD WHERE WOMEN HAVE NO RIGHTS, HOW WOULD A MAN LIVE?
WOULD HE SPEND HIS EVERY WAKING HOUR FULFILLING HIS DEEPEST AND MOST
PERVERTED FANTASIES? - OF COURSE HE WOULD!

AND YOU CAN SEE THOSE FANTASIES BROUGHT TO SCREAMING,
CRYING LIFE IN BIRTHDAY GIFT 10 – THE SOCIETY!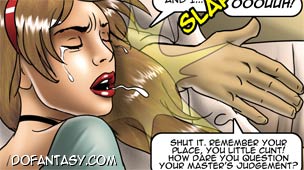 VISIT
ERENISCH SITE
FOR A COMPLETE LIST OF ERENISCH COMICS AND OFFERS