Use our On-Line 100% Secure EncryptedShopping Cart Ordering System. Simply browse
our site and Click the ADD TO SHOPPING CART buttons to place items in your Shopping Cart
[ HOME ] [ COMICS ] [ MOVIES ] [ NOVELS ] [ CD-ROM ] [ Order info ] [ Help ] [ ARTIST SITES ] [ SEARCH ]
[ Disclaimer ] [ CATALOGUE ] [ Copyright ]
FANSADOX COLLECTION 321
DRAGONSABRE by ROBERTS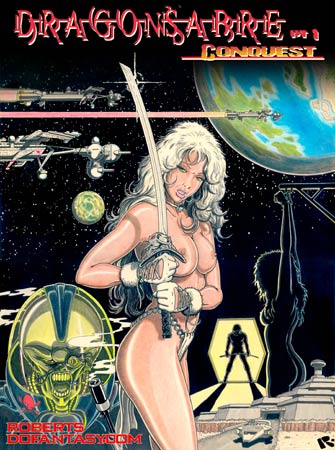 NEW IN PDF ELECTRONIC VERSION!
Adult Comic Album by ROBERTS.

HIGH RESOLUTION PDF deluxe edition
45 full color comic pages!!!
-COMPLETE, UNABRIDGED VERSION-

ON A VERDANT GREEN PARADISE WORLD,
A TRIBAL SOCIETY HAS FLOURISHED AND
GROWN FOR THOUSANDS OF YEARS.
THE BEAUTIFUL WOMEN OF THIS WORLD LAUGH AND LOVE, THEIR YOUTH AND INNOCENCE UNBLEMISHED. UNTIL NOW.

..

A FLEET OF INTERGALACTIC SLAVE TRADERS
NOW ORBITS THEIR HOMEWORLD, AND
THESE SLAVERS HAVE COME IN SEARCH
OF NEW YOUNG AND HOT MERCHANDISE
TO SELL!

IMPORTANT NOTICE - DISCLAIMER
All characters are 18 years old or older.
This is an entirely fictional work based on
cartoon characters for adult entertainment.
It shows no real people or events.
The characters are shown participating in
CONSENSUAL role-play for their own
personal satisfaction, simulating activities
which involve sexual dominance and
submission. No actual toons were harmed
in the making of this comic.

ONE OF THE BEST ROBERTS COMIC... THE LIVING MASTER OF BDSM COMICS!!!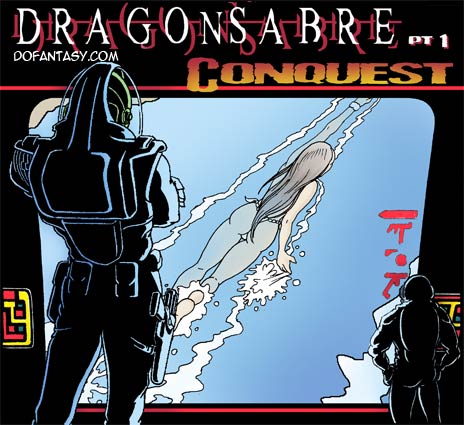 One of a billion worlds in the cosmos, this tiny green planet would normally be of no value to the powerful alien empires that dominate the stars. However, on the surface of this world is a primitive society where beautiful women make up the majority its population. For a fleet of intergalactic slavers, there can be no more valuable a commodity that gorgeous women.
A relentless invasion begins and the valuable preys are hunted like beasts...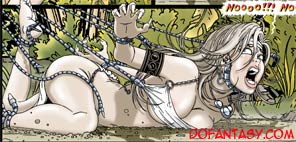 Intensive and intimate testing must be performed to evaluate the market value of these new females. They are thoroughly probed and tested for sensitivity and tightness.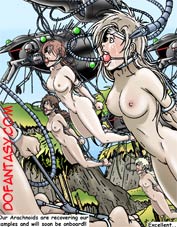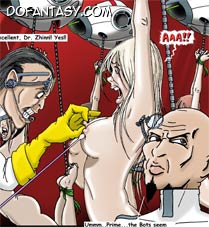 Any resistance must be broken immediately with judicial use of floggers, electric prods and even worse punishment tools.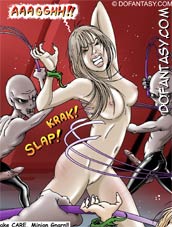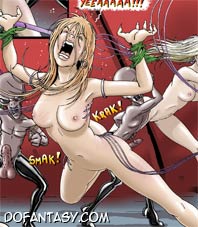 The captured women are subjected to the worst humiliation imaginable. The leader of the alien slavers takes one of them for his own. The mechanical tendrils of his bed wrap around her limbs, holding her down... until the pain overwhelms her senses and mixes with pleasure. A powerful orgasm rips through her young body.
Meanwhile, on the planet surface, the primitive society gathers its warriors and prepares to fight the demons that pour from the sky.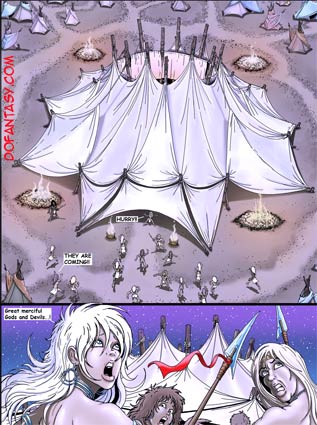 Yet their resistance will only result in more punishment and plundering.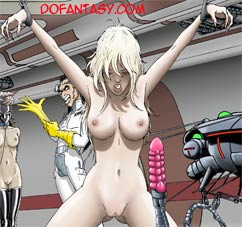 The only fate that awaits these women is the long, humiliating ordeal of a life of sexual slavery in a distant world. Their masters alien creatures that can afford their price and have a sick and perverted interest in young female human flesh.
The long, hard fucking of their world has begun and it will end in nothing less than the complete sexual conquest of every female on the planet.
ANOTHER EPIC TALE OF SEXUAL CONQUEST FROM THE ONE AND ONLY ROBERTS,
AVAILABLE ONLY AT DOFANTASY!
IF YOUíVE READ ANY OF ROBERTSí COMICS BEFORE, YOU KNOW A TALE OF SEX AND SUFFERING
NOT TO BE EQUALED...  AND IF THIS WILL BE YOUR FIRST TIME, GET READY FOR SOME OF THE
HARDEST AND MOST GRAPHIC DEPICTIONS OF FEMALE HUMILIATION YOU WILL EVER SEE!!!
ITíS HOT, ITíS WICKED AND ITíS NOT TO BE MISSED!

DON'T MISS IT!