Use our On-Line 100% Secure EncryptedShopping Cart Ordering System. Simply browse
our site and Click the ADD TO SHOPPING CART buttons to place items in your Shopping Cart
[ HOME ] [ COMICS ] [ MOVIES ] [ NOVELS ] [ CD-ROM ] [ Order info ] [ Help ] [ ARTIST SITES ] [ SEARCH ]
[ Disclaimer ] [ CATALOGUE ] [ Copyright ]
FANSADOX COLLECTION 437
TOTAL CONTROL 3 - FERNANDO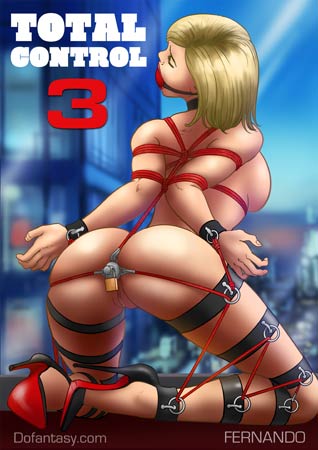 NEW IN PDF ELECTRONIC VERSION!
Adult Comic Album by FERNANDO.
HIGH RESOLUTION PDF deluxe edition
43 full color comic pages!!!
-COMPLETE, UNABRIDGED VERSION-
KATE'S LIFE TAKES A TURN FOR THE WORSE AS HER ENSLAVEMENT TO ELI PROGRESSES FROM PURGATORY STRAIGHT TO HELL! NO PLACE IS SAFE HAVEN FOR POOR KATE, LEAST OF ALL HER OWN HOME…
IMPORTANT NOTICE - DISCLAIMER
All characters are 18 years old or older.
This is an entirely fictional work based on
cartoon characters for adult entertainment.
It shows no real people or events.
The characters are shown participating in
CONSENSUAL role-play for their own
personal satisfaction, simulating activities
which involve sexual dominance and
submission. No actual toons were harmed
in the making of this comic.
THE STORY SO FAR...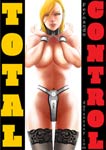 Katelyn Hershey was a bright and beautiful girl straight out of business school. Rising rapidly through the ranks of Weiss Holdings, Katelyn was quickly courted and proposed to by the handsome and kind-hearted Michael. Little did she know what would happen when she discovered that her fiancee was the brother of the company's CEO, Eli Weiss, easily one of the wealthiest and most powerful men on the eastern seaboard and, perhaps, the entire United States.
Dear Eli wanted to become more familiar with his future sister-in-law Kate, and Eli would do so in ways that neither his innocent brother Michael nor Michael's poor fiancee could possibly imagine…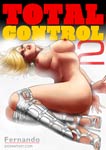 Thus began Kate's descent into hell as her body and entire life was quickly swept up under Eli's control. Her professional career as a successful businesswoman swiftly switched from respectable to raunchy as her body and mind were trained to obey Eli's every wish and desire. She would be stuffed and used, all while her fiancee Michael was blissfully unaware.

Soon it became all too apparent that Eli Weiss had more power than Kate could ever imagine. He controlled not just the police but also many well known celebrities. If Eli could secretly control people so thoroughly enmeshed in the public eye without anyone knowing… what chance did Kate have of freeing herself from his terrible control?




IN THIS COMIC...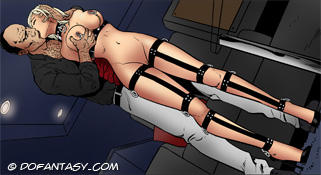 Things are looking up for Kate… well, as much as they can under the circumstances. She's responding to her training. She can start to ignore the awful ordeals that Eli Weiss puts her and her body through. She can put aside the massive plugs invading her between her legs… she can ignore the shocks to her tits for just a little bit longer… just so she can keep Eli happy. After all, as long as Eli is happy, things couldn't possibly get any worse. Kate feels like she's getting some small measure of control over her life.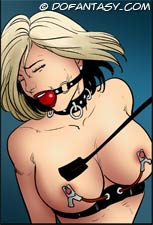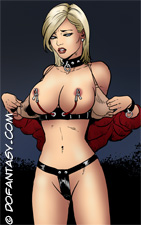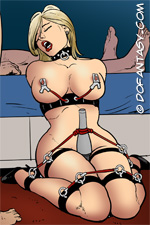 That is, until Eli's awful plan is revealed shortly after an intimate dinner party between him, his brother Michael, and Kate. Michael finds himself oddly tired quite early during the party and excuses himself while Kate and Eli discuss business matters between themselves. This is the last place that Kate wishes to find herself...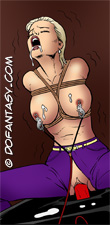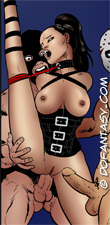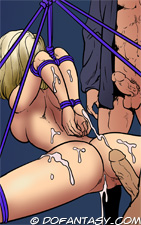 Kate claws desperately in a frantic struggle to retain some shred of dignity and control over her life, but Eli slowly, cruelly reveals the depths of his own depravity as he unleashes secrets both big and small, both close and distant, that will rock poor Kate to her very core!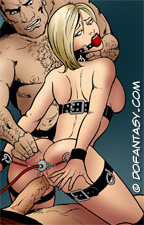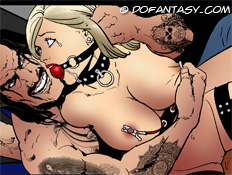 Eli is a powerful man with many powerful friends. Eli is a man with very expensive and pretty toys. Eli is a man who likes to share his toys with his friends… as Kate will soon find out!
_______________________________

WHAT CAN A POOR WOMAN DO WHEN SHE BECOMES AN OBJECT OF TORMENT TO THE RICH AND POWERFUL? KATE'S LIFE SPIRALS OUT OF CONTROL AS SHE FALLS FROM SUCCESSFUL BUSINESSWOMAN TO SEX ADDICTED SLUT SLAVE! BUT THE END HAS NOT ARRIVED FOR HER… NOT YET… ELI HAS OTHER PLANS FOR POOR, POOR KATE. THE NIGHT HAS BARELY STARTED, AND THE PARTY HAS JUST BEGUN!

YOU DON'T WANT TO MISS THIS ASTONISHING AND RIVETING ISSUE FROM THE GREAT, THE ONE AND ONLY FERNANDO. YOU CAN'T MISS THIS HOT, HOT, HOT ISSUE BROUGHT TO YOU HERE EXCLUSIVELY AT DOFANTASY.COM!

VISIT
FERNANDO SITE
FOR A COMPLETE LIST OF FERNANDO COMICS AND OFFERS
[ HOME ]