Use our On-Line 100% Secure EncryptedShopping Cart Ordering System. Simply browse
our site and Click the ADD TO SHOPPING CART buttons to place items in your Shopping Cart
[ HOME ] [ COMICS ] [ MOVIES ] [ NOVELS ] [ CD-ROM ] [ Order info ] [ Help ] [ ARTIST SITES ] [ SEARCH ]
[ Disclaimer ] [ CATALOGUE ] [ Copyright ]
FANSADOX COLLECTION 500
TOURIST TRAP 2 - FERNANDO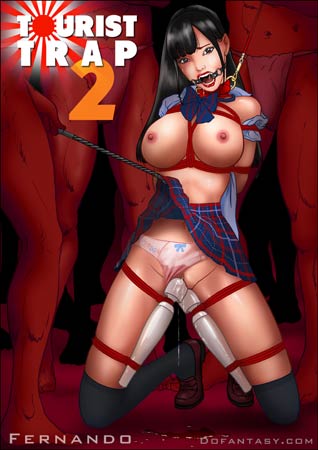 NEW IN PDF ELECTRONIC VERSION!
Adult Comic Album by FERNANDO.
HIGH RESOLUTION PDF deluxe edition
42 full color comic pages!!!
-COMPLETE, UNABRIDGED VERSION-

THINGS GO FROM BAD TO WORSE FOR THESE HOT HOTTIES AS THE BIKER GANG REVS THINGS UP INTO FULL GEAR!

THIS STEAMY, ACTION PACKED ISSUE WILL LEAVE YOU ON THE EDGE OF YOUR SEAT AS THESE POOR, INNOCENT GIRLS ARE ENSLAVED, VIOLATED, AND ABUSED OVER AND OVER AND OVER AGAIN!

IMPORTANT NOTICE - DISCLAIMER
All characters are 18 years old or older.
This is an entirely fictional work based on
cartoon characters for adult entertainment.
It shows no real people or events.
The characters are shown participating in
CONSENSUAL role-play for their own
personal satisfaction, simulating activities
which involve sexual dominance and
submission. No actual toons were harmed
in the making of this comic.
The Story So Far…

Hannah and Madison were two white girls living in Japan and trying to make ends meet in one of the most expensive cities in the world through freelance modeling contracts. When they're invited to an exclusive and sexy party, they decide to take a shortcut through a warehouse district to a secret entrance. They run across a vicious biker gang, notorious for enslaving and fucking beautiful women! These two, lonely girls all lost in the middle of nowhere are the perfect prey for them… and as foreigners living in the city, no one will miss them or their soft, luscious bodies…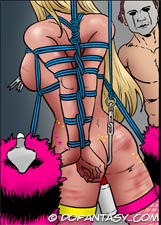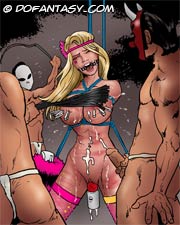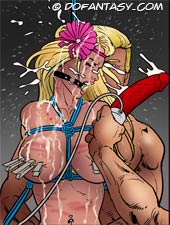 Meanwhile, the biker gang has other sweetmeats waiting in the wings. While staking out an innocent cutie Irina, her slutty friends Bree and Madison are caught in the mix. Soon, all of these girls are caught in a web of rope, chains, cameras, and cum… forced to endure repeated violations by all these horny, lusty, and sadistic masked men. When will it stop? Who will save them? …who CAN save them?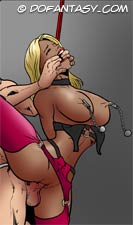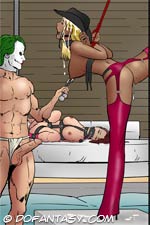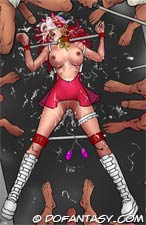 In This Comic…

Things go from bad to worse for Hannah and Madison as they're taken over and over and over again by these lusty and insatiable masked, biker men. Their lovely holes are twitching and sore from all the fucking they've had to go through, their brains are addled by all the constant sex and orgasms, but there doesn't seem to be any end in sight. Even worse, those perverts have been recording everything on camera! Who knows who's seeing what these two beautiful babes are going through? Even as that's going on, another part of the gang is having their way with Bree and Madison in a skyline apartment… and their sickening, sexual suffering is caught on camera as well!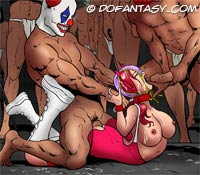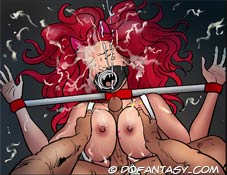 But the party isn't over yet. The head honcho of the gang isn't going to be satisfied with just four pretty pieces of fuckmeat. No… not even close. He has his sights set on cutie Kaoru, a local, Japanese girl that Madison was tutoring in English. Not only is she a real hot hottie, but she's a famous "gravure" model too! Madison's sex addled brain is broken, and she'll do anything the gang leader wants… even lead Kaoru into a back alley trap!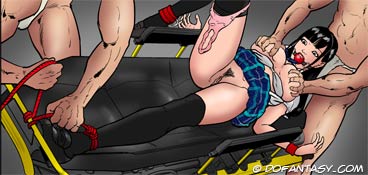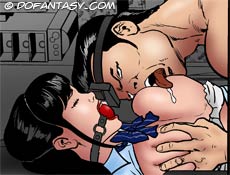 And there's still cute Irina, wandering out there somewhere, not knowing that the wolves are nipping at her heels…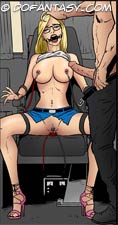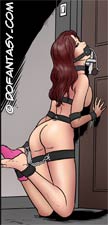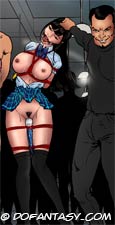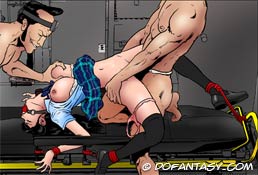 _______________________________
THIS IS THE ONE YOU'VE BEEN WAITING FOR! FERNANDO DOES IT AGAIN WITH THIS AMAZINGLY EROTIC ISSUE, FULL OF HARD, VIOLENT, AND PERVERTED SEX THAT'S GUARANTEED TO SHOCK AND HORRIFY YOU! THESE TWISTED, HARD NOSED, MOTORCYCLE MONSTERS KNOW NO PITY OR REMORSE, AND THEY'LL FUCK THESE GORGEOUS GIRLS TO DEATH! THE STAKES KEEP GETTING BIGGER AND BIGGER IN THIS DRAMATIC ISSUE JAM PACKED WITH HOT, HOT, HOT ACTION! YOU DON'T WANT TO MISS THIS EXPLOSIVE ISSUE, BROUGHT TO YOU HERE IN THIS WORLD EXCLUSIVE AT DOFANTASY.COM!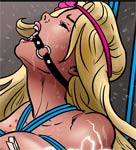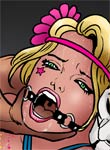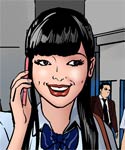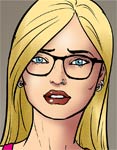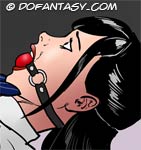 VISIT
FERNANDO SITE
FOR A COMPLETE LIST OF FERNANDO COMICS AND OFFERS
[ HOME ]