Use our On-Line 100% Secure Encrypted Shopping Cart Ordering System. Simply browse
our site and Click the ADD TO SHOPPING CART buttons to place items in your Shopping Cart
[ HOME ] [ COMICS ] [ MOVIES ] [ NOVELS ] [ CD-ROM ] [ Order info ] [ Help ] [ ARTIST SITES ] [ SEARCH ]
[ Disclaimer ] [ CATALOGUE ] [ Copyright ]
FANSADOX COLLECTION 56
INDENTURED - FERNANDO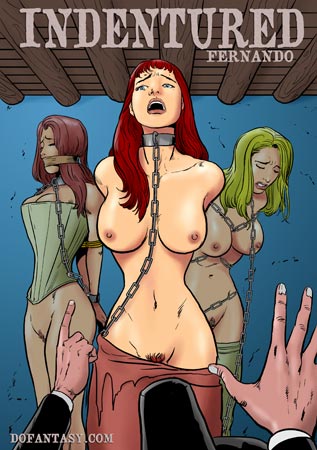 INDENTURED
NEW IN PDF ELECTRONIC VERSION!
Adult Comic Album by FERNANDO
HIGH RESOLUTION PDF deluxe edition
46 full comic pages by FERNANDO
-COMPLETE, UNABRIDGED VERSION-
46 FULL-COLOR,
ACTION-PACKED PAGES!
IMPORTANT NOTICE - DISCLAIMER
All characters are 18 years old or older.
This is an entirely fictional work based on
cartoon characters for adult entertainment.
It shows no real people or events.
The characters are shown participating in
CONSENSUAL role-play for their own
personal satisfaction, simulating activities
which involve sexual dominance and
submission. No actual toons were harmed in the making of this comic.
Eighteenth century America. Puritan traditions are strong, but they are not always strong enough to restrain the needs of male (and sometimes female) flesh…
Mary Connor, a demure, beautiful young woman with firey red hair, arrives in Manhattan. She has lost her parents in a fire and is traveling to America to begin a new life with her uncle, her last remaining relative.
She has gone to seek a new life in a new land.
Her uncle was supposed to meet her at the quayside. But he is not there. Mary is forced to join a group of women who are waiting to be auctioned in payment of debt. She is stripped to the waist and her lovely, naked breasts are put on public display. The highest bidder is a brothel owner…
Mary will soon discover how thin the veneer of religion and civilization is, as her body is placed at the disposal of the richest and most respected people in town… the severity of their religious convictions is matched only by the severity of the sexual depravation.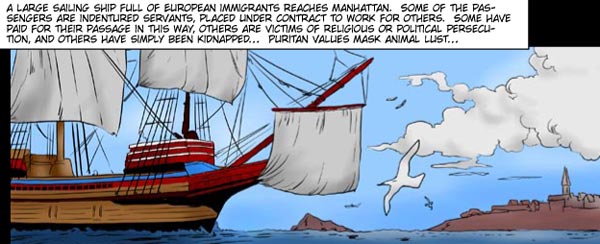 The younger and more beautiful girls are sold to the highest bidder...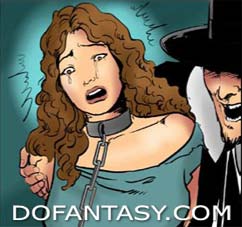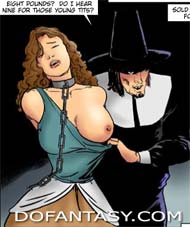 Young Mary is sold to a brothel...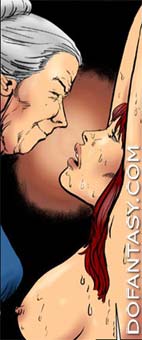 Where she learns all about the hidden perversity of that Puritan society...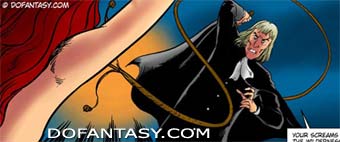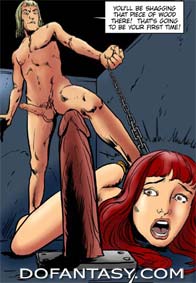 Somehow she manages to denounce her situation...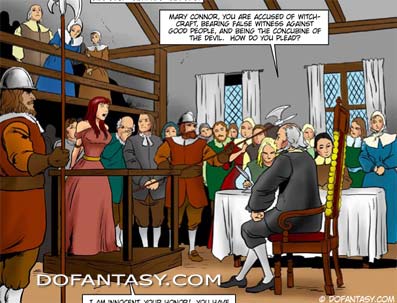 ...only to find herself accused of witchcraft and treated accordingly, along with other unfortunate young girls...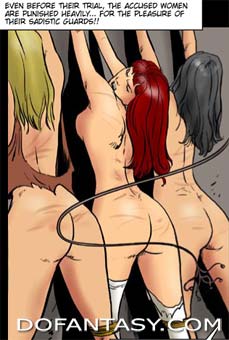 DON'T MISS INDENTURED
An highly charged erotic tale of the triumph of lust and depravity over stern self-denial!
You will enjoy the magnificent, stirring artwork by FERNANDO!
VISIT FERNANDO SITE FOR A COMPLETE LIST OF
FERNANDO COMICS AND OFFERS
[ HOME ]