Use our On-Line 100% Secure EncryptedShopping Cart Ordering System. Simply browse
our site and Click the ADD TO SHOPPING CART buttons to place items in your Shopping Cart
[ HOME ] [ COMICS ] [ MOVIES ] [ NOVELS ] [ CD-ROM ] [ Order info ] [ Help ] [ ARTIST SITES ] [ SEARCH ]
[ Disclaimer ] [ CATALOGUE ] [ Copyright ]
FANSADOX COLLECTION 598
VOYAGES OF THE TRADER Vol. 1 - ARIETA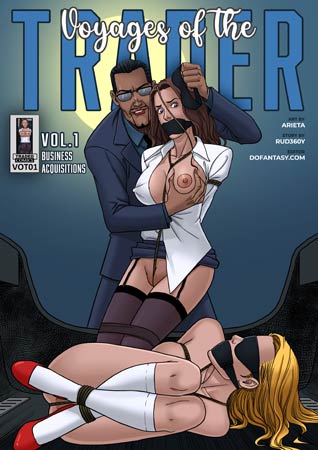 NEW IN PDF ELECTRONIC VERSION!
Adult Comic Album by ARIETA. Story by RUD360Y.
HIGH RESOLUTION PDF deluxe edition 59 full color comic pages!!!
-COMPLETE, UNABRIDGED VERSION-
"THE TRADER" MAKES HIS DEBUT APPEARANCE AT DOFANTASY.COM AS AN ACQUIRER AND COLLECTOR OF CAPTIVATING, PROFESSIONAL CUNTS!
ERIKA ISLEY IS A FRESH AND YOUNG LAWYER FULL OF AMBITION AND BOUNCE! WHEN SHE GOES ON A TWO-WEEK VACATION TO HAWAII, "THE TRADER" SEES HIS CHANCE!
IMPORTANT NOTICE - DISCLAIMER
All characters are 18 years old or older.
This is an entirely fictional work based on cartoon characters for adult entertainment. It shows no real people or events. The characters are shown participating in CONSENSUAL role-play for their own personal satisfaction, simulating activities which involve sexual dominance and submission. No actual toons were harmed in the making of this comic.
In the big city, there are many young women who pride themselves on being strong and independent. Erika Isley is just one of them. A consummate, young professional fresh out of law school and full of ambition at her new law firm, she's all business and no pleasure... not that you could tell that from the fresh bounce in her step... a callback to her athletic, college years!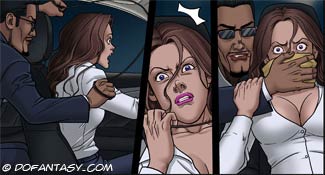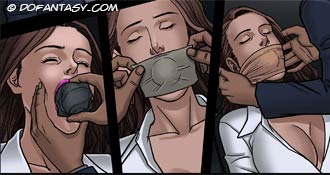 Unfortunately for Ms. Isley, a person has been watching her from the shadows, a mysterious professional known only to his compatriots as "The Trader"... a vague name masking a sinister past! Ms. Isley makes it all too easy as she steps out into the poorly lit parking lot... and that's when The Trader makes his move!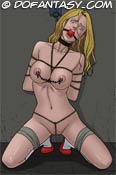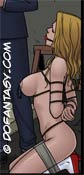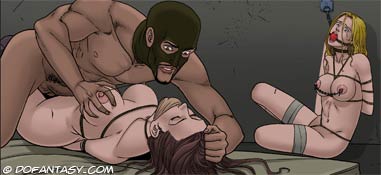 Ms. Isley is just the latest in a long line of females that The Trader has acquired over his time in the business. She will scream, she will shriek, but there's no escape for her. Her holes will be filled with gags and dildos, and her spirit will suffer at the hands of whips, crops, shockers, and chains!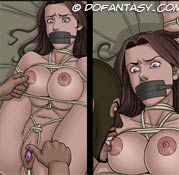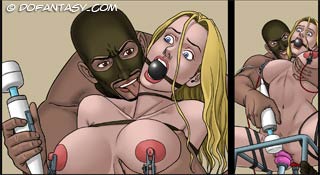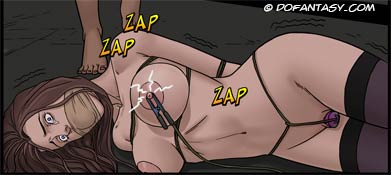 But Ms. Isley is not the only one in the hands of The Trader. This is just the beginning of Ms. Isley's adventure... but it might very well be her last...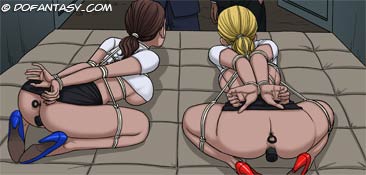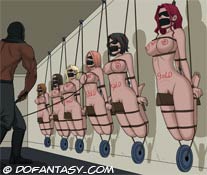 ARIETA COMES TO YOU WITH AN EXCITING NEW TALE SET IN THE SKYSCRAPERS OF THE BIG CITY AND EXPOSES ITS UNDERBELLY IN ALL ITS HOT AND HORRIFYING GLORY! ERIKA ISLEY IS JUST THE LATEST PRETTY FACE TO DISAPPEAR IN THIS WORLD, AND YOU WON'T BELIEVE THE HORRIFYING AND TRAGIC TALE THAT AWAITS HER AS SHE'S TURNED FROM PROUD AND HAUGHTY PROFESSIONAL TO SEX ADDICTED SLUT SLAVE! THIS IS JUST THE FIRST IN AN INCREDIBLE, NEW ADVENTURE THAT YOU WON'T WANT TO MISS! WHAT WILL HAPPEN TO ERIKA? JUST WHO IS THIS "TRADER", AND WHAT WORLD AWAITS US? YOU CAN ONLY FIND OUT BY PURCHASING THIS COMIC HERE EXCLUSIVELY AT DOFANTASY.COM!!!!