Use our On-Line 100% Secure EncryptedShopping Cart Ordering System. Simply browse
our site and Click the ADD TO SHOPPING CART buttons to place items in your Shopping Cart
[ HOME ] [ COMICS ] [ MOVIES ] [ NOVELS ] [ CD-ROM ] [ Order info ] [ Help ] [ ARTIST SITES ] [ SEARCH ]
[ Disclaimer ] [ CATALOGUE ] [ Copyright ]
FANSADOX COLLECTION 608
NORTH OF THE BORDER - LESBI K LEIH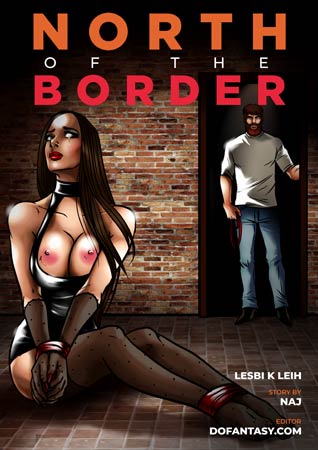 NEW IN PDF ELECTRONIC VERSION!
Adult Comic Album by LESBI K LEIH
Story by NAJ
HIGH RESOLUTION PDF deluxe edition
41 full color comic.
-COMPLETE, UNABRIDGED VERSION-
FROM THE MINDS OF NAJ AND LESBI K LEIH COMES A NEW EXCITING, THRILLING, AND TERRIFYING TALE OF A HOT, LATINA, MAKEUP ARTIST TRICKED TO COME TO THE STATES AND SOLD INTO SEXUAL SLAVERY!

MARIA WAS A YOUNG UP-AND-COMER JUST TRYING TO MAKE HER WAY! WHEN SHE ARRIVES UP NORTH, SHE FINDS HERSELF IN THE WORST POSSIBLE PLACE!
IMPORTANT NOTICE - DISCLAIMER
All characters are 18 years old or older.
This is an entirely fictional work based on
cartoon characters for adult entertainment.
It shows no real people or events.
The characters are shown participating in
CONSENSUAL role-play for their own
personal satisfaction, simulating activities
which involve sexual dominance and
submission. No actual toons were harmed in the making of this comic.
Maria Martinez Romero is a gorgeous makeup artist living in Mexico City and dreaming of making it to the big leagues. She lives out of an apartment with several other roommates, for it's expensive to live in the big city after all. Whoring herself and her talents out on the big social media sites, and applying for the biggest Hollywood productions, Maria's dreams are anything but small. When she reaches the final stages of an interview in the Georgia film industry, Maria thinks she's landed her dream job at last!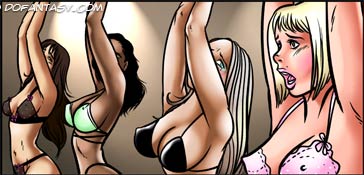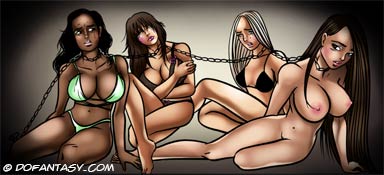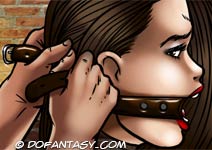 But when she lands, she finds out that she's not going to be in the film industry but rather the porn industry instead! Her papers are stolen, and she's held at gunpoint to perform the perverted wishes of her new master and slaver!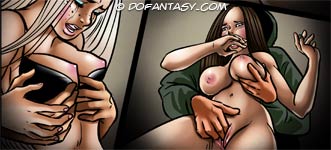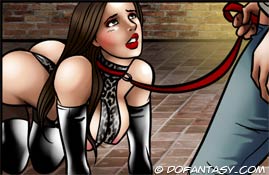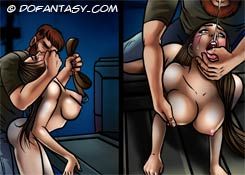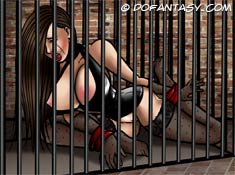 Things only get from bad to worse when Maria is carted off with a few other females out west to the heart of Texas, where a buyer will find her... and use her in every way a woman can be used!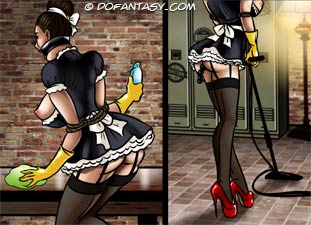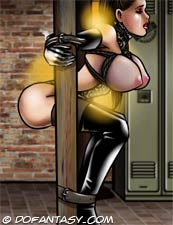 LESBI K LEIH AND NAJ BRING YOU THIS EXCITING NEW ADVENTURE OF A PRETTY YOUNG IMMIGRANT SOLD INTO SEXUAL SLAVERY IN THE BACK ALLEYS OF THE UNITED STATES! THERE IS HOT AND HEAVY ACTION AS MARIA IS PUT THROUGH HER PACES AND FORCED TO PERFORM FOR HER MASTERS' PLEASURE! WHAT WILL HAPPEN TO MARIA AS A FORCED "ILLEGAL" IN THIS BIG AND TERRIFYING NEW PLACE? WHERE WILL SHE END UP? DOES SHE HAVE ANY HOPE OF ESCAPE OR IS SHE DOOMED TO A LIFE OF ETERNAL SEXUAL SERVITUDE? YOU CAN ONLY FIND OUT BY PURCHASING THIS COMIC HERE EXCLUSIVELY AT DOFANTASY.COM!!!!