Use our On-Line 100% Secure Encrypted Shopping Cart Ordering System. Simply browse
our site and Click the ADD TO SHOPPING CART buttons to place items in your Shopping Cart
[ HOME ] [ COMICS ] [ MOVIES ] [ NOVELS ] [ CD-ROM ] [ Order info ] [ Help ] [ ARTIST SITES ] [ SEARCH ]
[ Disclaimer ] [ CATALOGUE ] [ Copyright ]
FANSADOX COLLECTION 610
DOMINUS 3: COUNTERATTACK - AQUILA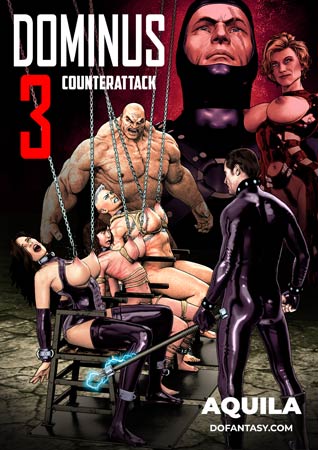 NEW IN PDF ELECTRONIC VERSION!
Adult Comic Album by AQUILA.
HIGH RESOLUTION PDF deluxe edition
40 full color comic pages!
-COMPLETE, UNABRIDGED VERSION-
LOYALTIES AND ALLEGIANCES ARE PUT TO THE TEST AS KRISTEN AND HER FRIENDS FIND THEMSELVES IN A SEXUAL PURGATORY WHERE THEY ARE SUBJECTED TO THE MOST HEINOUS TREATMENTS IN AN EFFORT TO GET THEM TO SPEAK. WOULD THEY BE ABLE TO RESIST THE INTENSE TORTURE LONG ENOUGH FOR HELP TO ARRIVE? OR WOULD THEY FOLD AND REVEAL ALL ABOUT THEIR PLANS? THEREBY DAMNING IT ALL TO HELL?

IMPORTANT NOTICE - DISCLAIMER
All characters are 18 years old or older.
This is an entirely fictional work based on
cartoon characters for adult entertainment.
It shows no real people or events.
The characters are shown participating in
CONSENSUAL role-play for their own
personal satisfaction, simulating activities
which involve sexual dominance and
submission. No actual toons were harmed
in the making of this comic.

COMIC OF THE MONTH IN SEPTEMBER 2023 AT BDSMartwork.com
click here for more info
The Story So Far...

Kirsten, an undercover cop from the New York City Police Department, was sent on an expedition to retrieve Emma Barton, the daughter of a renowned business tycoon, who was abducted and condemned to life of sexual servitude!
Kristen pretends to be an innocent simpleton in order to infiltrate the underground syndicate. Her huge tits attract the attention of the almighty Dominus.
She finds herself in a precarious situation as she is forced to choose between her own freedom and that of the heiress.
An alliance is formed between Kristen and Ingrid; the erstwhile Domina, who has proven to be invaluable asset in the rescue mission. Ingrid gets another chance to start life on a clean slate, but in order to do that she has to erase all traces of her sordid past.
Ingrid and Kristen devise a new plan…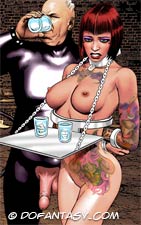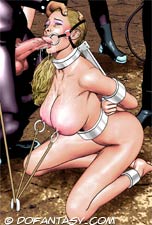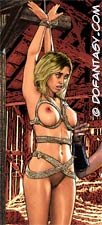 In This Comic!

The members of The Dominus group in Munich are restive after receiving a report that members of some of their operational branches have been dropping like flies. They also appear to be having a great time tormenting, defiling and debasing their well-endowed, defenseless preys.
Suddenly…they are interrupted by the emergence of a fat-titted infiltrator wearing a cat suit. The leader tries to negotiate, but finds his tongue permanently tied by the irate seductress.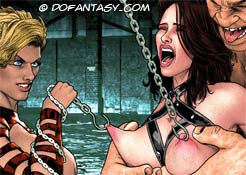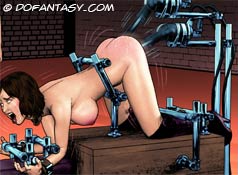 Meanwhile, Inga and Ingrid find themselves in reversed roles. Ingrid hopes to relish every second of agonizing Inga. Inga also meets an old enemy and she finds herself impaled on multiple ramrod cocks. She aims to hold her own, but how long would it take for her resolve to crumble against the drawn-out torture Ingrid has planned out for her?
Yet another attack is launched on the Dominus organization, the executive committee starts to lose control. Preparations made for a counterattack…
Kristen is faced with a difficult choice to make, either she hands herself over to her archenemy, THE DOMINUS! or betray her dear friends.
What would Kristen do? Would she submit to long hours of excruciating molestation or would she opt to save her own skin?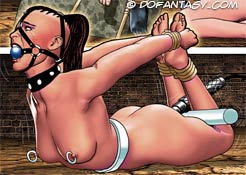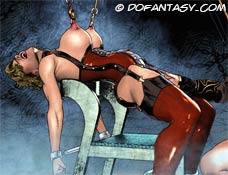 THE INGENIOUS AQUILA PRESENTS ANOTHER THRILLING CHAPTER IN THE DOMINUS SERIES.
IN THIS CHAPTER KRISTEN AND HER TEAM ARE READY TO BITE BACK. DIFFICULT DECISIONS ARE MADE AMIDST HOT, SWEATY FUCK.
THE PERVERSION AND DEPRAVITY INTENSIFIES AND NEGLIGENCE IS PAID FOR WITH BLOOD!
INCESSANT ATTACKS ARE LAUNCHED ON THE DOMINUS ORGANIZATION AS SOMEONE IS DETERMINED TO WIPE THEM OUT. WHO IS THE MASTERMIND BEHIND THESE ATTACKS? WOULD THESE ATTACKS SUCCESSFULLY ANNIHILATE ONE OF THE MOST DANGEROUS UNDERGROUND CRIMINAL ORGANIZATIONS? YOU CAN ONLY FIND OUT BY PURCHASING THIS EXCITING MASTERPIECE BROUGHT TO YOU BY AQUILA.
ONLY AVAILABLE AT DOFANTASY.COM!!!