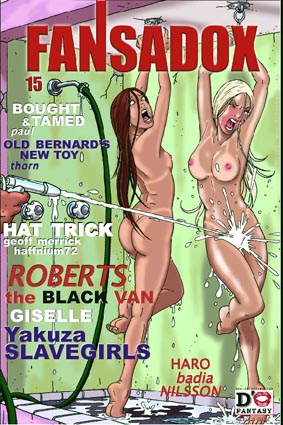 New in English!!!
52 pages of sex and violence
YAKUZA SLAVEGIRLS #3 - ROBERTS
OLD BERNARD'S NEW SEX TOY - THORN
HAT TRICK #7 - text GEOFFREY MERRICK - Illustr HAFFNIUM72
BOUGHT & TAMED #8 - text Lucas - Illustr Paul Paul
THE BLACK VAN #7 - ROBERTS
GISELLE, MINE AT LAST #5 - idea D. Guard - Illustr ROBERTS
FRESH CATCH - de Haro
First Night with her MISTRESSES - Badia
Missing - de Haro

IMPORTANT NOTICE:
All characters are 18 years old or older.
All action is simulated and involves
no real people.
The authors/publishers do not condone
violence of any kind.
These are completely fictional comics
for adult entertainment.
THE BLACK VAN #7
Don't miss the unexpected shift in Black Van
The hooded criminals decide to get rid of their young victims!!!
BOUGHT & TAMED
Ink-master Paul at his best! The 8th intriguing episode of this exciting story.
Sara lives in Miami with her divorced mother. Sara is a young, independent, University student. She has never visited her parents' native land. Her father dies and she inherits a large estate in the heart of the Colombian jungle. She decides to go and visit it...
She arranges for her old uncle Alfonso to pick her up in the nearest village and take her there. It will only be for a few days, just a short holiday, because uncle Raul has taken over the running of the estate...
Now two months have passed and Sara is still there, suffering the most horrendous nightmare a young girl could imagine...
But Uncle Raul seems to need more than his pretty young victim. He wants her mother too, the woman who 18 years earlier had run away from him to marry his own brother.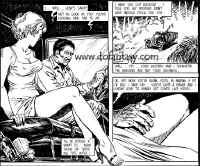 YAKUZA SLAVEGIRLS
From the news:
'Three young Western girls were reported missing last week in Tokyo. Officials have stated that a Yakuza White Slaver ring has been detected in the city'.
NOW read the 3th episode.
ROBERTS TELLS IT ALL. Find out what happened in this new story in FANSADOX 15: YAKUZA SLAVEGIRLS in comic format.
A masterpiece!
Roberts' show-off comics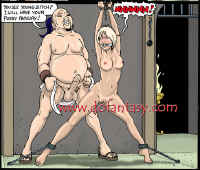 OLD BERNARD'S FUCK-TOY
Bernard is an old bachelor with strange habits and peculiar tastes. He's rich and he doesn't have to work too hard to stay rich. So he's got time for his hobbies. Like young Wendy, his present interest. She arrived this same week in a cage.
Nothing she imagined is worse than reality!
When the trunk was finally opened, old Bernard looked down at her! The same old Bernard, the repulsive guy, the cruel twisted bastard who had flogged her, humiliated her in the vilest ways imaginable!
He told her she was his slave now. He had paid good money for her. She is HIS, he shouted…
Is he crazy?
Yes, he is crazy. There is no doubt about that. This disgusting old man is a demented, dangerous criminal. He is crazy but in one respect he is right: she is his now.
Wendy is at his mercy.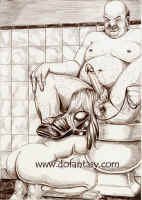 GISELLE, MINE AT LAST #5
This is the fifth day of slavery for poor Giselle. She's naked and collared, held prisoner in the cellar by her stepfather...

BUY FANSADOX 15 NOW
In ENGLISH. Available electronically in PDF format. See bottom of page