Use our On-Line 100% Secure EncryptedShopping Cart Ordering System. Simply browse
our site and Click the ADD TO SHOPPING CART buttons to place items in your Shopping Cart
[ HOME ] [ COMICS ] [ MOVIES ] [ NOVELS ] [ CD-ROM ] [ Order info ] [ Help ] [ ARTIST SITES ] [ SEARCH ]
[ Disclaimer ] [ CATALOGUE ] [ Copyright ]
FANSADOX COLLECTION 35
SLAVE TREK - WAYNE WINE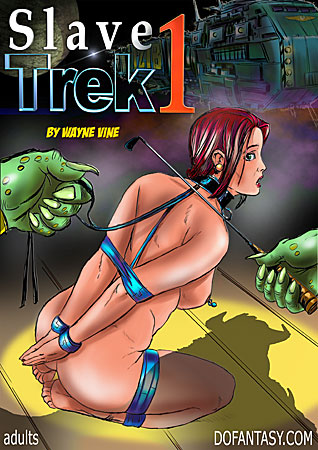 NEW IN PDF ELECTRONIC VERSION!
Adult Comic Album by comic author WAYNE VINE

HIGH RESOLUTION PDF deluxe edition
45 full comic pages by WAYNE VINE
-COMPLETE, UNABRIDGED VERSION-

GREAT BDSM-SciFi STORY

IMPORTANT NOTICE:
All characters are 18 years old or older.
All action is simulated and involves
no real people.
The authors/publishers do not condone
violence of any kind.
These are completely fictional comics
for adult entertainment.

The pirates attacked so suddenly that the small cargo ship had no chance. Nobody could resist… it was over in a few minutes.

The first order of the pirates' captain was: DON'T KILL ANY YOUNG HUMAN FEMALES YOU FIND!

Sonia Snider, the captain of the assaulted ship, was a most valued prize... She and other captured girls were on her way to Happy Skuntz... the biggest whorehouse station in the Galaxy. There, young human females are the preferred sex slaves to all the humanoid species of the Galaxy!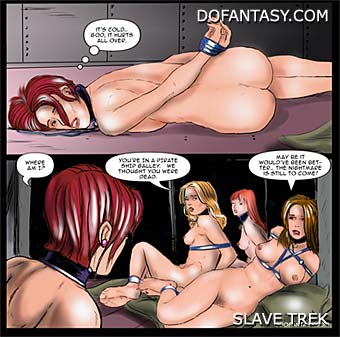 Captain Sonia Snider was carefully inspected and sold to the whorehouse manager, an oversexed creature from Trentum constellation...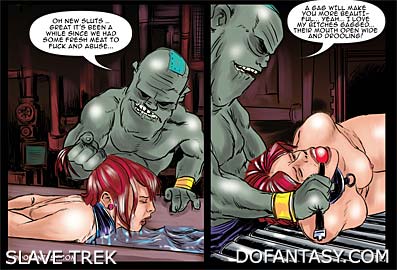 She was offered to customers...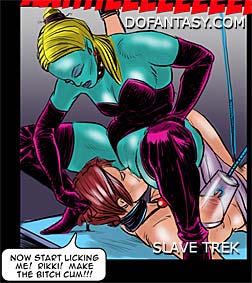 She lived a dreadful nightmare...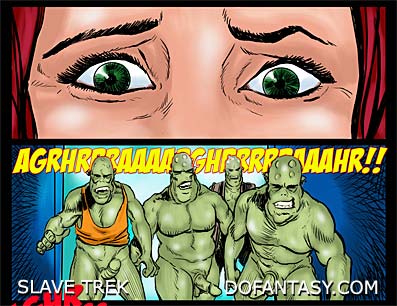 SLAVE TREK ONE Sci-Fi + BDSM
You should not miss this one!