Use our On-Line 100% Secure EncryptedShopping Cart Ordering System. Simply browse
our site and Click the ADD TO SHOPPING CART buttons to place items in your Shopping Cart
[ HOME ] [ COMICS ] [ MOVIES ] [ NOVELS ] [ CD-ROM ] [ Order info ] [ Help ] [ ARTIST SITES ] [ SEARCH ]
[ Disclaimer ] [ CATALOGUE ] [ Copyright ]
FANSADOX COLLECTION 420
FEMALE GENERAL Part 4 - FEATHER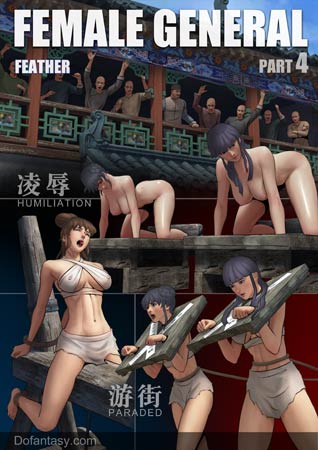 NEW IN PDF ELECTRONIC VERSION!

Adult Comic Album by FEATHER.
HIGH RESOLUTION PDF deluxe edition
42 full color comic pages!!!
-COMPLETE, UNABRIDGED VERSION-

THE TAIPING REBELLION WAS ONE OF THE BLOODIEST PERIODS IN CHINESE HISTORY. DURING THIS TIME, A GROUP CALLED "THE HEAVENLY KINGDOM" REBELLED AGAINST THE ESTABLISHED ORDER. THE REBEL GROUP ALLOWED WOMEN TO TRAIN AND FIGHT FOR THEM, EVEN PROMOTING THEM TO GENERALS. BUT THE CREATION OF FEMALE SOLDIERS MEANT THE CREATION OF FEMALE PRISONERS OF WAR…

THIS IS THE FINAL CHAPTER! SEVEN OF THE FEMALE REBELS HAVE DISCOVERED HOW WRONG IT WAS FOR THEM TO REBEL. THEY HAVE BEEN CAPTURED, TORTURED AND PUNISHEDFOR THEIR CRIMES AGAINST THE STATE. FOR THEIR FINAL HUMILIATION, ALL SEVEN GIRLS WILL BE PARADED THROUGH THE CITY STREETS. THE WILL BE FUCKED, HUMILIATED AND PUNISHED FOR THEIR CRIMES BY THE PEOPLE THEY HAVE WRONGED!


IMPORTANT NOTICE - DISCLAIMER
All characters are 18 years old or older.
This is an entirely fictional work based on cartoon characters for adult entertainment. It shows no real people or events. The characters are shown participating in CONSENSUAL role-play for their own personal satisfaction, simulating activities which involve sexual dominance and submission. No actual toons were harmed in the making of this comic.


One of the most bloody wars in history took place towards the end of the 19th Century, the Taiping Rebellion. The rebellion was led by a man who had been told in a vision that he was the younger brother of Christ. He set up the Taiping Heavenly Kingdom and controlled large areas of Southern China. At least 20 million people died in the fourteen years of fighting between the Heavenly Kingdom and the Qing dynasty. There were female prisoners and even female generals. There are no statistics about the rape and pillage that accompanied the war…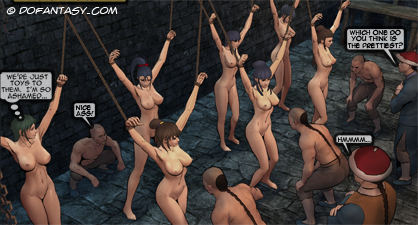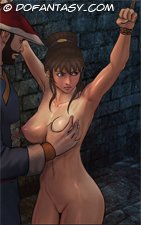 General Xiao Meiyun has been captured by her enemy, General Lei Bao. Xiao Meiyun has seen her sister and her best friend captured in a failed rescue attempt. She has seen her brave soldiers broken, and reduced to cowardly cock-suckers. She has seen her dreams of female equality be destroyed, as she and all the women like her, are taught that they will never be the equals of men.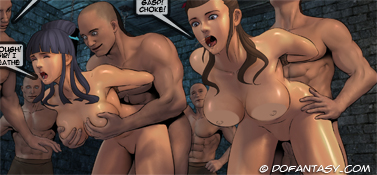 In this Chapter:

But General Lei Bao has been saving his final humiliation for the end of their torture. Up until now, only a few men have been allowed to fuck and torture the women. Only Lei Bao's loyalist soldiers were even allowed to watch. Now, Lei Bao announces that the entire town will get to enjoy the female prisoners of war.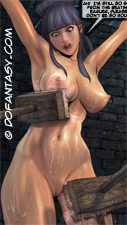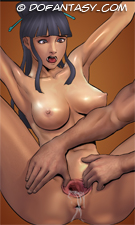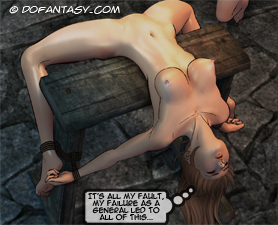 The women are forced to participate in a humiliating parade, so that the crowds of cheering men can laugh at them. Then Lei Bao does the unthinkable; he allows even the lowly, common men to fuck his prisoners in a giant city-wide gang-bang.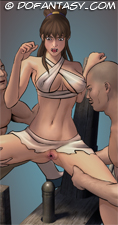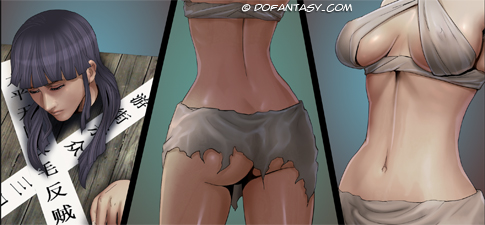 The women must be taught that even the lowest of men are still above women. These women tried to rise up and claim equal rights to men. An example must be made, not just for the rebels, but for all the women of China; to make sure that women never again try to become equal to men.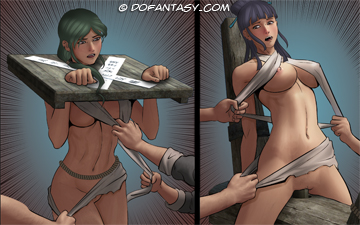 The torture of the female rebels will be legendary. Their suffering and sexual abuse will be so great, that it will echo across history, and frighten women in China for generations to come…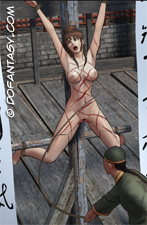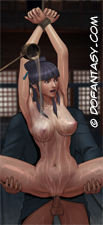 COME ENJOY THE FINAL CHAPTER OF FEATHER'S EPIC STORY! WITH THIS ISSUE, THE FEMALE GENERAL SAGA COMES TO ITS SPECTACULAR CONCLUSION. THE WOMEN WHO ONCE REBELED AND DEMANDED EQUALITY WILL SOON LEARN TO OBEY, SUCK COCK AND BEG FOR MERCY!
BROUGHT TO YOU BY RENOWNED ARTIST, FEATHER!