Use our On-Line 100% Secure EncryptedShopping Cart Ordering System. Simply browse
our site and Click the ADD TO SHOPPING CART buttons to place items in your Shopping Cart
[ HOME ] [ COMICS ] [ MOVIES ] [ NOVELS ] [ CD-ROM ] [ Order info ] [ Help ] [ ARTIST SITES ] [ SEARCH ]
[ Disclaimer ] [ CATALOGUE ] [ Copyright ]
FANSADOX COLLECTION 55
TAXI TO HELL - WAYNE WINE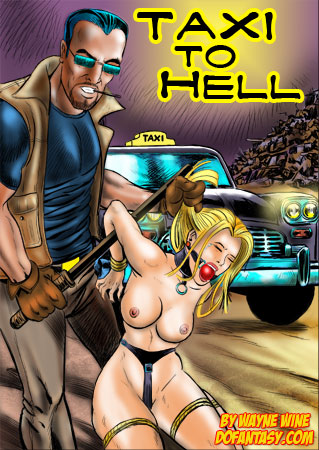 NEW IN PDF ELECTRONIC VERSION!
Adult Comic Album by WAYNE WINE
HIGH RESOLUTION PDF deluxe edition
41 full comic pages by Wayne Wine
-COMPLETE, UNABRIDGED VERSION-
41 FULL-COLOR,
ACTION-PACKED PAGES!
IMPORTANT NOTICE - DISCLAIMER
All characters are 18 years old or older.
This is an entirely fictional work based on
cartoon characters for adult entertainment.
It shows no real people or events.
The characters are shown participating in
CONSENSUAL role-play for their own personal
satisfaction, simulating activities which involve
sexual dominance and submission.
No actual toons were harmed in the making
of this comic.
What do you do when you're a rich pervert, bored with sitting back in your armchair, resting your boots on a beautiful young Russian woman? The woman, incidentally, is pretending to be a coffee table. Not for fun, but because she's gagged, plugged, has clips biting into her nipples and would be cruelly flogged if she complained. Now maybe that doesn't sound too boring to a pervert. But it was to Latino mafia boss Leopoldo Sanchez.
He wanted another beautiful woman. So he picked up the phone and rang Greg, who drives a black taxi.
Lynn Simpson knew nothing of such matters. At that moment she was dancing in a fashionable disco in the port district. Lynn was in a dream. She was becoming well-known as a model. She'd been on TV a lot, swinging down the catwalk, her large breasts (in fashion again, she was lucky) wobbling under the latest see-through designer blouses…
Her mistake was, she was dancing alone and never noticed when her friends got tired and drifted off home in small, separate groups. None of them noticed either. They thought she'd already gone home.
When Lynn realized, she asked the doorman to get her a cab. The doorman rang Greg. Things would be different for Lynn from now on…
From that moment, her much-admired body was no longer hers. It didn't even belong to the mass TV audiences and paper tissue manufactures. It belonged to Greg, and then later to Sanchez… Sanchez was pleased. He had his matching pair now -an all American blonde and a Russian brunette- and a headful of fantasies that for most people would remain just fantasies…
Magnificent, crystal sharp, full-color drawings by Wayne Wine bring this world of demented sexual abuse to life…
___________________
Lynn doesn't like the place. "There's just a bunch of jerks inside. Get me a taxi!"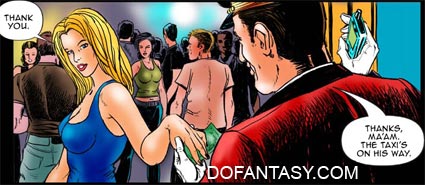 The taxi is a trap...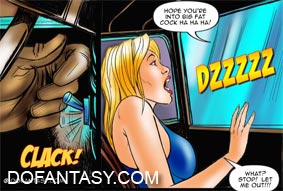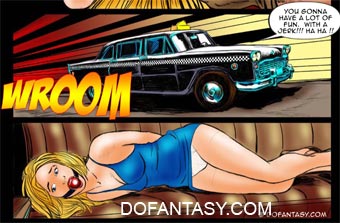 The driver takes his prey to his secret hideaway...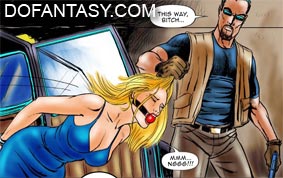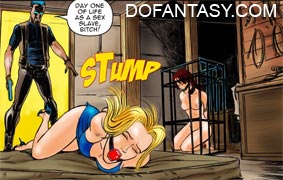 ...and hell starts for the young model...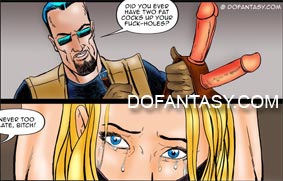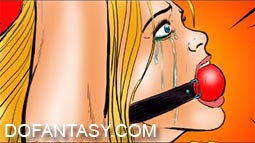 Nasty customers come to check on the merchandise...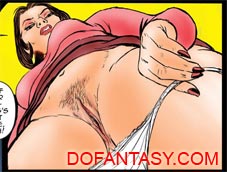 Lynn is finally sold and delivered to Senor Sanchez...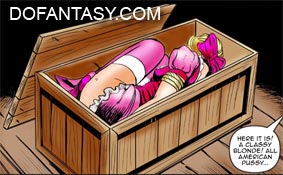 DON'T MISS TAXI TO HELL

She shouldn't have taken that taxi...