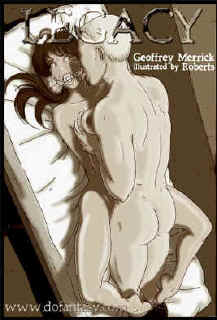 New in English!!!
by GEOFFREY MERRICK
de luxe edition with 100 pages of historical drama.

Illustrated by ROBERTS

IMPORTANT NOTICE - DISCLAIMER
All characters are 18 years old or older.
This is an entirely fictional work based on
cartoon characters for adult entertainment.
It shows no real people or events.
The characters are shown participating in
CONSENSUAL role-play for their own
personal satisfaction, simulating activities
which involve sexual dominance and
submission. No actual toons were harmed
in the making of this comic.

Geoffrey Merrick has been decribed as "legendary" and the "greatest writer of bondage thrillers ever". Creator of the famous "Tyler: Memoirs of a White Slaver," Merrick is back with his most ambitious, most sweeping, most kinky epic ever: LEGACY

LEGACY is set in Germany, in 1943. A young Aryan, slavishly devoted to the doctrine of the master race, is looking for genetic perfection ... someone he use to create the most perfect victim. But his aunt and uncle, local butcher shop owners, find her....

An incredibly beautiful, innocent, young teenage girl ...
A sexy blonde German waitress abducted on a Nazi bet and secreted in an interrogation cell ...
The sultry Jewish daughter of a local barber ...
A Brazilian bombshell detained on a whim after a failed war summit ...

All will be bound, gagged, secreted just inches away from rescue, and "tended to" as as only the victims of supreme criminals can be.

Will the Aryan accomplish his perverted dream as the city explodes around them?

Remember... this is only the beginning!
FROM THE BOOK:
If he hadn't spilled the lamb's blood.
If she hadn't leaned over the counter.
If the blood hadn't stained her sweater.
If she had not taken the sweater off.
None of it would have happened....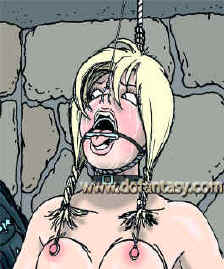 The cell was approximately twenty by twenty feet. Maybe more, maybe less. The walls were stone. The floor and ceiling were cement. The floor was slightly angled, ending in a grate in the center. The ceiling was low — maybe seven feet off the floor ... no more than eight.
There may have been a small, rectangular, barred window high on the wall at one time, but there was only darkness beyond it now — as if it had been bricked in. The only light came from a single yellow bulb in a chicken wire enclosure above the floor's grate.
Madeleine Geild sobbed, the clip deep in her tongue clacking against the edge of the ring gag holding her mouth open to its widest aperture. She choked, her tongue forced out of her mouth by the clip's wings, which would not allow her to pull her tongue back behind her wedged-open teeth.
The naked blonde girl cried bitterly. Had she been strong enough, she could have pulled her tongue in, thereby forcing the clip open as the wings were bent back by the ring ... but apparently, she wasn't.
She jerked in place again, in frustration, setting off the lightning flashes of agonized ecstasy from her throat, her nipples, her scalp, her cunt, and even her nose. She groaned, as drool and sweat poured down her face, chest, and legs. She "stood" on tormented tip-toe, trying to keep from being broken in two or have her face ripped off.
He had ringed her mouth and clipped her tongue after they had torn the clothes from her body and his servant had shackled her wrists behind her. Then he had stretched nostril hooks from the ceiling to her nose, yanking her head up. Then a noose from the ceiling was tightened under her chin, drawing her head up even more and securing the ring gag even more firmly in place. Then he made pig tails of her hair on either side of her head, wrapping the ends in thread, then noosing her nipples with the other ends — her own mane yanking her breasts up.
She was stunned, in more ways than one. She had never seen such devious, sadistic, and delicate work. Or felt it. But still he wasn't finished. He pulled another strap around her lower neck, just over her collar bones, and attached the center chain of her wrist shackles to it so her arms were bent high up her back.
And then came the impaling pole.
Madelaine had tried to scream when the handsome young blonde man and his ugly servant had lifted, then lowered, her upon its great, thick, penis-shaped top, but it had slid in too quickly — and the tearing at her hair, the choking at her throat, the ripping at her chest, the twisting of her nose, and the aching of her shoulders overwhelmed the sound like a wave crashing onto a bather.
All she could do then was desperately struggle to keep from strangling, her toes twisting on the sloped cell floor.
The handsome man who had abducted and fucked her walked slowly around her desperate, undulating form, letting his fingers lightly touch her comely shape. He discovered, to his pleasure, that she had a fine, soft peach-fuzz of silky blonde hair over almost every centimeter....