Use our On-Line 100% Secure EncryptedShopping Cart Ordering System. Simply browse
our site and Click the ADD TO SHOPPING CART buttons to place items in your Shopping Cart
[ HOME ] [ COMICS ] [ MOVIES ] [ NOVELS ] [ CD-ROM ] [ Order info ] [ Help ] [ ARTIST SITES ] [ SEARCH ]
[ Disclaimer ] [ CATALOGUE ] [ Copyright ]
FEMALE CRUCIFIXIONS by DAMIAN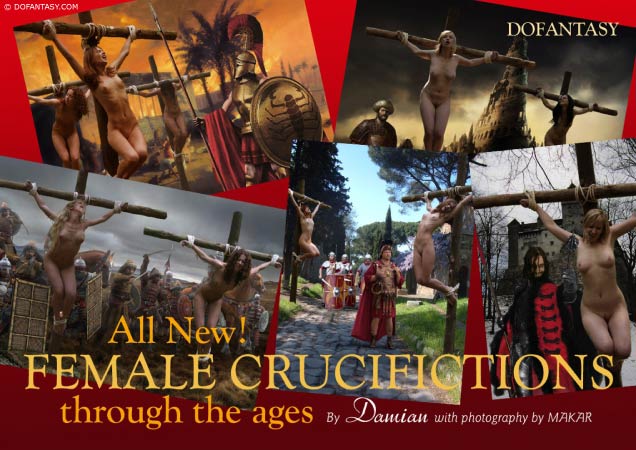 NEW IN PDF ELECTRONIC VERSION! Adult Album by DAMIAN. Socking texts by NAJ
HIGH RESOLUTION PDF deluxe edition. 33 full color pages!!!
-COMPLETE, UNABRIDGED VERSION-
IMPORTANT NOTICE - DISCLAIMER
All characters are 18 years old or older. This is an entirely fictional work based on cartoon characters for
adult entertainment. It shows no real people or events. The characters are shown participating in CONSENSUAL
role-play for their own personal satisfaction, simulating activities which involve sexual dominance and
submission. No actual toons were harmed in the making of this comic.

CRUEL STORIES OF THE DARKER AGES OF HUMANKIND
YOUNG WOMEN SENTENCED TO THE CROSS ARE THE VICTIMS OF
THE DARKEST PERVERSIONS OF THEIR GUARDS
Crucifixion is nearly as ancient as mankind itself, appearing as a form of punishment in the first civilizations on Earth. From ancient Babylon to the Ottoman Empire, for a thousand years the cruel art of Crucifixion has followed mankind like rats.
The natural human lust for cruelty was perfectly embodied by Crucifixion.
To be crucified was a slow and often agonizing end. Condemned men were nailed to a wooden cross and left to slowly die of asphyxiation if they were lucky, or dehydration if they were not.
There was not a man alive who did not fear that dreaded symbol of death and pain. Yet as horrible as it was for men, young, desirable women sentenced to the cross suffered ten times as much. They would endure punishment and humiliation for weeks, or even months, before finally being tied to the cross.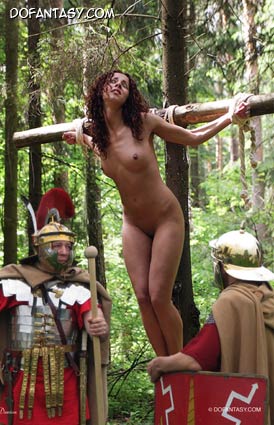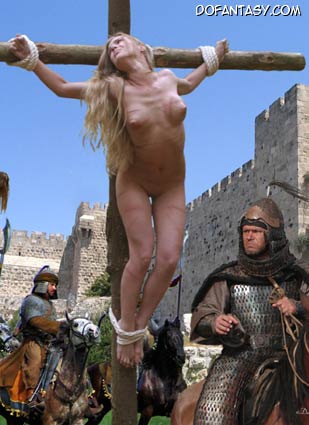 It often came as a relief for a beautiful woman to finally be crucified because it meant that the constant harassing by her keepers and the savage sting of the whips were finally over.
Unfortunately for most of these defenseless captives, their hope was not true. To the criminal mind of guards and executors, there was no sight more desirable than a naked young woman suffering upon the cross for days or weeks...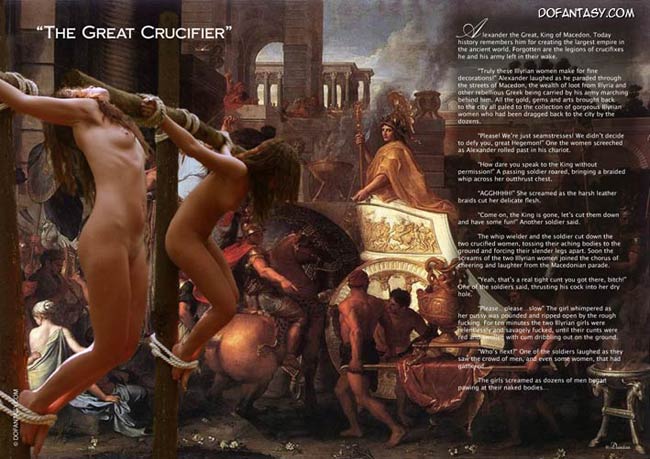 WOMEN TIED TO A CROSS VICTIMS OF
THE DARKEST PERVERSIONS OF THEIR TORMENTORS
THE BEST DAMIAN!
A CRUEL STORY OF THE DARKER AGES OF HUMANKIND