Use our On-Line 100% Secure EncryptedShopping Cart Ordering System. Simply browse
our site and Click the ADD TO SHOPPING CART buttons to place items in your Shopping Cart
[ Disclaimer ] [ CATALOGUE ] [ Copyright ]
ROMAN CRUELTY & DECADENCE #9 by DAMIAN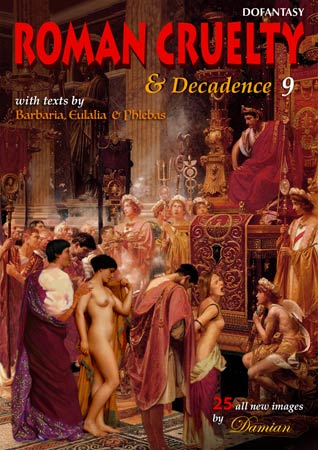 NEW IN PDF ELECTRONIC VERSION! Adult Album by DAMIAN. Shocking texts by Barbaria, Eulalia & Phlebas.
HIGH RESOLUTION PDF deluxe edition.
25 full color pages!!!
-COMPLETE, UNABRIDGED VERSION-

WHEN THE EMPIRE'S REACH CAN STRETCH TO ALL THE CORNERS OF THE KNOWN WORLD, NO GIRL IS SAFE, NO MATTER HOW SMALL OR SECLUDED HER BARBARIAN VILLAGE IS!

ROMAN DECADENCE, PERVERSION, AND SADISM ARE ON FULL DISPLAY AS BEAUTIFUL, BARBARIAN BABES ARE BROKEN IN BY THEIR BRUTAL MASTERS!

IMPORTANT NOTICE - DISCLAIMER
All characters are 18 years old or older. This is an entirely fictional work based on cartoon characters for adult entertainment. It shows no real people or events. The characters are shown participating in CONSENSUAL role-play for their own personal satisfaction, simulating activities which involve sexual dominance and submission. No actual toons were harmed in the making of this comic.
Roman hunger for helpless, screaming, female flesh knows no limits as it stretches its hand in pursuit of more, more, more! Frightened girls are freshly enslaved and brought into the capital by the wagonload, quivering so hard their chains rattle with fear! Their fear is well founded, though, as girls and sisters are split up and sold at the slave market to their cruel and perverted masters and mistresses… the kind of people who have far too much money to spend and flaunt their wealth freely in pursuit of… forbidden fruits…

Such insatiable, Roman hunger must be fed, and unfortunately for these girls, they are the first course on the menu!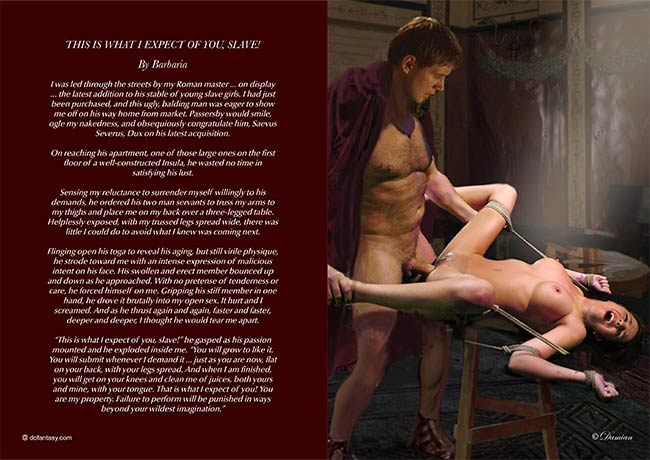 DAMIAN IS A MASTER OF SOME OF THE HARDEST, TOUGHEST, AND CRUELEST IMAGES OF ANCIENT, HUMAN DEPRAVITY AND WICKEDNESS, AND THIS ISSUE WON'T FAIL TO DELIVER! THESE HIGH RES IMAGES OF FEMALE PAIN AND SUFFERING MAY BE TOO MUCH FOR SOME! YOU WON'T BELIEVE WHAT HAPPENED IN THE "GOOD OLD DAYS" WHEN ROME RULED THE WORLD WITH AN IRON FIST AND DEMANDED TRIBUTE FROM THOSE LEAST ABLE TO DEFEND OR PROTECT THEMSELVES! YOU CAN'T MISS THIS AMAZING ISSUE, BROUGHT TO YOU HERE EXCLUSIVELY AT DOFANTASY.COM!
THE BEST DAMIAN!