Use our On-Line 100% Secure EncryptedShopping Cart Ordering System. Simply browse
our site and Click the ADD TO SHOPPING CART buttons to place items in your Shopping Cart
[ HOME ] [ COMICS ] [ MOVIES ] [ NOVELS ] [ CD-ROM ] [ Order info ] [ Help ] [ ARTIST SITES ] [ SEARCH ]
[ Disclaimer ] [ CATALOGUE ] [ Copyright ]
FANSADOX COLLECTION 180
SIBERIAN GULAG - TEMPLETON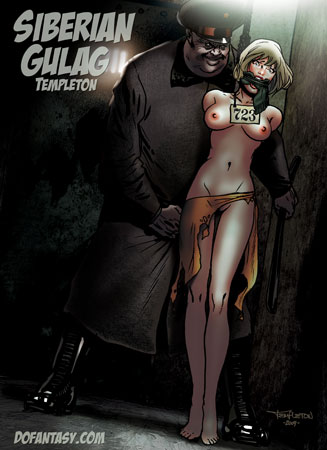 SIBERIAN GULAG
NEW IN PDF ELECTRONIC VERSION!
Adult Comic Album by TEMPLETON
HIGH RESOLUTION PDF deluxe edition
47 full color comic pages by TEMPLETON
-COMPLETE, UNABRIDGED VERSION-
THE TERRIBLE PLIGHT OF
FEMALE POLITICAL PRISONERS
IN SIBERIAN GULAGS!
IMPORTANT NOTICE - DISCLAIMER
All characters are 18 years old or older.
This is an entirely fictional work based on
cartoon characters for adult entertainment.
It shows no real people or events.
The characters are shown participating in
CONSENSUAL role-play for their own personal satisfaction, simulating activities which involve sexual dominance and submission.
No actual toons were harmed in the making
of this comic.
NATALYA WAS YOUNG, CLEVER AND BEAUTIFUL. AND SHE WAS THE DAUGHTER
OF A TRAITOR IN THE HARSHEST, CRUELEST LABOR CAMP IN SIBERIA...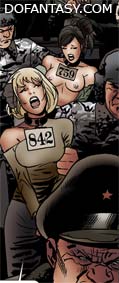 Winter, 1950, one of the hardest of the century… A train winds its slow way across the frozen Siberian plains to a prisoner camp near the Artic Circle…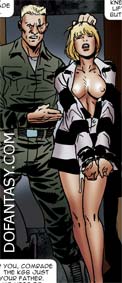 Conservative estimates are that the total prison population in the Soviet Union Forced Labor Penal Colonies, better known as Gugals, was around 1,600.000 at that time…
This is a fictional story set in one of the harshest, cruelest Gulags, the infamous Camp Norilsk.
Natalya Kruschenko is the daughter of Boris Kruschenko, a conspicuous dissident exiled in London. She has been detained in Leningrad and sentenced to forced labor, an act of revenge against her father. She is now on that infamous train…
The journey takes weeks and conditions are inhuman. The crowded convoy makes no stops. The cold and stench in the wagon are unbearable. Natalya, a clever, beautiful young girl just turned 20, cannot adjust mentally to her fate. Only a few days ago she was studying fission physics at Leningrad University and now she's being transported like cattle to a forced labor camp...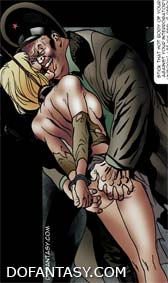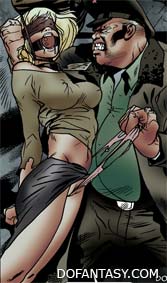 What Natalya does not suspect is precisely what kind of forced labor she is going to be subjected to in the camp….
She will soon learn, however.
Upon arrival the younger, more beautiful girls are set aside. In the camp such women have a special mission: to provide sexual relief to 500 sex-starved guards.
In the eyes of the regime, woman counterrevolutionaries are whores and it is only natural that a whore in a forced labor camp should be set to work in her profession.
The arrivals are rushed to the canteen and auctioned off upon a table. The lust-crazed guards bid for time and position in the long queue of wanking men waiting in front of the brothel's beds.
But unknown to her someone is waiting for Natalya. She will not be auctioned off. Not yet... Colonel Poliakov, a Father of the Revolution and former KGB interrogator specialized in woman prisoners, is an old acquaintance of Natalya's father, and will take revenge his own and very personal way…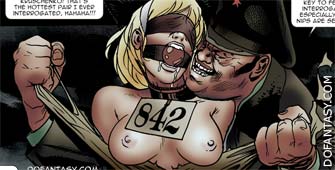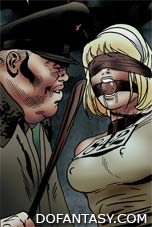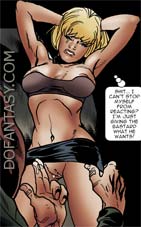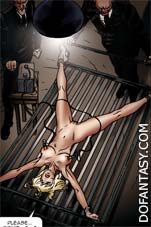 He keeps the beautiful girl for himself. Under the pretence of making her reveal her father's whereabouts, the old Coronel will turn Natalya's life into a nightmare of physical abuse and sexual humiliation….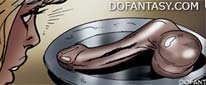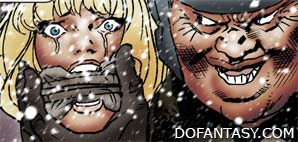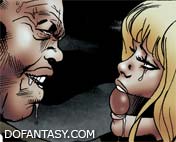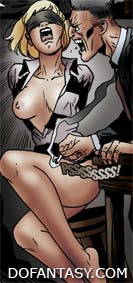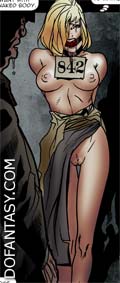 NATALYA, THE DAUGHTER OF A HATED
DISSIDENT, FALLS INTO THE HANDS OF HER
FATHER'S FORMER RIVAL IN A SOVIET GULAG!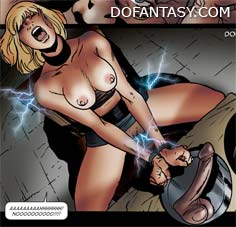 A TORRID STORY, ONE OF THE HOTTEST OF THIS COLLECTION
VISIT TEMPLETON SITE FOR A COMPLETE
LIST OF TEMPLETON COMICS AND OFFERS