Use our On-Line 100% Secure EncryptedShopping Cart Ordering System. Simply browse
our site and Click the ADD TO SHOPPING CART buttons to place items in your Shopping Cart
[ HOME ] [ COMICS ] [ MOVIES ] [ NOVELS ] [ CD-ROM ] [ Order info ] [ Help ] [ ARTIST SITES ] [ SEARCH ]
[ Disclaimer ] [ CATALOGUE ] [ Copyright ]
FANSADOX COLLECTION 195
CONFISCATED TWINS 2 - OWNED! - FERNANDO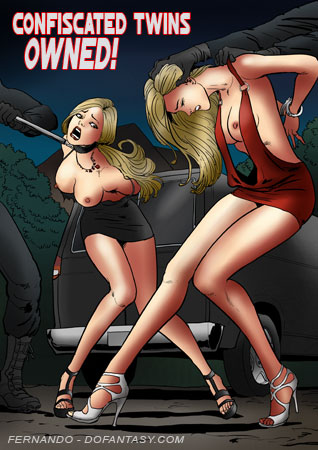 NEW IN PDF ELECTRONIC VERSION!
Adult Comic Album by FERNANDO
HIGH RESOLUTION PDF deluxe edition
50 full color comic pages!
-COMPLETE, UNABRIDGED VERSION-
THE HOT TWINS NEXT DOOR
LEGALLY OWNED BY 'WANKER' ROY'S
FAMILY, THEIR SCORNED DORKY NEIGHBOR AND CLASSMATE...
IMPORTANT NOTICE - DISCLAIMER
All characters are 18 years old or older.
This is an entirely fictional work based on
cartoon characters for adult entertainment.
It shows no real people or events.
The characters are shown participating in
CONSENSUAL role-play for their own
personal satisfaction, simulating activities
which involve sexual dominance and
submission. No actual toons were harmed in the making of this comic.
IN-HOUSE SLAVES IN A WORLD WHERE SEXUAL FANTASY
AND SEXUAL PERVERSION HAVE BECOME LEGAL REALITY!
The economic crisis is deepening and an ever increasing number of middle class families are unable to pay their debts.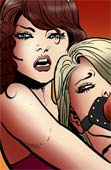 Fearing a financial crisis, the government has created the Federal Confiscation Agency (FCA), an underpaid corps of military officers whose job is to confiscate debtors' assets.
The aim of the FCA is to inject cash into the system by auctioning the seized assets to the few remaining cash holders, most of whom are rich and unscrupulous tax evaders.
Auction Townhouses are created all over the country as pressure on ruined families builds up.
Houses, cars, plasma TV's, fridges, anything can be found and bought at bargain prices, including Indentured Servants…
When the assets of a family are insufficient to cover its debts, the members of the family themselves are confiscated and assigned to their debtors to work for them until the debt is paid back.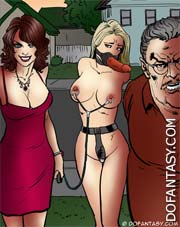 The law states that Indentured Servants lose all their constitutional rights and are legally the property of their assigned creditors, who can use them in any way they wish.
Not knowing what to do with such a surplus of unqualified work force, the banks auction off their Indentured Servants for immediate cash transferring their human assets to the highest bidder.
Needless to say, the most highly-valued Indentured Servants are good-looking young females.
The most common job assigned to them is personal, in-house prostitution. As the servants have no legal rights, there are no limits on the services the young prostitutes can be ordered to perform on their owners or on what their owners can do to them...
In-house prostitutes are sex-slaves in a world where sexual fantasy and sexual perversion have become legal reality...

_____________________________________
Some weeks have passed since the lucky day when 'Wanker' Roy got the Bauer twins he had been lusting after for so long. He had them delivered to him naked, blindfolded, gagged and chained. Their hot bodies were adorned with fancy red ribbons...
The twins are former neighbors and classmates, the same snooty superior girls who had spurned him for months, putting him down and scornfully rejecting his timid advances.
They did this in public, shaming the shy, insecure man...
Now the twins are Roy's property and it is their turn to suffer in a nightmare of retaliation and humiliation in which they are constantly subjected to sick sexual practices…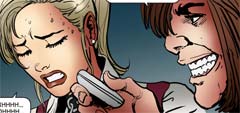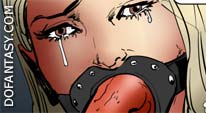 Roy's father is a repulsive middle-aged repulsive lecher. To the girls' dismay he has just convinced his son to let him help tame and train the spirited girls.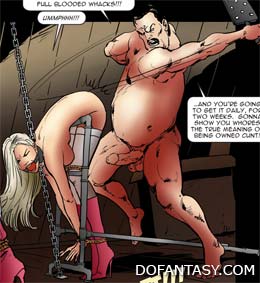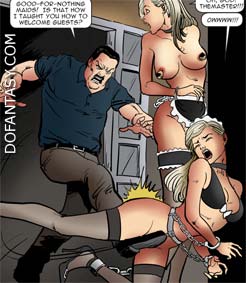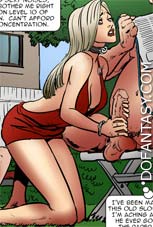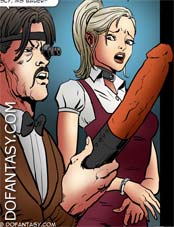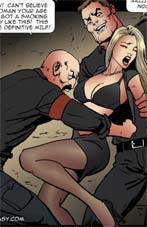 The humiliation of the strikingly hot twins intensifies when their training is witnessed by their equally stunning mother, Mrs Bauer, who happens to live next door to the house where the girls are being kept.
Mrs Bauer tries and tries again to get her daughters back, but to no avail, until finally she too is lured into a terrible trap...
The unfortunate woman saw her daughters confiscated some months ago, and now the rest of her assets are confiscated by the bank too: that is, the house and herself.
But this time, she's not going to be auctioned off. The banker wants to keep the house and the sexy mother for his own personal use and for his perverse wife. And it happens just next to door where her daughters are being held...
"Know what, Mrs Bauer? We're gonna move in to your house in a week's time. The workers are in your basement are fitting out a fully equipped play-room in your room too. I wonder how you'll feel serving your Master and Mistress in your own bed with that hot body of yours..."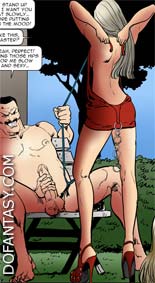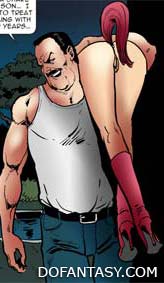 THE HOT TWINS NEXT DOOR LEGALLY
OWNED BY WANKER ROY, THEIR SPURNED
DORKY NEIGHBOR AND CLASSMATE...
IN-HOUSE SLAVES IN A WORLD WHERE
SEXUAL FANTASY AND SEXUAL
PERVERSION HAVE BECOME
LEGAL REALITY!
PREVIOUS AND NEXT CHAPTERS:
**** BUY THE THREE COMICS AND GET 10% DISCOUNT! ****
**** BUY THE THREE COMICS AND GET 10% DISCOUNT! ****
VISIT FERNANDO SITE FOR A COMPLETE LIST
OF FERNANDO COMICS AND OFFERS [ HOME ]