Use our On-Line 100% Secure Encrypted Shopping Cart Ordering System. Simply browse
our site and Click the ADD TO SHOPPING CART buttons to place items in your Shopping Cart
[ HOME ] [ COMICS ] [ MOVIES ] [ NOVELS ] [ CD-ROM ] [ Order info ] [ Help ] [ ARTIST SITES ] [ SEARCH ]
[ Disclaimer ] [ CATALOGUE ]
FANSADOX COLLECTION 251
DEAD SHARK ISLAND 2 - FORSAKEN
NEW IN PDF ELECTRONIC VERSION!
Adult Comic Album by FERNANDO
HIGH RESOLUTION PDF deluxe edition
57 full color comic pages!!!
-COMPLETE, UNABRIDGED VERSION-
DEAD SHARK ISLAND. THE ISOLATED
REFUGE OFF THE WASHINGTON COAST
IS ONE MAN'S ISLAND PARADISE,
AND THREE GIRL'S LIVING HELL!
EVERY INCH OF THE RUGGED ISLAND
BELONGS TO ONE MAN, INCLUDING
THE THREE YOUNG WOMEN TRAPPED
ON THE CURSED ROCK!
IMPORTANT NOTICE - DISCLAIMER
All characters are 18 years old or older.
This is an entirely fictional work based on
cartoon characters for adult entertainment.
It shows no real people or events.
The characters are shown participating in
CONSENSUAL role-play for their own
personal satisfaction, simulating activities
which involve sexual dominance and
submission. No actual toons were harmed
in the making of this comic.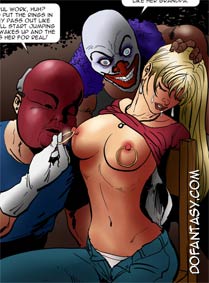 Whoever said "no man is an island" has never met Mr. Rockwell. The hard bitten man has done everything in his power to shun company, going so far as to homestead the uninhabited pile of rocks in the Pacific Northwest known as Dead Shark Island . From his cabin, he is as isolated as any man can be. A few times a year he has provisions sent out from the mainland, but aside from those brief visits his life is spent in solitude. God help the unfortunate soul of anyone foolish enough to step foot on his private property.
Faith and Megan aren't foolish, but they are curious young women. When the fearless girls find themselves stranded on the windswept island, they knock on the door of Mr. Rockwell's cabin trusting the old man to find a way to get them off the island and back to town. They quickly learn that the angry old man has other plans, and just because he lives in isolation doesn't mean that he's alone!
With no hope of help from the ferocious old man, and hungry sharks circling the icy waters surrounding them, the girls have to fight for their freedom, and their very lives! Rockwell has a paranoid streak a mile long, and has laid cunning traps throughout the tiny island.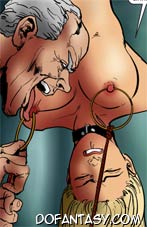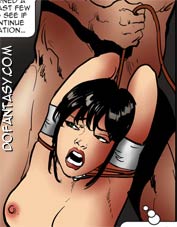 Traps to capture prey of all sizes!
Sharks aren't the only predators the girls have to avoid if they hope to get back home again.
Rockwell and his vicious dog Roscoe have spent their lives hunting in the thick woods, and they know every trick in the book.
Snaring a terrified young woman is as easy for them as bringing down an 8 point buck.
Faith and Megan will have to use more than their youthful energy to keep out of reach, they'll have to use their wits as well.
A wild hunting party takes place...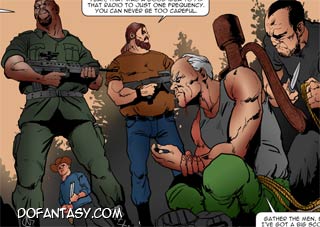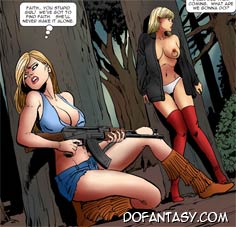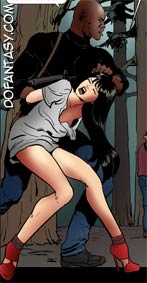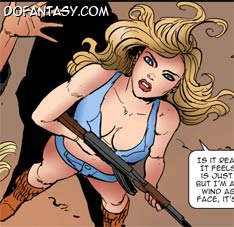 Every step in the remote forest could be their last. The hungry growling coming from the shadows could be from
the feral dog, or the beastly old man himself!
Megan and Faith have to rely on each
other like never before.
A mysterious addition to their small party
has them wondering who to trust, and how
far they are willing to go to escape their
barren island prison.
Their bonds of friendship will be tested as they're thrown together in a desperate fight for their lives!




The story that began in Dead Shark Island
continues in this new comic from Fernando,
starring characters DoFantasy.com readers
have come to know and love.
The excitement continues as Megan and Faith
face new dangers and even worse
punishments than ever!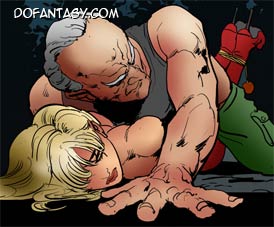 This story can be read as a sequel
to Slave girls of Dead Shark Island, or by itself.
Either way it is sure to entertain, and ensnare
you in the diabolical traps of Dead Shark Island!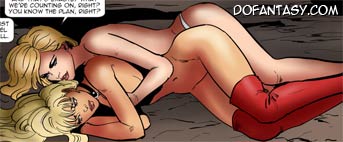 EVERY INCH OF THE RUGGED ISLAND BELONGS TO ONE MAN,
INCLUDING THE THREE YOUNG WOMEN TRAPPED ON THE CURSED ROCK!

57 FULL COLOR PAGES!!!!
DON'T MISS THE FIRST PART OF THIS GREAT COMIC: SLAVEGIRLS OF DEAD SHARK ISLAND
VISIT FERNANDO SITE FOR A COMPLETE LIST OF
FERNANDO COMICS AND OFFERS
[ HOME ]