Use our On-Line 100% Secure Encrypted Shopping Cart Ordering System. Simply browse
our site and Click the ADD TO SHOPPING CART buttons to place items in your Shopping Cart
[ HOME ] [ COMICS ] [ MOVIES ] [ NOVELS ] [ CD-ROM ] [ Order info ] [ Help ] [ ARTIST SITES ] [ SEARCH ]
[ Disclaimer ] [ CATALOGUE ] [ Copyright ]
FANSADOX COLLECTION 262
CONFISCATED TWINS - FAMILY TIES - FERNANDO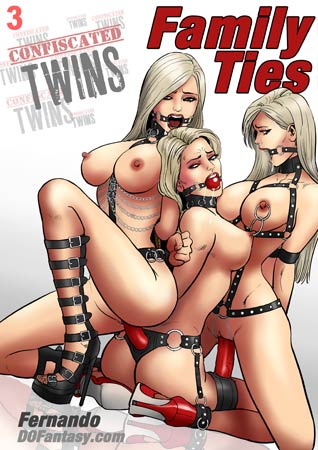 NEW IN PDF ELECTRONIC VERSION!
Adult Comic Album by FERNANDO.
HIGH RESOLUTION PDF deluxe edition
55 full color comic pages!!!

-COMPLETE, UNABRIDGED VERSION-

MRS. BAUER AND HER SEXY TWIN
DAUGHTERS CONFISCATED!

THE SEXY BAUER TWINS RETURN IN THEIR
MOST ELECTRIFYING STORY YET!

IMPORTANT NOTICE - DISCLAIMER
All characters are 18 years old or older.
This is an entirely fictional work based on
cartoon characters for adult entertainment.
It shows no real people or events.
The characters are shown participating in
CONSENSUAL role-play for their own
personal satisfaction, simulating activities
which involve sexual dominance and
submission. No actual toons were harmed
in the making of this comic.

WHEN MR. AND MRS. O'REILLY WANT TO PLAY HOUSE WITH MRS. BAUER, HER WORLD BECOMES A TWISTED PARODY OF THE LIFE SHE ONCE KNEW. BUT THINGS GET MUCH WORSE WHEN HER NEW OWNER LUSTS AFTER THE "GIRLS NEXT DOOR", AND THOSE GIRLS ARE HER OWN DAUGHTERS!

______________________
THE STORY SO FAR

The economic crisis is deepening and an ever increasing number of middle class families are unable to pay their debts.
Fearing a financial crisis, the government has created the Federal Confiscation Agency (FCA), an underpaid corps of military officers whose job is to confiscate debtors' assets. The aim of the FCA is to inject cash into the system by auctioning the seized assets to the few remaining cash holders, most of whom are rich and unscrupulous tax evaders.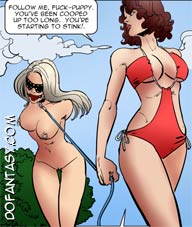 Auction Townhouses are created all over the country as pressure on ruined families builds up. Houses, cars, plasma TV's, fridges, anything can be found and bought at bargain prices, including Indentured Servants…
When the assets of a family are insufficient to cover its debts, the members of the family themselves are confiscated and assigned to their debtors to work for them until the debt is paid back. The law states that Indentured Servants lose all their constitutional rights and are legally the property of their assigned creditors, who can use them in any way they wish.
The most common job assigned to them is personal, in-house prostitution. As the servants have no legal rights, there are no limits on the services the young prostitutes can be ordered to perform on their owners or limits to what their owners can do to them...
In-house prostitutes are sex-slaves in a world where sexual fantasy and sexual perversion have become legal reality...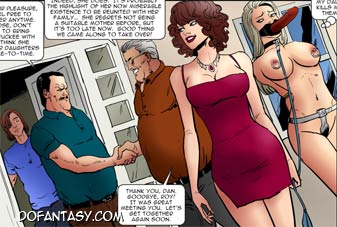 ______________________
THE COMIC
ENSLAVED IN HER OWN HOUSE BY A SADISTIC COUPLE, HER TWIN DAUGHTERS ARE THE INDENTURED SLAVES OF THE SEX-CRAZED FAMILY NEXT DOOR, HER FORMER NEIGHBORS...
"Wanker Boy" Roy has been living the good life with two dazzling blondes waiting to serve him on hand and feet, 24 hours a day.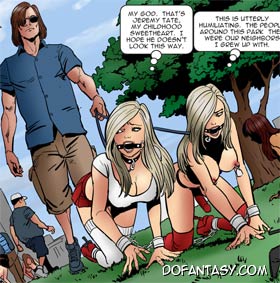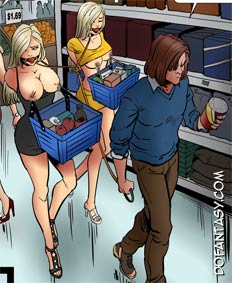 The shy, tongue-tied classmate has transformed into a manipulative and diabolically inventive Owner of the sisters.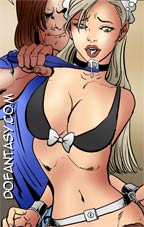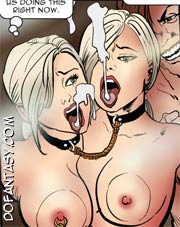 No matter how hard they try to meet his increasing demands on their supple bodies, Roy can find a way to use their weaknesses against them.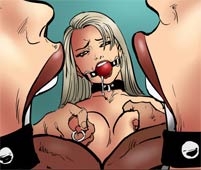 And when the hormone-addled Roy discovers their mother is being held right next door, controlling the helpless twins becomes very easy!
Exploiting the love Sara and Raquel have for their mom, he forces them to perform ever more degrading shows before the enslaved Mrs. Bauer.
Their mom can only watch in mute desperation as her daughters cater to his every sick command.
The leggy Mrs. Bauer is a knock-out from every angle, and her sensual charms haven't been lost on her new Owners.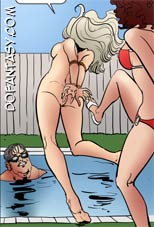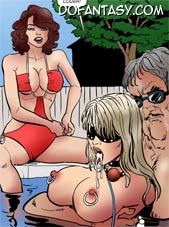 "Here, Honey. Give our little pet a good cleaning!
"
Mr. and Mrs. O'Reilly have used every moment exerting their control over the busty mom, and take particular delight in humiliating her in front of the daughters she once had.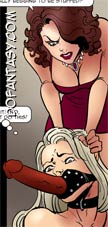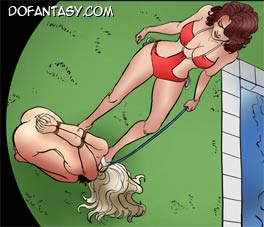 But the life of an Indentured Servant leaves no room for family, dignity or possessions of any kind.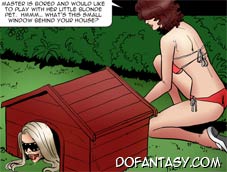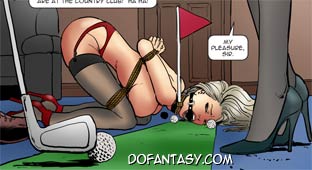 An Indentured Servant serve her owners in many different, all-disgusting ways...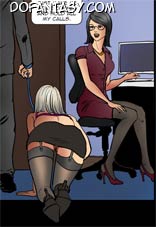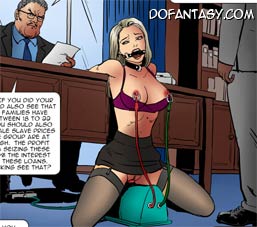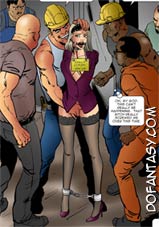 As a literal slave in the house she once owned, Mrs. Bauer is quick to realize that every order must be obeyed instantly because not matter how dehumanizing or repulsive, the punishment is always worse...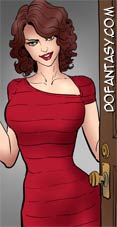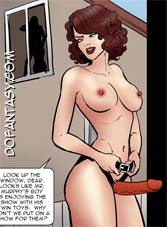 "Hello Mrs. Bauer. Did you miss your Mistress?"
...the punishment is always worse!
ENSLAVED IN HER OWN HOUSE BY A SADISTIC COUPLE, HER TWIN DAUGHTERS ARE THE INDENTURED SLAVES OF THE SEX- CRAZED FAMILY
NEXT DOOR, HER FORMER NEIGHBORS...

THE LATEST SEARING CHAPTER IN A STORY WHICH LEAVES NO TABOO UNBROKEN…
AND NO FANTASY UNFULFILLED! FERNANDO'S IMAGES LEAP FROM THE PAGE AND INTO
YOUR MIND LIKE NO OTHER!




TRAPPED INTO DOMESTIC SERVITUDE IN A WORLD WHERE ANY DEBT CAN BE PAID WITH FLESH,
CONFISCATED TWINS - FAMILY TIES DOESN'T JUST PUSH THE BOUNDARIES OF EROTIC
ILLUSTRATION, IT SHATTERS THEM!
PREVIOUS AND NEXT CHAPTERS:
**** BUY THE THREE COMICS AND GET 10% DISCOUNT! ****
**** BUY THE THREE COMICS AND GET 10% DISCOUNT! ****
VISIT FERNANDO SITE FOR A COMPLETE LIST
OF FERNANDO COMICS AND OFFERS
[ HOME ]
PDF by DOWNLOAD. The PDF electronic version contains the same images and text as the paperback edition (if a paperback exists). Please be aware that most of the ENGLISH VERSIONS are in PDF version exclusively. You'll have instant access to your files just after the credit card transaction is approved. You'll receive a confirmation e-mail with directions to download if you prefer to download at a later time. To open PDF files you need Adobe Acrobat Reader. Download it for free by clicking here!
PDF in a CD. If you prefer, we'll burn a CD-ROM e specially for you with the PDF files that you choose. Postage (14.99 Euro) will be added to the total cost of the books. If you want to order on a CD-ROM please check the corresponding check-box in the shopping cart.
Copyright © 1998-2011 Dofantasy - ETHAN ltd