Use our On-Line 100% Secure EncryptedShopping Cart Ordering System. Simply browse
our site and Click the ADD TO SHOPPING CART buttons to place items in your Shopping Cart
[ HOME ] [ COMICS ] [ MOVIES ] [ NOVELS ] [ CD-ROM ] [ Order info ] [ Help ] [ ARTIST SITES ] [ SEARCH ]
[ Disclaimer ] [ CATALOGUE ] [ Copyright ]
FANSADOX COLLECTION 293
BEYOND THE FROZEN SEA by ZERO GALVAN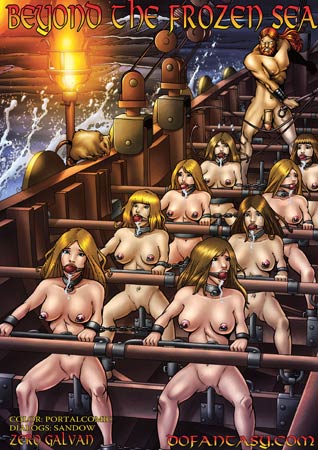 NEW IN PDF ELECTRONIC VERSION!
Adult Comic Album by ZERO GALVAN.
Color by PORTALCOMMIC
Dialogs by SANDOW
HIGH RESOLUTION PDF deluxe edition
52 full color comic pages!!!
-COMPLETE, UNABRIDGED VERSION-
BEYOND THE KNOWN WORLD, A BAND OF
CRUEL VIKINGS EMBARK ON MISSION OF
CONQUEST, VOWING TO CAPTURE AND
ENSLAVE BEAUTIFUL YOUNG WOMEN!
IMPORTANT NOTICE - DISCLAIMER
All characters are 18 years old or older.
This is an entirely fictional work based on
cartoon characters for adult entertainment.
It shows no real people or events.
The characters are shown participating in
CONSENSUAL role-play for their own
personal satisfaction, simulating activities
which involve sexual dominance and
submission. No actual toons were harmed
in the making of this comic.
TAKEN IN RAIDS, BOUND, GAGGED AND SHIPPED TO FOREIGN LANDS, THREE YOUNG WOMEN MUST ENDURE ENDLESS HUMILIATIONS AS THEY TRY TO SURVIVE IN THE FROZEN NORTHLANDS!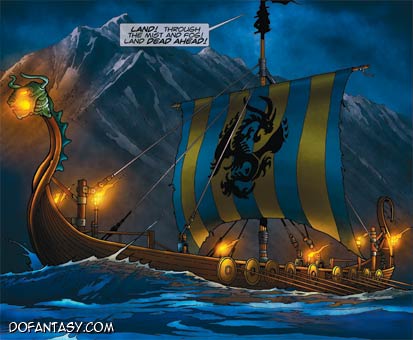 Frost glistens on the iron rails of the Viking longship as it plows its way through the frozen waters of the Great Sea. Along the coast, small villages huddle quietly in the night, trusting the winter months to keep the inhabitants safe from harm.
The few barbarian raiders which infest the land keep to themselves in the cold seasons. Life is hard enough, and even thieves and cutthroats struggle to keep warm until the distant spring. Vikings are a different breed though, and thrive in the biting winter gales.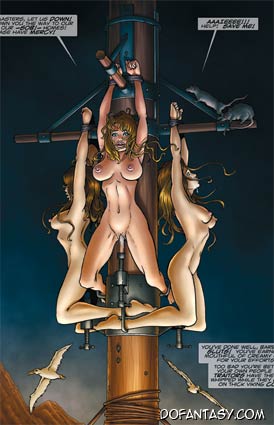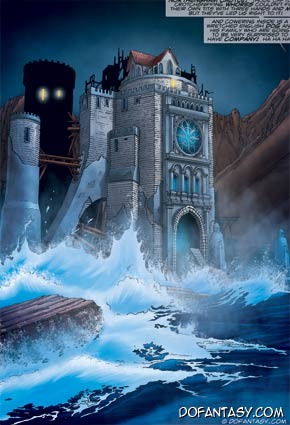 "The suffering of Women captured in a raid doesn't stop once their bodies have been
defiled and wombs filled with their captors foreign seed. Some are used as guides,
directing their tormentors to undefended villages. Forced to lead the violent
invaders to their homes, they watch helplessly as their kin are captured as
slaves or slaughtered without pity."
Any helpless women unlucky enough to be captured by the burly heathens is ripped from her home and shipped back to their harsh country. Women don't last long in the craggy deathlands of the north, and fresh, shapely beauties are always in demand to warm beds and satisfy aching Viking balls!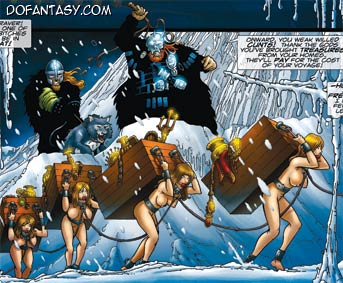 "Onward, you weak willed cunts! Thank the gods you've brought treasures
from your homes. they'll pay for the cost of your voyage!"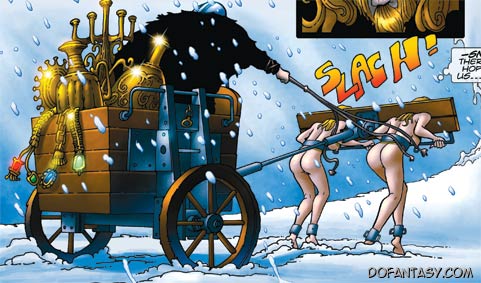 "The naked young women throw their weight against the yoke, but their numb
feet slide backward across the frozen ground. The wagon groans under the
weight of their possessions. Anything of value has been plundered, and what
couldn't be taken has been burned. The Vikings have left nothing behind but
charred bodies and families who can only pray for their missing daughters."
Mary's head whipped back as the Viking pulled on the long tresses of her raven-dark hair.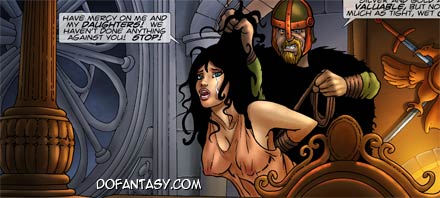 An iron-shod boot struck out and clipped the back of her knees, forcing the struggling woman to the ground. She clutched the frayed tatters of her nightdress around her buxom figure, and looked up at the savage men who towered over her. In the wavering torchlight she heard babbled pleas for mercy, and recognized the voice as her own.
"Please," she wailed, "don't hurt me! Take any treasures you want. Gold for your captain and brandy for your bellies. Just leave me and my daughters in peace!"
Their red-rimmed eyes grew wide with lust before Mary realized her mistake. They would take everything she owned right in front of her, including her daughters!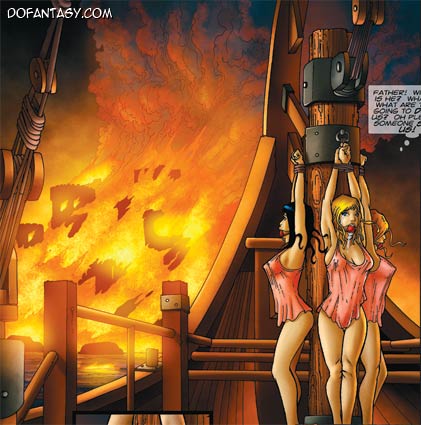 "All the things of their childhood are reduced to ash before their eyes,
and the wooden gags muffle their sobs of despair. The frost-tinged wind
whips over their skin, and they shudder in cold and misery."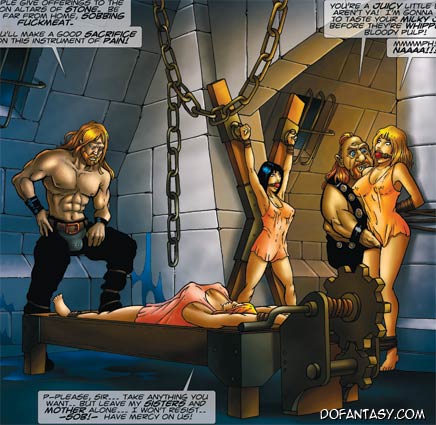 "P-please, sir... take anything you want.. but leave my sisters and mother alone...
I won't resist.. -sob!- have mercy on us!"
Her daughters were bound cruelly in front of the Vikings. They pawed the young woman's naked bodies, pinching their tender flesh and making them wiggle and scream behind the gags which stretched their mouths open invitingly.
Mary cried in horror at seeing them being displayed to the shaggy men, and wept with impotent rage.
She couldn't protect them from the violent men which had raided her home and taken everything of value. They'd plundered the castle and now were going to do the same to her!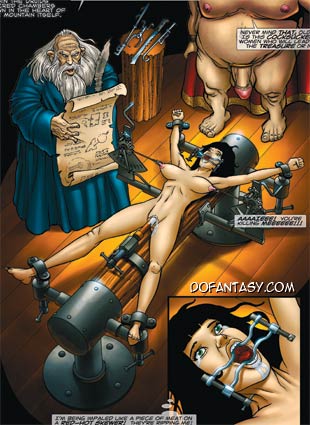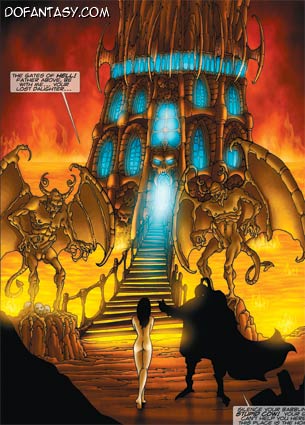 The man's slimy tongue licked the tears from her face, and covered her cheeks with a thick trail of saliva. She recoiled from his touch, but the heavy bonds held her in place.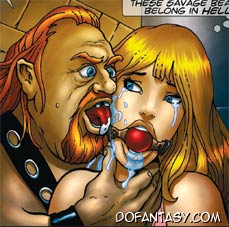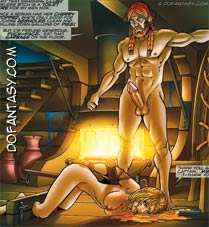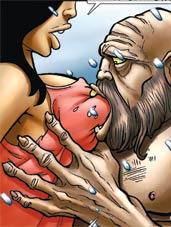 His grasping hands slid down her smooth belly and cupped her womanhood possessively. "This is mine," he said. "Everything here belongs to my clan including your hot slit, bitch!"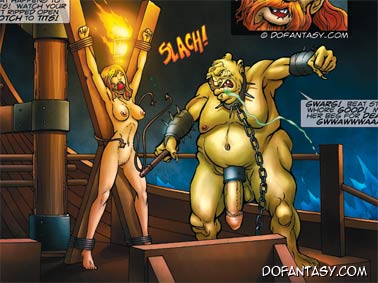 PULSING WITH ENERGY AND DARK LUSTS, THIS COMIC COMBINES POWER OVER HELPLESS
WOMEN WITH FULL-COLOR ILLUSTRATIONS WHICH WILL HAVE YOU BURSTING FROM YOUR
CODPIECE! NEVER BEFORE HAS A STORY OF CAPTIVE YOUNG WOMEN CAPTURED
THE HOT ACTION SO GRAPHICALLY!

INCREDIBLE ART! THIS COMIC IS A GEM YOU'LL TREASURE FOREVER!