Use our On-Line 100% Secure EncryptedShopping Cart Ordering System. Simply browse
our site and Click the ADD TO SHOPPING CART buttons to place items in your Shopping Cart
[ HOME ] [ COMICS ] [ MOVIES ] [ NOVELS ] [ CD-ROM ] [ Order info ] [ Help ] [ ARTIST SITES ] [ SEARCH ]
[ Disclaimer ] [ CATALOGUE ] [ Copyright ]
FANSADOX COLLECTION 295
UPRISING IN WEST AFRICA - PREDONDO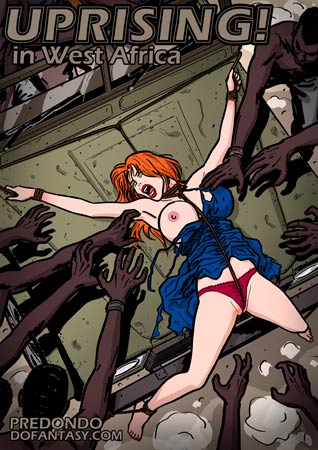 NEW IN PDF ELECTRONIC VERSION!
Adult Comic Album by PREDONDO.
Dialogs by SANDOW - NAJ
HIGH RESOLUTION PDF deluxe edition
54 full color comic pages!!!
-COMPLETE, UNABRIDGED VERSION-
RIPPED FROM THEIR COMFORTABLE
LIFESTYLE, TWO COLLEGE GIRLS ENDURE
THE MOST SADISTIC TREATMENT EVER IMAGINED, AND DISCOVER BETRAYAL IN
THE AFRICAN DESERT!
THE HOTTEST, MOST GRAPHIC
SERIES ON THE SITE BY THE MOST
POPULAR NEW ARTIST!
IMPORTANT NOTICE - DISCLAIMER
All characters are 18 years old or older.
This is an entirely fictional work based on
cartoon characters for adult entertainment.
It shows no real people or events.
The characters are shown participating in
CONSENSUAL role-play for their own
personal satisfaction, simulating activities
which involve sexual dominance and
submission. No actual toons were harmed
in the making of this comic.
THE EPIC STORY REACHES NEW HEIGHTS AS THE SEXY COEDS FACE MIND CRUSHING HUMILIATIONS AT THE HANDS OF BESTIAL DICTATORS AND THEIR DRUNKEN AND DRUGGED
MERCENARIES, ALL WHILE TRYING TO KEEP THEIR HOPES OF RESCUE ALIVE!
One year earlier.
The first time I ever heard of General Tata was on the TV at home. I remember getting ready to go partying with Mia, my best friend...
TNN NEWS: "A screaming mob of terrorists stormed our Embassy last night. Early reports indicate a massacre inside. Scores have been killed and dozens more wounded. The violence here is indescribable!"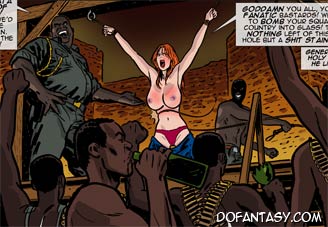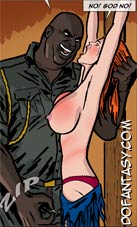 "They came here to destroy us! They were the cause of the drought and cholera!
But we've caught two of their own, and we'll make them pay!"
TNN LATEST NEWS: Ambassadors Mr. and Mrs. Collins have been rescued from General Tata's stronghold of Kala Gangi by Navy SEALs and are safe and sound on U.S. soil. "America leaves no man behind," said Secretary of State Aggie Thineye.
The TV News reported that Lorna Collins had been freed during a dramatic rescue mission, but the truth is that Tata kept the beautiful woman hidden in his fortress. I didn't have a clue what had happened to her, and neither did anyone else.
After that I forgot all about General Tata and his country. I had more important things on my mind, like partying with my friends and spending daddy's money.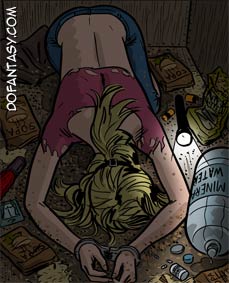 Then, almost a year later, my life took a horrible turn... Mia and I were coming back from a party in San Francisco when we missed the last bus that could take us back to the college where we lived. Not wanting to spend another minute in the seedy bus station we accepted a ride from a strange man who promised to take us home.
That was our fatal mistake.
We ended packed in crates and shipped overseas. I spent a month on my knees, chained inside the suffocating shipping container with almost no water or food. I didn't have room to stand. I was entombed with my own shit and filth. I had to use cat litter like an animal. In the stench and heat I thought I'd go insane before someone opened the box.
My only companion in the darkness was a dildo they'd locked in with me. I spent days curled in a ball clutching the buzzing vibrator in my sweaty, grime-streaked hands.
Time lost all meaning in that tiny, black prison. And then, when I was sure my life was over, the panel was ripped open and 4 black faces leered at me.
I'd arrived in Tata's devastated country. The place which once seemed so far away and unimportant suddenly became terribly real.
I had arrived in Hell on Earth.
________________________________
One year later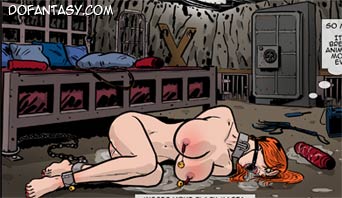 "Missed your black Masta, you stupid, fat white cow?
I brought you some company!"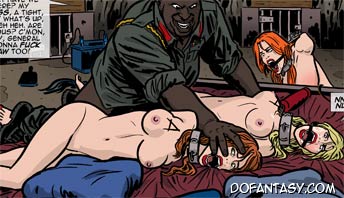 "I just got them from the docks. This hot, blonde slut
has been begging for IT the whole way here!"
I fell into a sort of comatose state. I can't even remember his words, only that they were offensive and threatening. The suffocating heat, the oily grease, his rancid sweat, his stinging saliva, his revolting tongue, and his cum. Gallons of hot, thick, relentless cum everywhere. But worst of all was the misery, the humiliation, and the horror I felt.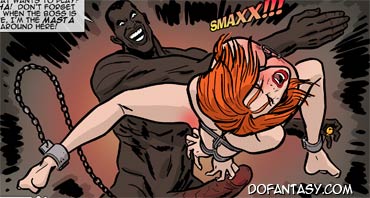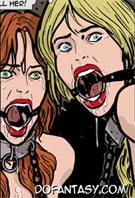 "Wildcat wants to play? HA HA! Don't forget that when the boss is gone,
I'm the Masta around here!"
Dongboy, Tata´s Mandingo enforcer, took care of us when the old ape was not around. His strength was enormous, and only surpassed by his brutality. His muscles were huge, but he had the brain of a rat. He couldn't comprehend anything but the urging of his gigantic dick. He was dangerous though, and could snap a woman's neck with two fingers.
Extreme cruelty and hate was everywhere. They treated us worse than livestock.


"Fight for it, bitches! Jump! You ain't gonna get any free lunch around here!"
"HAHAHAHA! Look at 'em go! Even a pack of hyenas has better
table manners than this lot of second-rate muff!"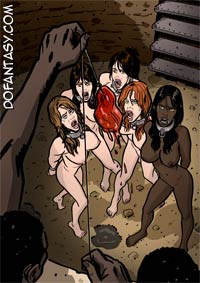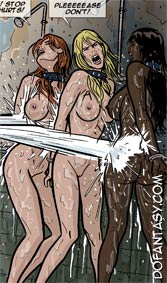 The more they hurt us, the more they humiliated us, the more they enjoyed it...
"Spread your cunts, you dumb whores! I'm gonna make you cum! AHAHAHA!"
When an important guest arrived, like His Highness Abdul Abduyala Almerinejat, great Emir of Baranfain, we have to serve as waitresses...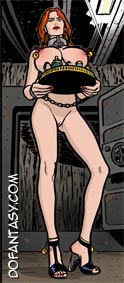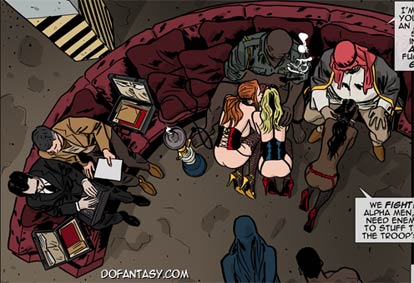 "C'mon, you fucking, jizz-gulping whore! Serve us tea on your knees
if you don't want your fat white melons turned into squash! HAHA!"
"I congratulate you on that slave, General. It's a magnificent specimen of fuck-slave.
That glossy white skin... those huge boobs! Do you tit-fuck her?"
Punishments were cruel, arbitrary and extremely humiliating....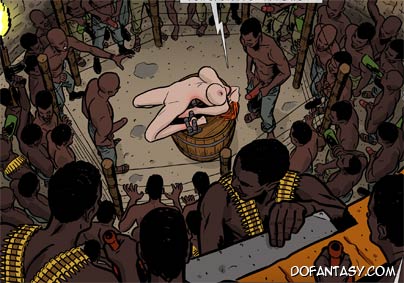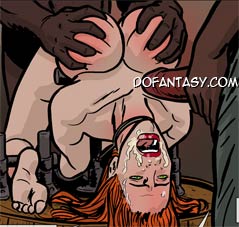 "I could hear more shouting, this time from outside. It wasn't a woman
screaming in pain; it was a crowd of roaring men, as if from a stadium."
"No worries, Mr. Smith! Miss Collins will have a fair trial and be dealt with accordingly!
I hear tell from my intelligence officers that she's been spying for Ol' Keda..."
Life in the military compound was Hell on earth. Tata and his crowd of drunken, drugged assassins knew nothing but cruelty! Their rampant, massive cocks throbbed all the time. The desert rats were loving humiliating us! They mixed with an ancestral hate for whites combined with unleashed lust. The more they hurt us, the more they humiliated us, the more they enjoyed it. To them, we weren't human. We were toys for their twisted amusement.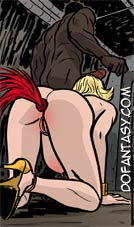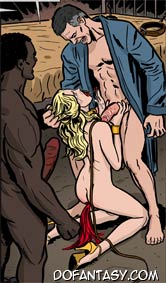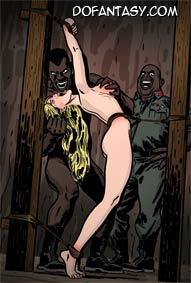 "Charles, please! Take me away from here! Take us home! You can't imagine what
goes on in that harem! Please... oh please, pleeeaaaaaaseee!"
"Hah! Look at that! My stuck up, frigid wife is on her knees! What's the matter, honey?
Are you horny? Do you need a good, hard pounding? Are you tired of being a lesbo's slut?
Doesn't the Emir give you enough man meat?"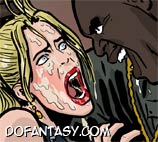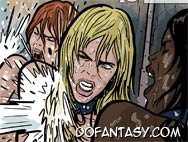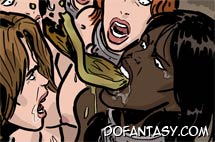 ________________________________
Women had no hope in this country, especially foreigners like ourselves.
We were less than dirt to the dark skinned natives. The chains on our ankles and gags prying our mouths open told us what we were. We were slaves!
I used to have a bottle of perfume which cost as much as barrel of Russian caviar. I'd put a few drops behind my ears when I went out dancing with Mia at the clubs. With my long blonde hair cascading down my back I knew that I could have any guy in the place.
Now my hair was matted with sweat and grime, and my skin reeked of sex and terror. I longed for a hot bath, something to scrub away the filth which stuck to my lips… my thighs… But the only way a slave gets clean is by being chained to a concrete wall while the guards blast her with hoses.
I cried.
The tears left clean trails down my cheeks. How much longer before my new owner came back? My heart froze as the door slammed open!
"Foreign whore! You are another conquest for the great General Tata!"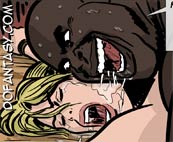 "Get those juices flowing," he demanded. "I'm gonna take you fast and hard like a rhino! If you ain't wet and ready, you're gonna need a plastic surgeon when I'm done with ya!"
Saliva ran down his rubbery face, and he smacked his thick lips with anticipation.
"I've never seen such a worthless piece of meat like you. You ain't gonna last long here, infidel slut. Get any ideas of equality and respect out of your pretty head. You've got only one purpose in life now, worshipping my thick black dick!"
SHERRY AND MIA FROM 'THE LONG JOURNEY' ARE IN FOR THEIR MOST HORRIFYING ORDEAL YET!
HARD IMAGES AND CRUEL TORMENTS ARE THE HALLMARK OF PREDONDO!
THE INCREDIBLY POPULAR DOFANTASY ARTIST RETURNS WITH ANOTHER GRIPPING STORY WHICH
TIES HIS PREVIOUS SHOCKING STORIES TOGETHER. CONTAINS NEW ADVENTURES OF
CHARACTERS YOU'VE COME TO KNOW, AND INTRODUCES NEW ONES YOU WON'T BELIEVE!
DON'T MISS THE PREVIOUS STORIES!
"LONG JOURNEY' AND 'HAREM HORROR 1 & 2'
OFFER!!! BUY THE 3 COMICS AND GET ONE FOR FREE!
CLICK HERE to buy these 3 wonderful comics and get
'Gentleman Club' also by Predondo, for free!
A 25% DISCOUNT!!!
ONLY FOR A FEW DAYS!
[ PREDONDO SITE ] [ HOME ]